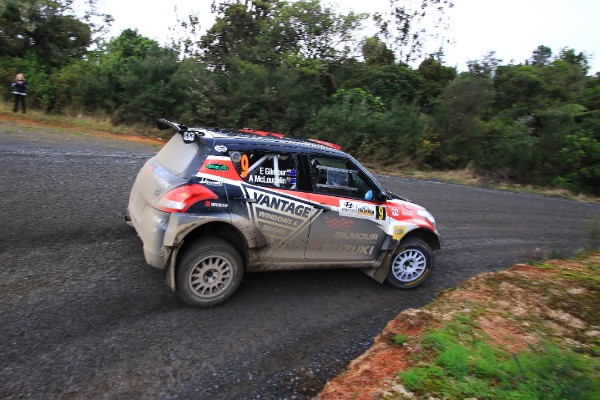 Tough Coromandel Rally for Gilmour
Emma Gilmour ended the Hyundai New Zealand Goldrush Rally of Coromandel still smiling but wondering what could have been, if brake issues had not hampered the performance of her Vantage Windows and Doors Suzuki Swift AP4 yesterday.
They began as early as stage one of eight, in this penultimate round of the Brian Green Property Group New Zealand Rally Championship and continued on and off throughout the next seven tests as Emma and co-driver Anthony McLoughlin struggled in the slippery stages without fully functional brakes.
"We'd had a solid morning and were in sixth place at the first service despite losing our brakes at the end of special stage one," Emma says.
As the afternoon wore on the brake issues continued and then on the final short special stage, the left disc brake shattered slowing her considerably and dropping the team from 7th to 10th overall.
"It's disappointing not to get that podium place we've been chasing all season as we know we have the pace when things are going well. We will re-group before we head to the final round next month and most likely use it as a development event towards 2019. A huge thanks to our team, sponsors and supporters, we cannot do it without all of you," Emma says.
Emma would like to thank her sponsors Suzuki NZ, Vantage Windows and Doors, Gilmour Motors Suzuki, Koba Batteries, Rothbury Insurance Brokers, PPG Paint, Castrol, Hella, Uniform NZ, Provident, Interislander, NGK Spark Plugs, Custom Signs, Modena Race Gears, Pure Sports Nutrition and Webdesign for supporting the team.
CAPTION: Emma Gilmour and her co-driver Anthony McLoughlin struggled with brake issues in Emma's Vantage Windows and Doors Suzuki Swift AP4 at the Coromandel Rally yesterday. PHOTO: GREG HENDERSON.