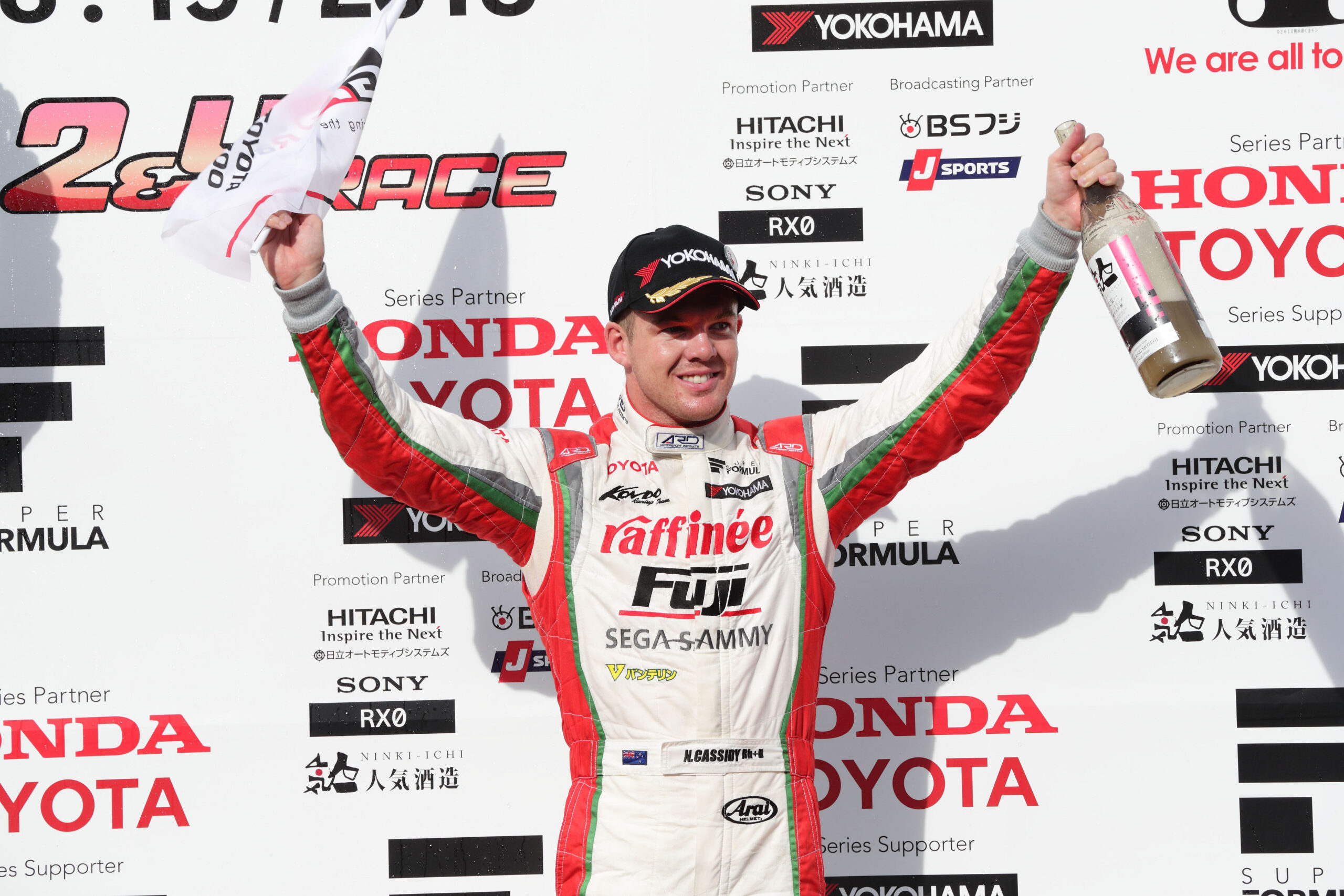 Cassidy on top in Japan – leads both championships
Nick Cassidy celebrated his 24th birthday on Sunday with the best present possible – taking the lead in Japan's Super Formula series with a third place at the 52-lap Motegi race.
The Aucklander now leads both the country's major championships after finishing second in the Fuji 500 miles a fortnight ago in the Super GT series.
Cassidy, a double winner of the local Toyota Racing Series in 2012 and 2013, now has a three point lead over previous points leader Naoki Yamamoto, who could only finish seventh and defending champion Hiroaki Ishiura, who won the Super Formula race.
In the Super GT series, he is seven points ahead of Kazuki Nakajima, Yamamoto and Jensen Button.
All drivers use the same chassis in Super Formula, with Toyota backed Cassidy using a two litre, 600 horsepower engine. The cars are second only to Formula 1 in performance.
Cassidy qualified fifth for the Motegi race, but then it appeared his Kondo team's strategy to start the race on medium compound tyres had back fired when he dropped to 11th place in the first few laps, as most drivers started with soft compound tyres.
Once Cassidy had changed to soft tyres on lap 14, he began a charge back up the field and by lap 38 he was back to fifth place, with several of his overtaking moves around the outside line at the hairpin.
With some drivers waiting until late in the race to make the compulsory pit stop, Cassidy eventually climbed to third, for his third consecutive podium of the series.
There are two rounds remaining in the Super Formula series at Okayama and Suzuka, while there are three rounds left in the Super GT championship at Sugo, Autopolis and Motegi.
Results, Super Formula, Round five, Motegi Speedway, 52 laps:
1, Hiroaki Ishiura;
2, Ryo Hirakawa;
3, Nick Cassidy.
Series Points:
1, Cassidy 27;
2=, N Yamamoto & Ishiura, 24.