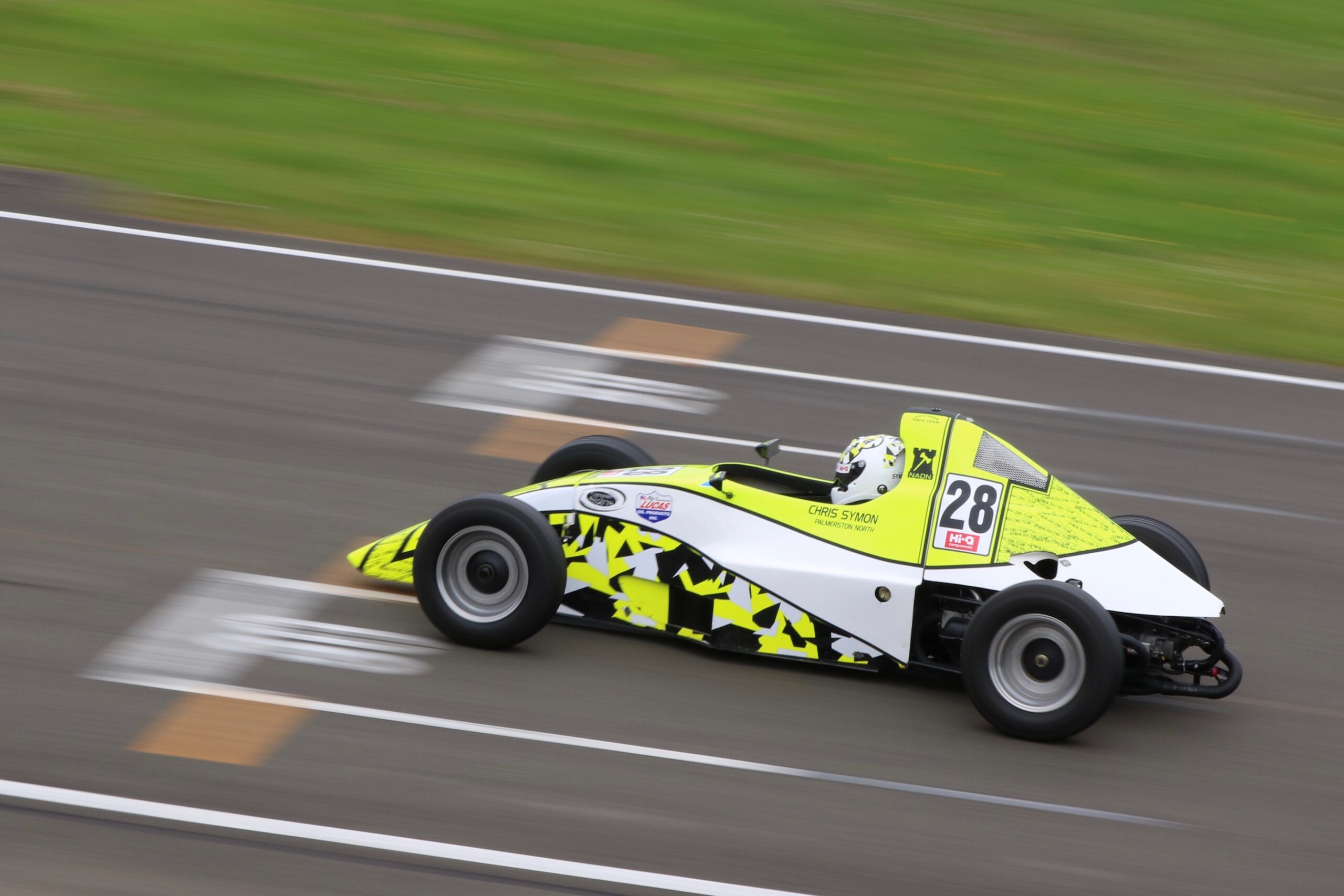 Symon smashes NZ Formula First season opener
Palmerston North's Chris Symon has dominated the season-opening event of the 2018/19 Hi-Q Components NZ Formula First Championship, taking pole position and all three race wins at Manfeild Circuit Chris Amon in Feilding.
Saturday morning's 15-minute qualifying session for the 18-strong field saw 27-year-old Symon take pole position with a time of 1:23.588, giving him a massive seven-tenths of a second margin over Auckland's Liam Foster, age 22. Pukekohe student and current Elite Motorsport Academy participant Billy Frazer, age 15, was third quickest. Whakatane's Reece Hendl-Cox, age, and Aucklander (Botany) Amy Smith, age 17, filled the rest of the top five while Havelock North student and SpeedSport Scholarship winner Ronan Murphy, age 17, was the best of the rookies, setting the sixth fastest time.
Symon, who's in his 5th season of Formula First racing, carried this dominance through to the opening eight-lap race of the season, taking the race win by over three seconds. Foster narrowly beat Frazer to second place by less than one-tenth of a second. Hendl-Cox took fourth ahead of Taranaki rookie Thomas Boniface. Boniface's debut performance impressed many after the 14-year-old started 11th and moved through to run as high as second before finishing fifth.
Sunday morning's race two, 8 laps, was a similar affair for Symon, stretching away from the field on the first lap, leaving everyone else to scrap for second place, which went to Frazer after an intense battle Foster with Hendl-Cox again finishing fourth. Smith recorded fifth while Murphy was the best of the rookies in seventh. The Sunday morning race also featured the first incident of the new season after Boniface suffered brake failure and collected the rear of Taylor Hurst's car on his way off the track at the hairpin. Both rejoined the track in lower positions but Boniface's race would end at the next corner as he was unable to stop the car and become stranded in the gravel trap. Hurst would finish 14th.
The final 8-lap race on Sunday afternoon was not as easy for Symon, who came under fire early on from Boniface, Hendl-Cox and Frazer and dropped down to fourth out of the first Manfeild's famed turn one, a sweeping right-hander. Boniface took the early lead but fell victim to an engine failure on the second lap. With the field still bunched up, a five-car train comprising Symon, Frazer, Hendl-Cox, Foster and Smith traded positions in a bid to take the lead, but ultimately Symon's experience won out over the younger drivers as he took the chequered flag to complete a perfect weekend. Foster claimed another second place while Hendl-Cox took his first podium of the season ahead of Frazer and Hurst. Murphy again finished as the leading rookie in sixth.
Symons' perfect weekend leaves him on top of the points with 225 points, 31 points ahead of Foster in second with a small gap of 13 points to Frazer in third. Hendl-Cox sits fourth with Amy Smith fifth, just one point ahead of leading rookie Ronan Murphy.
The Hi-Q Components NZ Formula First Championship contenders have a break now before round two at Pukekohe Park Raceway where they will also celebrate 50 years of Formula First racing in New Zealand. The MotorSport New Zealand championship is highly-regarded as a key first step into single-seater motorsport for younger drivers, this season attracting ten competitors under the age of 20. It's also still a popular category of racing for older drivers who enjoy the close, wheel-to-wheel racing among the evenly-matched 1200cc VW engine-powered single-seaters.
2018/19 NZ Formula First Championship Standings (Top 10):
Chris Symon (Palmerston North, 28) – 225pts
Liam Foster (Auckland, 22) – 194pts
Billy Frazer (Auckland, 15) – 181pts
Reece Hendl-Cox (Whakatane, 19) – 168pts
Amy Smith (Auckland, 17) – 133pts
Ronan Murphy (Havelock North, 17) – 132pts
Taylor Hurst (Auckland, 16) – 112pts
Ron Carter (Papamoa) – 108pts
Nathan Sudiono (Auckland, 17) – 103pts
Kyan Davie (Auckland, 13) – 94pts
1st = 75pts, 2nd = 67, 3rd = 60, 4th = 54, 5th = 49
2018/19 NZ Formula First Championship Calendar:
Round 1: Manfeild Circuit Chris Amon – October 19-21
Round 2: Pukekohe Park Raceway – December 7-9
Round 3: Hampton Downs Motorsport Park – January 25-27
Round 4: Manfeild Circuit Chris Amon – February 8-10
Round 5: Manfeild Circuit Chris Amon – February 23-24
Round 6: Hampton Downs Motorsport Park – March 8-10
Round 7: Bruce McLaren Motorsport Park – March 23-24
Round 8: Bruce McLaren Motorsport Park – April 13-14
The Hi-Q Components NZ Formula First Championship is an entry-level single seater category which is run as a National Championship by the sports governing body, MotorSport New Zealand. NZ Formula First has been the breeding ground for young motorsport stars such as Brendon Hartley, Scott Dixon, Shane van Gisbergen, Richie Stanaway and Nick Cassidy.
Photos are free for editorial use. For further information or photos please contact Jordie Peters at media@formulafirst.co.nz or 027 479 1510