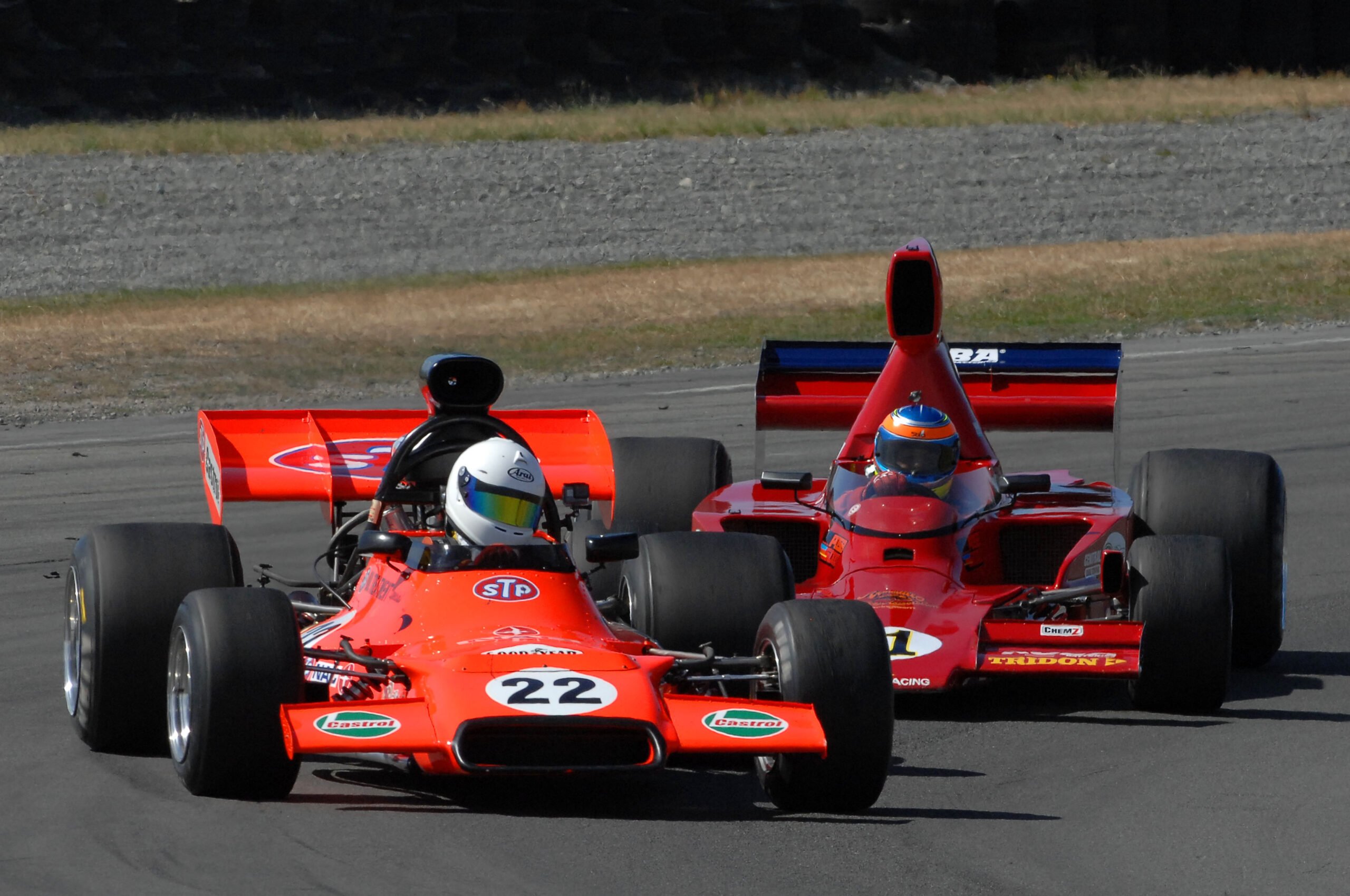 STEVENSON RETURNS IN AWESOME FORMULA 5000
2019 EVOLUTION MOTORSPORT CLASSIC SPEEDFEST PREVIEW
Around twenty years ago Southlanders were enjoying the motor racing exploits of Invercargill driver LeRoy Stevenson as he raced at the top level on both sides of the Tasman. Stevenson, who has driven some special race cars in his time, will be back at Teretonga Park this weekend for the Evolution Motorsport Classic SpeedFest in a car he describes as "pretty awesome."
Stevenson will drive a Leda LT27, the first of the Graham McRae built Formula 5000 cars that went on to be known as McRae GM1's. The car is in the original striking STP livery and is one of three similar cars expected in the Formula Libre field with Cantabrian Michael Collins and Steve Ross of Dunedin expected to run their examples as well.
"Pretty awesome" is Stevenson's description of the big, brutal, noisy, iconic Formula 5000 car. "I have been given a great opportunity in being invited to drive it – it is absolutely awesome. For its age (early 1970's) it is unreal!"
This will be Stevenson's third outing in the car after having his first steer at the ITM 400 at Pukekohe in November before another outing at the Skope Classic at Mike Pero Motorsport Park at Ruapuna in Christchurch recently. There, he qualified third before having some car issues in the weekends races but in his outings to date he has already shown the talent of old.
"It is just about going out and enjoying driving such an awesome car at SpeedFest," he says. "I regard it as the best meeting of the year and it is a great opportunity for spectators to see such a special car!"
Stevenson exploded onto the national motor racing scene by winning the 1998 Formula Ford Festival at Taupo and followed that up with the 1998/99 NZFF1600 Championship a few months later.
From there he raced both Formula Ford and Formula Holden in Australia competing with success against the likes of Will Power, Rick Kelly, Paul Dumbrell, Steve Owen and many other top competitors. Stevenson also competed in various other cars including the Hot Wheels TraNZam Camaro plus a cameo appearance in the New Zealand Grand Prix when it was held at Teretonga Park for Formula Ford.
Since those heady days he has been seen on occasion in his father John Stevenson's ex Rodger Freeth Toyota Starlet at events such as SpeedFest in the past.
The Evolution Motorsport Classic SpeedFest takes place at Invercargill's Teretonga Park over the weekend of 16/17 February with the action starting at 9am on both Saturday and Sunday.
As well as the Formula Libre field there will be races for Classic Saloons, Historic Touring Cars, Formula Junior, Vintage Racing Cars, Sports Cars and Formula Ford while Pre 65 Saloons and the Noel McIntyre Drainage Clubmans Saloons are also on the programme.
Tickets are available from Auto Centre in Tweed Street, Invercargill, E Hayes & Sons, Dee Street, Invercargill and Harrisons Supplies, 59 Mersey Street, Gore. A pre-sale weekend pass is $25 per adult while a weekend pass at the gate is $35. Children 14 & under are free if accompanied by an adult. Day passes, which are only available at the gate, are $20 each.
Photograph – LeRoy Stevenson in the Leda LT27 leads Kenny Smith at Mike Pero Motorsport Park recently: Please credit Euan Cameron.
Media release: Lindsay Beer for the Southland Sports Car Club