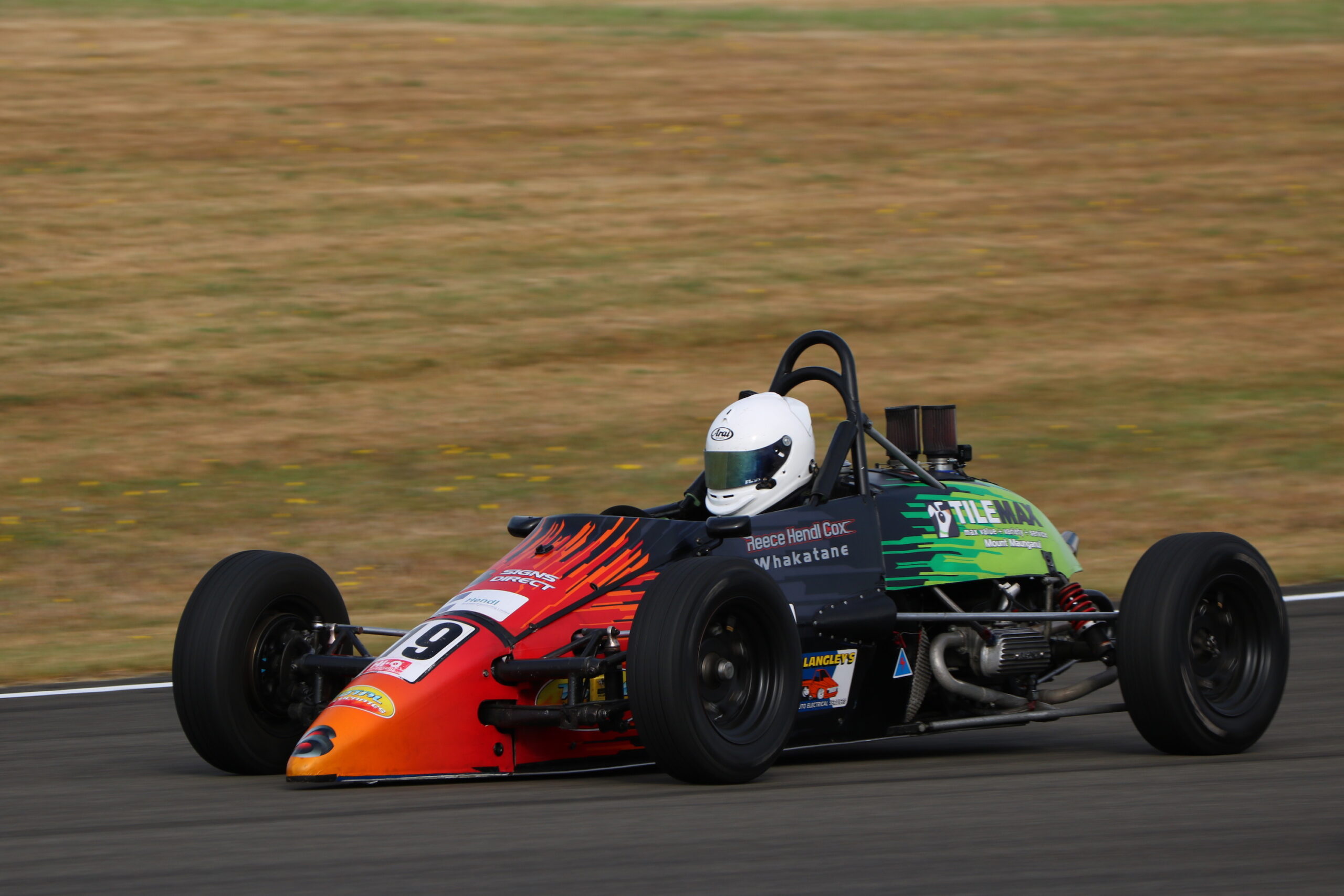 Hendl-Cox storms ahead in Formula First Championship
Whakatane's Reece Hendl-Cox, 19, has stormed ahead in the 2018/19 Hi-Q Components NZ Formula First Championship after taking two race wins at Round four of the series at the New Zealand Grand Prix meeting at Manfeild.
Series returnee Brody McConkey, 20, from the Kapiti Coast, topped Saturday morning's 15-minutes qualifying session. Championship leader Hendl-Cox set the second fastest time, just 0.066s slower than McConkey's time to start second.
The first of three eight-lap races on Saturday afternoon saw Hendl-Cox notch up his fifth consecutive race win of the championship! Hendl-Cox held off fast and racy Brody McConkey who finished second in an incredibly close finish.
Auckland's Billy Frazer, 15, notched up another podium finish, taking third place while fellow Auckland racer Liam Foster took fourth by just 0.115s. Taranaki teen Thomas Boniface, 14, made decisive moves through-out the race but was outsmarted by his more experienced competitors and had to settle for fifth.
Hendl-Cox's nearest rival, Palmerston North's Chris Symon, 28, was unable to challenge him and finished sixth.
Sunday morning's race saw Hendl-Cox's winning streak come to an end as Frazer crafted a race win in a thrilling race which saw a four-wide drag to the flag. Hendl-Cox fell agonisingly short of victory, finishing just 0.085s behind Frazer while Foster took the final spot on the podium, just 0.015s behind Hendl-Cox.
The battle for the lead saw some incredibly close and dynamic racing. Four-wide entries into corners become standard while multi-car tows had drivers thinking strategically for the best position in the drag to the flag.
Further back, the battle trio of Havelock North's Ronan Murphy, 17, Symon and Papamoa's Ron Carter fought for sixth position. They crossed the line nose-to-tail finishing in sixth, seventh and eighth respectively.
Normal service resumed in the final race for Hendl-Cox as he took another win. It was another hotly contested affair with the win undecided until the very last moment. Rookie racer Boniface scored a strong second-place finish, but would later receive a penalty which would relegate him to eighth. McConkey then inherited second place ahead of Foster in third.
Frazer would finish fourth while Symon, who seemingly failed to fire on one of his most successful circuits came home fifth.
Hendl-Cox has now stretched his points lead to 102-points over Symon with Frazer now 34-points behind second. Penalties and an off-track excursion for Thomas Boniface saw Ronan Murphy come back within ten-points in the rookie of the year standings while Ron Carter extended his lead in the sunset championship.
The next round of the NZ Formula First Championship takes place at Manfeild Circuit Chris Amon in Feilding again on February 23-24.
2018/19 NZ Formula First Championship Standings (Top 10):
Reece Hendl-Cox (Whakatane, 19) – 799pts
Chris Symon (Palmerston North, 28) – 697pts
Billy Frazer (Auckland, 15) – 663pts
Liam Foster (Auckland, 22) – 641pts
Amy Smith (Auckland, 17) – 573pts
Thomas Boniface (Taranaki, 15) – 500pts
Ronan Murphy (Havelock North, 17) – 491pts
Ron Carter (Papamoa) – 434pts
Nathan Sudiono (Auckland, 17) – 250pts
Brody McConkey (Kapiti, 20) – 322pts
1st = 75pts, 2nd = 67, 3rd = 60, 4th = 54, 5th = 49
2018/19 NZ Formula First Championship Calendar:
Round 1: Manfeild Circuit Chris Amon – October 19-21
Round 2: Pukekohe Park Raceway – December 7-9
Round 3: Hampton Downs Motorsport Park – January 25-27
Round 4: Manfeild Circuit Chris Amon – February 8-10
Round 5: Manfeild Circuit Chris Amon – February 23-24
Round 6: Hampton Downs Motorsport Park – March 8-10
Round 7: Bruce McLaren Motorsport Park – March 23-24
Round 8: Bruce McLaren Motorsport Park – April 13-14
NZ Formula First Championship: The Hi-Q Components NZ Formula First Championship is an entry-level single seater category which is run as a National Championship by the sports governing body, MotorSport New Zealand. NZ Formula First has been the breeding ground for young motorsport stars such as Brendon Hartley, Scott Dixon, Shane van Gisbergen, Richie Stanaway and Nick Cassidy.
Media release and photo: Jordie Peters