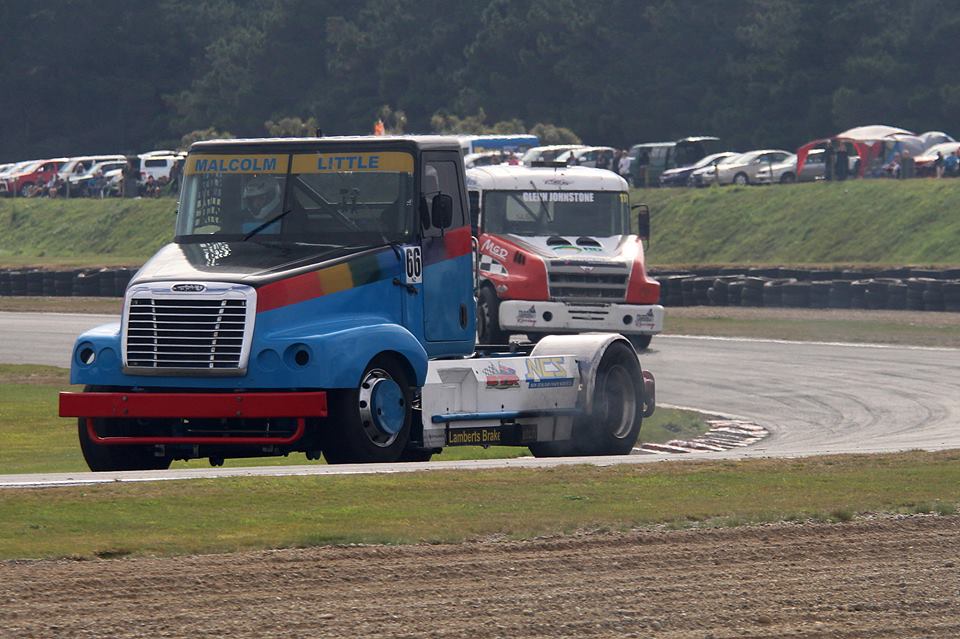 SUPER TRUCKS AND MUSCLE CARS ENTERTAIN AT TERETONGA
Alex Little of Lower Hutt topped the podium at the conclusion of Round 2 of the NZ Super Truck Championship at Teretonga Park this weekend.
Little, driving a Freightliner Century, won two of the three races and secured 59 points to win the Mobil Delvac Trophy for the second consecutive year while Troy Wheeler of Papakura in a similar truck won the other race and secured 51 points to finish second overall with David West of Pukekohe (Freightliner Argosy) third. West won the non-championship Flying Farewell from Ken Rowe of Hamilton in a Volvo NH. Winton driver Garry Price in his International Transtar was prominent throughout the weekend with a best result of second.
Michael Wallace of Dunedin was the overall winner in the popular Mobil 1 Mainland Muscle Cars. Wallace led across the line in three of the four races in his Chevy Monza but received a time penalty for jumping the start in one of them, relegating him to third place. Wallace also set a new lap record on Sunday leaving the mark at 1 minute 01.774 seconds after Paul Clarke of Mosgiel, who finished second overall for the weekend in his Ford Mustang, left the mark at 1.02.068 on Saturday. John Hepburn of Timaru in his Holden Monaro was third overall for the round.
Invercargill brothers, Dion and Kyle Dawson won all the Noel McIntyre Drainage Club Saloon races between them, Dion in a Saker GT winning three and Kyle in a Nissan GTR Skyline the other. Dion was the overall winner for the weekend with Brent Cross of Winton (EVO 3) second and Kyle Dawson third.
Winners in the class race were Dion Dawson, Dave McLean of Gore (Honda Integra), Bradley Dawson of Invercargill (Toyota Trueno) and Todd Blackmun of Invercargill in a Star Car.
Recently crowned NZ F1600 Champion Jordan Michels of Invercargill won the Sports & Racing Car Class with consistent results across the weekend in his Mygale SJ13A. Barry Leitch was second in his Ralt RT4 after winning two races with fellow Invercargill driver Dave McKenzie third in his Begg FM3, just edging Jason Crosbie by one point. Brendon Leitch had won Saturday's race in his Tatuus FT-40 but did not race on Sunday while neither did Gary Cooper of Dunedin who set a new lap record of 56.388 seconds in his Reynard 92H only to crash a lap later, ending his weekend.
Michels also won the A1 Auto Services 1 Hour Saloon Race in the Ford Falcon he shared with Boyd Wilson to win the race last year. This year, with Wilson unable to compete, Michels drove solo to win the race for the second year in succession with Bradley Dawson bringing his ailing Toyota home second with Alvin Frew of Waikouaiti third in his Holden Commodore.
Frew also drove the Commodore to win the Ryco 24-7 NZ Six Saloons for the weekend from Craig Paddon of Dunedin and Cody Welch of Omakau (Falcon). Alexandra drivers, NZ1 Blair Sutherland with two wins and Josh Hack, one win, did not contest the final race of the weekend in their Commodores.
Photographs: Trucks – Alex Little (Freightliner) leads Glenn Johnstone (Scania) – please credit Ron Veint/Mobil 1 Mainland Muscle Cars – Michael Wallace of Dunedin in full flight in his Chevy Monza – please credit Ron Veint
Media release: Lindsay Beer, Southland Sports Car Club