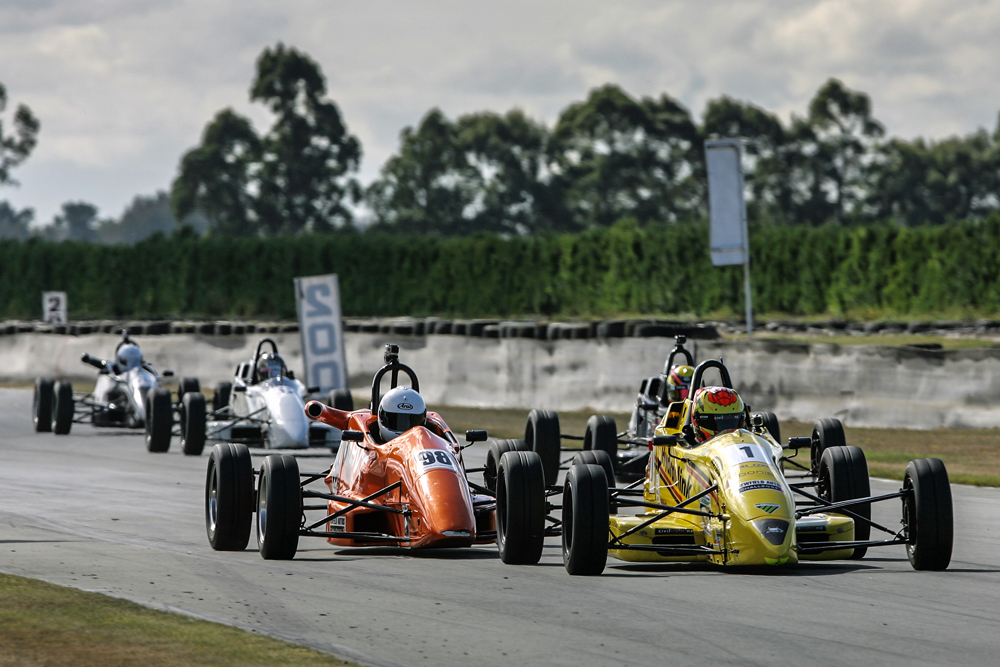 South Island Formula 1600 Championship to welcome northern competitors
Preparations for the forth-coming South Island Formula 1600 Championship are well underway with a seven-round calendar in place. Early expectations are for grids well into the mid-20s with a significant number of competitors already committing to the coming season of racing. With the prospect of more North Island competitors wanting to also compete, the organising committee have agreed on making this easier for all and welcoming those that travel south.
The season gets underway at the Mike Pero Motorsport Park, Christchurch on the 20 October with three more rounds before Christmas. Timaru International Raceway will host the second round (9 November) before returning to Christchurch 23/24 November. In December Invercargill hosts what is considered as an important round for those competing in the national championship. The NZ title will have just one South Island round in January hence the December 7/8 round is an important lead up to this weekend.
Highlands Motorsport Park in Cromwell (17-19 January) hosts the fifth South Island Championship round as part of the Speed Works summer series with the Teretonga Park Speed Works round in Invercargill just one week later (24-26 January). The finale will take place in Timaru 7 March with a prize giving dinner that evening.
North Island resident competitors will be able to take advantage of the Supporting Membership (cost $55) and receive the benefits of full membership of the South Island Formula Ford Club.
The SIF1600 Championship will be open to all complying F1600s. Essentially if your car complied last season it will comply this season.
Entry fees at club promoted circuits are historically set at realistic levels. The two Speed Works rounds (Highlands and Teretonga) in January will depend on numbers but the SIFF Committee has set the entry fee at $445 per round to ensure certainty of cost for competitors.
SIF1600 enjoys significant prize money and trade prizes worth many thousands of dollars plus, more importantly, a choice of opportunities for the top competitors to compete in US Formula 4 Championship at heavily discounted rates.
Twenty-six trophies are on offer to be won across the three classes plus medallions and prizes at each round. There will be limited storage and accommodation on offer as well if North Island teams wish to keep their race cars in the South Island between rounds.
"We are looking forward to another great season of racing," commented committee chairperson Derek Wilson. "It's a great class of racing and now we are enjoying large grids across the three F1600 classes which leads to some great racing throughout the field. Coupled with this is we are very proud of the friendly culture that takes place when we are in the pits. Teams and drivers' go the extra mile in helping both those that are new to the category and those who strike any problems during a meeting. This is part of what makes the South Island Championship so successful."
2019/20 South Island Formula 1600 Championship Calendar
Rnd 1: October 20 2019, Mike Pero Motorsport Park, Ruapuna, Christchurch
Rnd 2: November 9 2019, Timaru International Raceway, Timaru
Rnd 3: November 23/24 2019, Mike Pero Motorsport Park, Ruapuna, Christchurch
Rnd 4: December 7-8 2019, Teretonga Park Raceway, Invercargill
Rnd 5: January 17-19 2020, Highlands Motorsport Park, Cromwell (Speed Works Summer Series)
Rnd 6: January 24-26 2020, Teretonga Park Raceway, Invercargill (Speed Works Summer Series)
Rnd 7: March 7 2020, Timaru International Raceway, Timaru
Attached images are free to use. Please credit Terry Marshall/Euan Cameron Photography
Prepared by SB Networks on behalf of the South Island Formula Ford Club