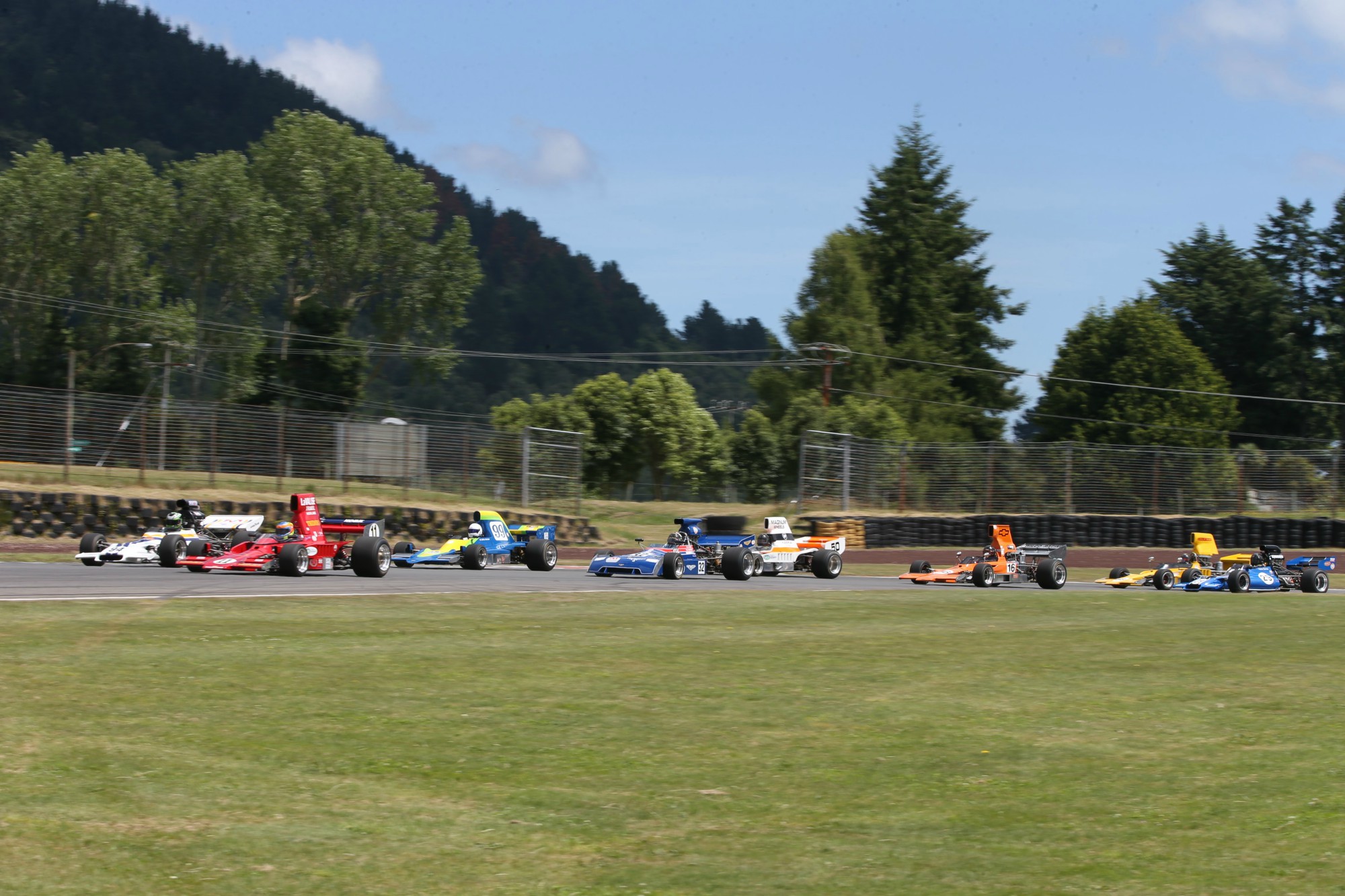 SMITH, COLLINS AND THORNTON PODIUM FIRST F5000 RACE AT TAUPO HISTORIC GP MEETING
First race of the weekend for the SAS Autoparts MSC NZ F5000 Tasman Cup Revival Series at the Taupo Historic Grand Prix meeting at Bruce McLaren Motorsport Park today and pole man Ken Smith (Lola T332) continued on his winning way despite intense competition from fellow front row starter Michael Collins (McRae GM1) and fast-finishing UK-based series regular Greg Thornton (Chevron B24).
Smith and Collins (the latter back in his ex Evan Noyes McRae GM1 after driving the newly finished ex Graham McRae/Dexter Dunlop Leda LT27 at the opening series round at Pukekohe in November last year) quickly pulled away from Thornton, who qualified third and ran third, while Brett Willis (Lola T330) settled into fourth place ahead of Glenn Richards (Lola T400), and the Lola T332s of David Banks and Tony Galbraith.
As the race progressed Smith started to struggle with tyre grip in the hot mid-afternoon conditions.
Collins also found his car struggling for rear grip, allowing Thornton to catch the pair and make it an impressive three-car battle-pack on the run to the flag with Thornton setting his fastest race lap – a 1.27.38 –  with just two laps to go.
Smith and Collins were the only other drivers to crack the 1.28.00 barrier in the race, with Collins claiming the fastest lap of the race – a 1.27.253 – on the third lap as he and Smith (who also did his best race lap of 1.27.373) on lap 3) still had some decent grip in their tyres.
Behind them Brett Willis had a lonely race to fourth ahead of Glenn Richards who finished fifth.
David Banks had actually passed Richards for fifth with two laps to go only to overcook it into the sweeper at the top end of the course and spun.
He was able to get going again but on the last corner on the last lap was dispatched to 7th place by fellow Lola T332 driver Tony Galbraith.
That left Aaron Burson (McRae GM1) and class new face Kevin Ingram (Lola T332) to cross the line in eighth and ninth place respectively with Tony Roberts in the Class 2 McLaren M10B completing the field after losing half a lap to a spin on the first lap.
2018/19 SAS Autoparts MSC NZ F5000 Tasman Cup Revival Series Rnd 2 Bruce McLaren Motorsport Park Taupō Sat-Sun Jan 19-20 2019
Qualifying
Ken Smith (Lola T332) 1.26.690
Michael Collins (McRae GM1) 1.26.851
Greg Thornton (Chevron B24) 1.27.944
Glenn Richards (Lola T400) 1.28.399
Brett Willis (Lola T330) 1.28.508
David Banks (Lola T332) 1.28.531
Aaron Burson (McRae GM1) 1.29.154
Tony Galbraith (Lola T332) 1.30.055
Kevin Ingram (Lola T332) 1.33.440
Tony Roberts (McLaren M10B) 1.36.035
Race 1 (Sat 8 laps)
Ken Smith (Lola T332) 8 laps
Michael Collins (McRae GM1) +1.246
Greg Thornton (Chevron B24) +0.843
Brett Willis (Lola T330) +13.277
Glenn Richards (Lola T400) +23.036
Tony Galbraith (Lola T332) +31.202
David Banks (Lola T332) +32.261
Aaron Burson (McRae GM1) +32.533
Kevin Ingram (Lola T332) +52.312
Tony Roberts (McLaren M10B) +1.32.660
CAPTION: At Taupo's Historic GP historic race meeting today Ken Smith (#11 Lola T332) qualified on pole and won the first SAS Autoparts MSC NZ F5000 Tasman Cup Revival Series race from Michael Collins (#94 McRae GM1) and Greg Thornton (#32 Chevron B24). Photo credit: Fast Company/Jim Lester
Prepared by FAST COMPANY of behalf of the New Zealand Formula 5000 Association