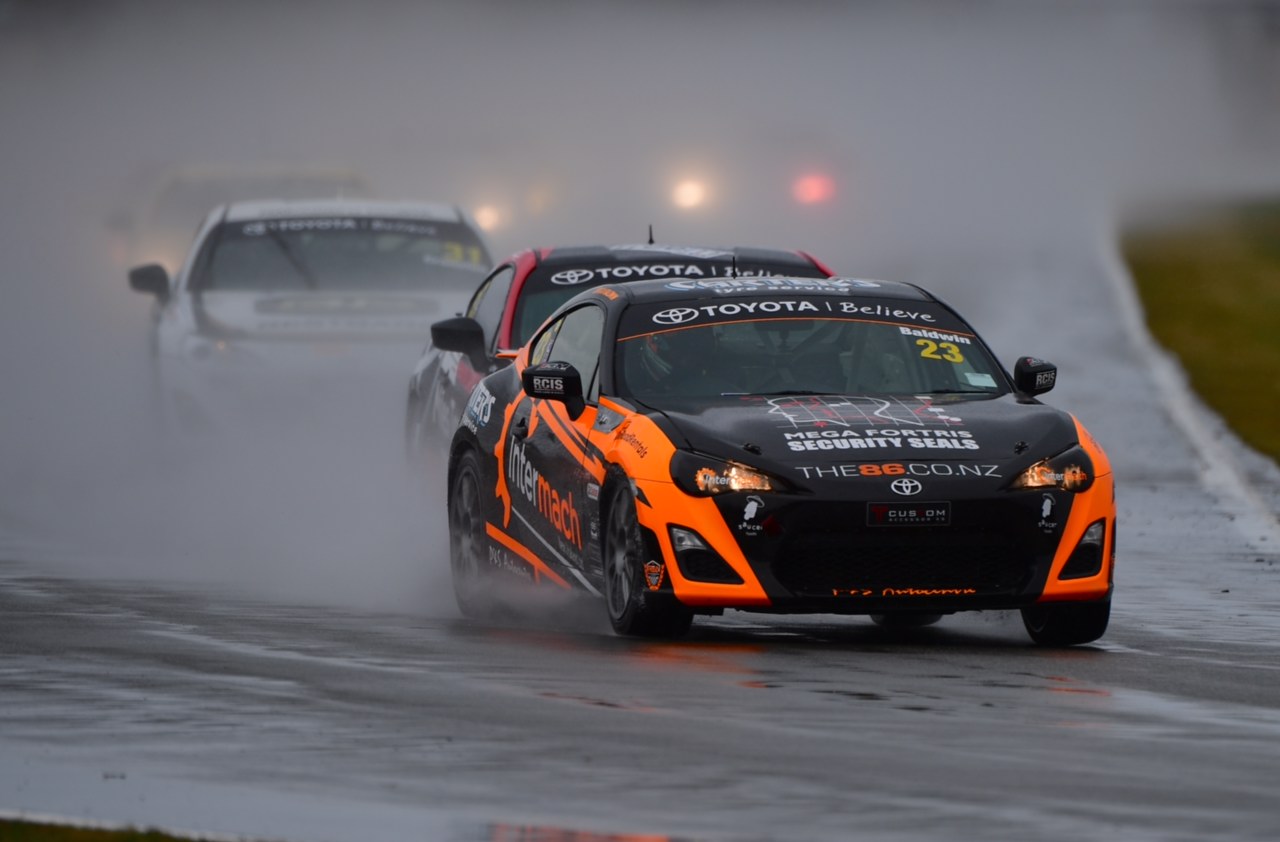 Jordan Baldwin defies wet weather chaos to claim first win
Last season's Toyota 86 Championship Rookie of the Year, Jordan Baldwin, has claimed his first race win in the series.
The Auckland-based driver led from start to finish, surviving difficult conditions, an early red-flag and a lengthy challenge from pole position holder Jaden Ransley. Baldwin's result sees him emerge as a serious championship contender as the series crosses its halfway mark.
"It was definitely tough conditions but after the wet qualifying we knew we had a good car in the wet," explained the Intermach-backed racer. "I got a good start and managed to jump Jaden and get away. The car was very good but it was great to be able to hold on for the win. It feels great."
The wet weather from qualifying had hung around prior to race start. There had been an ease in rain, but the circuit was still coated with standing water. Baldwin got the best of the starts from the front row to edge Ransley in the Miles car as they set off. And from the third row, Jacob Cranston bolted all the way up to third. Justin Allen and Brock Gilchrist were fourth and fifth.
Behind them lap one was a chaotic affair. As the field hurtled towards turn five, both Connor Davison and Mitch Hughes went off. On the slippery sand, both cars hit the tyre embankment — Hughes front-on with a significant amount of speed.  Connor and Mitch were able to hop out of their cars, Hughes sore but otherwise unhurt. With both cars stuck and an ambulance summoned the race was temporarily suspended under the red flag.
Among those who might have appreciated the chance to re-group under red flag conditions was championship leader Hedge. After starting fifth he had fallen to ninth just behind Kaleb Ngatoa. Once the mess had been cleaned up and after a few sighting laps under the Safety Car, the race resumed with Baldwin, Ransley, Cranston, Allen, and Gilchrist the top five. Further back Sam Wright spun off at the first turn but was able to recover without triggering another Safety Car.
For a while after the restart, the closest fight on track was for seventh as Connor Adam fought off Ngatoa, Hedge, and Campbell Stewart. Hedge and Stewart had a fabulous exchange across laps nine and ten, with positions swapping first between turn five and the final corner, then again at turn one and once more around the back of the 2.5km circuit.
Cranston and Allen, meanwhile, were battling for the last spot on the podium; Allen going around the outside on the front straight as the field started lap 11. The duo raced closely for a number of laps, but Allen was able to hold Cranston off to take his first podium of the season and maintain the solid form in the wet he demonstrated last weekend at Highlands. And it was a similar story at the front. Ransley closed in on Baldwin in the closing laps setting the fastest lap of the race in the process. It wasn't enough to deny Baldwin a memorable win in the wet by seven tenths of a second, however. Further down the order, points leader Hedge could only manage tenth after a frustrating race.
There will be two more Toyota 86 Championship races at Teretonga Park tomorrow, scheduled for 11.30am and 2.30pm respectively.
2018-2019 Toyota 86 Championship Round 3 Teretonga Park Race 1 Result
1. Jordan Baldwin – Intermach NZ/Carters Tyres
2. Jaden Ransley – Miles Toyota/Kitchen Studio
3. Justin Allen – Battery Town/Thunder Adventure
4. Jacob Cranston – Best Bars/Vista Lite
5. Brock Gilchrist – NEXUS Logistics/Giltrap Group
6. Peter Vodanovich – CMC Markets/MacClure's ITM
7. Connor Adam – Post Haste/Weigh Northland
8. Campbell Stewart – NZPGS/Hydraulink
9. Kaleb Ngatoa – JJ Wallers/Capture Sign
10. Callum Hedge – CareVets NZ Ltd
11. Arran Crighton – CareVets NZ Ltd
12. Andrew Jackson – North Shore Toyota
13. Sam Wright – Tony Richards Toyota/Premier
14. Connor Davison – Hampton Downs/Highlands Park
15. Mitch Hughes – Gilpin Cartage Contractors
Caption:  Jordan Baldwin secured his first overall race win in the Toyota 86 Championship today at Teretonga. Picture Bruce Jenkins.