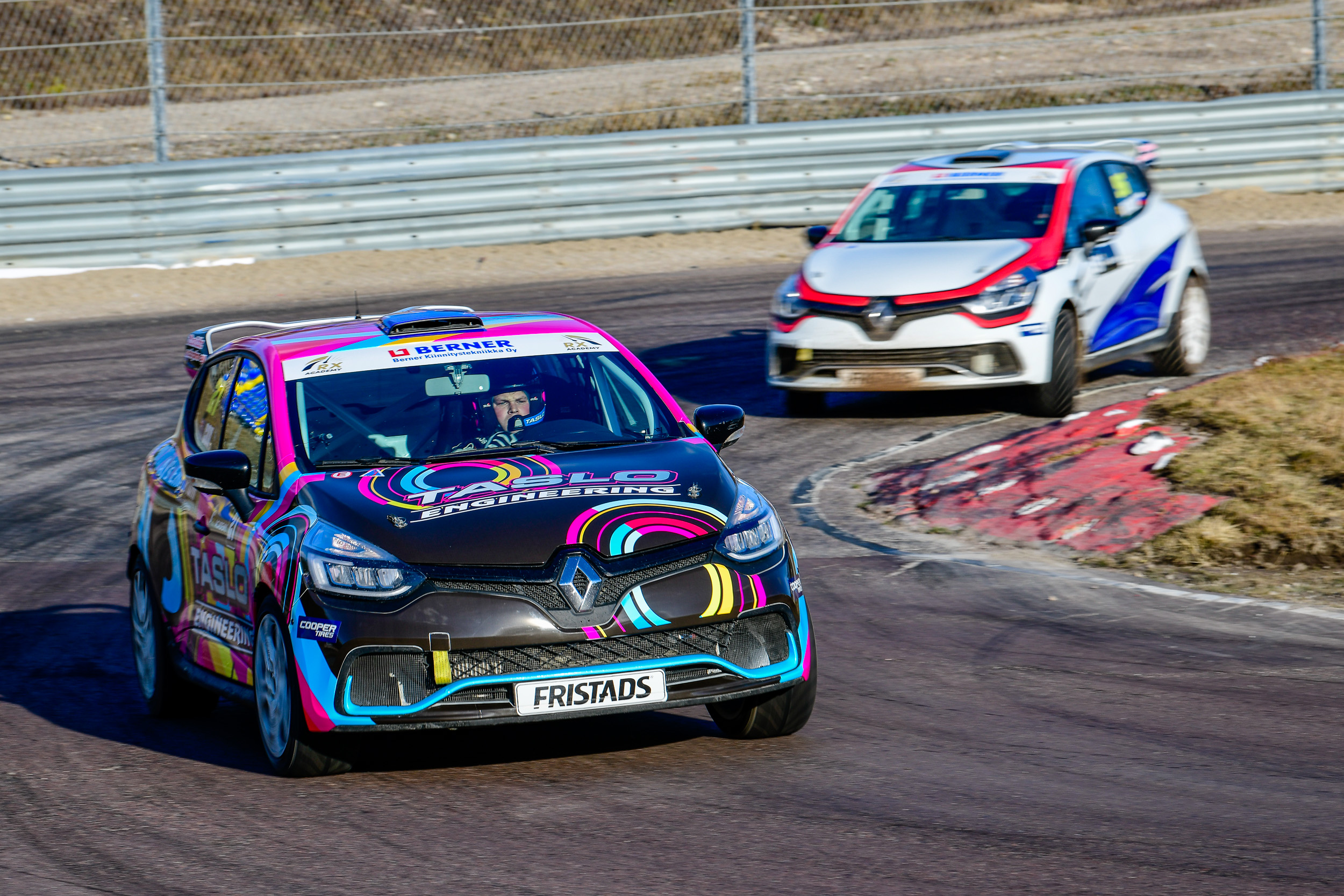 Sloan Cox races into third on international rallycross debut
Kiwi driver Sloan Cox showed he's on the right track with his new rallycross endeavours, securing a well-deserved third place at his very first international rallycross event at the Höljes Motorstadion in Sweden on 6 May (CEST).
Cox, from Rotorua, has joined the RX Academy for the 2018 season, taking a new direction away from the New Zealand Rally Championship to focus on the intense, stadium-based motorsport discipline of rallycross, aka RX.
Considering Cox had had just one official test day in his 220 horsepower Renault Clio RS RX car, identical for all eight academy participants, and had never raced on a European rallycross circuit before, the result is all the more significant for the 26-year-old.
"It's an amazing feeling to be on the podium at round one," Cox says. "Of course I wanted to win but everyone is there to win! I knew it was going to be a tough battle because everyone was so even. So, a sensible drive to get on to the podium was more important than pushing for the win. I have learnt in motorsport that being consistent is the key so this is the great start to the year."
Part of Cox's preparation for the first of five RX Academy events was a three-day academy training camp.
"We focused mainly on the theory side of things with mental fitness, media skills and driving techniques. I enjoyed all the areas but what I wanted to work on the most was mental because rallycross takes a very different mindset to rally. The car is very different going back to front-wheel-drive, so I need to change my driving style, and racing with cars around me is obviously not what I'm used to.
"All the competitors worked real well together and I can tell it's going to be a good year with tight battles. The RX Academy tutors are top level and have amazing experience. Christoph Treier, mental coach has worked with many top athletes and drivers in WRC and World RX. Head of media Hal Ridge also works in media for the World RX. Jussi Pinomäki, the head of RX Academy, leads the driving coaching and is a very good driver himself and runs other championship winning RX drivers."
At the official test day in Strängnäs, Cox focused on quickly adapting to the front-wheel-drive Renault after his powerful four-wheel-drive Mitsubishi at home. "I love the car; it was awesome to drive. We did four laps in each session and did eight sessions. The track was a very good track to learn on. The day started out wet which was a challenge but good to learn as it exaggerated how you have to drive the car. As things dried out, we got faster. I concentrated hard on learning and made big improvements during the day. I felt by the end of the day I had really proven what I could do. I wasn't the fastest, but I proved I could hold good speed and be consistent."
Cox's Renault also stood out from his competitors with a colourful custom design. "At the beginning of the year we were given the option of applying our own livery to the car at our own cost, so we made the most of the opportunity to replicate the design done by AWS Graphics that is also seen on our Taslo Engineering hillclimb beast. I believe that having a standout, different car is very important."
Going into the first event at Höljes where the RX Academy category was part of massively popular RallyX Nordic championship, Cox says he had a feeling that he hadn't had before. "When I rally I get very nervous at times, but this was such a new experience that I don't know what to think. I was very excited but wasn't expecting too much of myself; I just wanted to learn as much as I could."
Saturday's schedule saw Cox join his academy colleagues in a free practice session and qualifying heat, finishing each four-lap session seventh and sixth overall respectively. Further qualifying on Sunday saw Cox improve to fifth overall with several fastest lap times. His goal was to be one of the six drivers who made the final, which he did with second place in his semi-final. The semis and final comprise five, mad-dash laps with a whole race taking about four-and-a-half minutes.
"After the semi, my next goal was a podium in the final. I knew after the test day that a win was going to be hard work and I had more to learn, but a podium meant I could start the year with good points. And that I did with a third place finish in the final, so I'm now third on points after the first round."
Cox is confident the change to the high intensity rallycross is a good move. "I'm feeling very positive for the year; now I just need to keep improving so I'll be working on getting more seat time in front-wheel-drive cars on both tarmac and gravel. There's also a possibility of racing in the RXA Australian Rallycross Championship – we'll know more on that soon."
He's also loved his time in Europe so far. "Finland was a beautiful place and the whole SET Promotions team (which runs the RX Academy) were so welcoming straight away and made me feel so comfortable. Sweden is another amazing place and the people here are so nice. Europe is motorsport crazy and I have been lucky enough to meet some famous people and see amazing motorsport history on this trip."
Before he returns to New Zealand, Cox will join RX Academy coaches and competitors at a round of the FIA World Rallycross Championship in Belgium and see rallycross competition at the highest level.
Cox will head back to Finland for three more RX Academy rounds – 16 June (Honkajoki), 11 August (Jalasjärvi) and 25 August (Kouvola), before the season concludes on 7 October at Tierps in Sweden.
Cox's 2018 rallycross campaign is supported by Taslo Engineering, AJ's Emporium, Driveline Automotive, Signedge and Teng Tools. Follow the news and action on Facebook: Sloan Cox Motorsport Ltd or RX Academy.
Source: Kate Gordon-Smith/Relish Communications