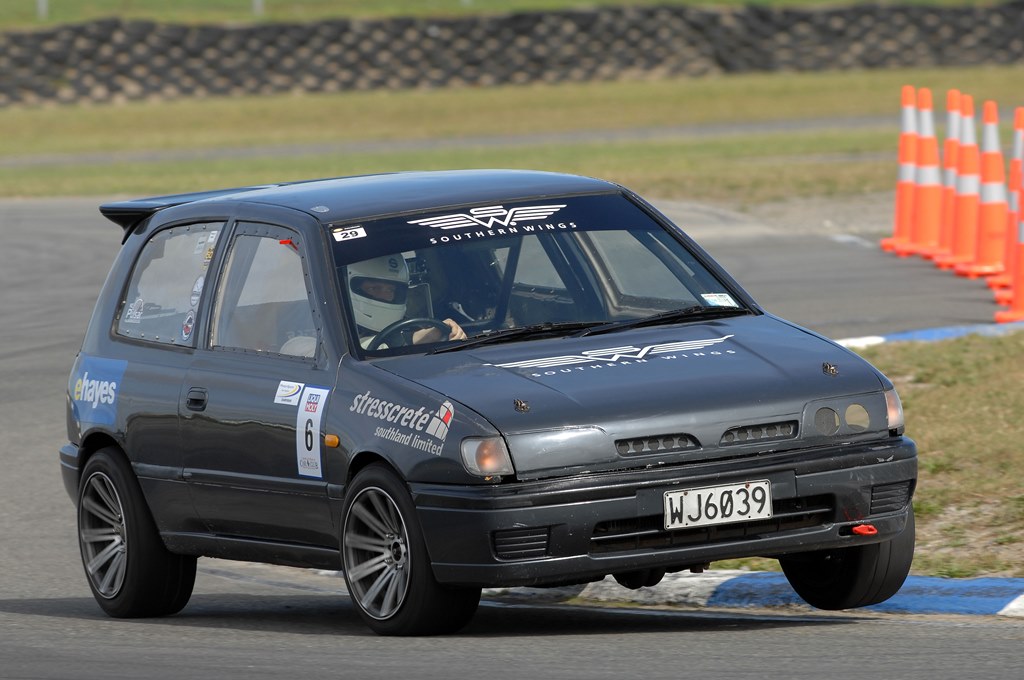 MotorSport New Zealand's club championship decided
The premier Gold Star title at the 2018 New Zealand ClubSport Championship, held in Christchurch on 17 and March, was won by Cameron Morison, a Christchurch-based pilot in his twenties. Invercargill's Rachel Lawrie, a 33-year-old accountant and mother from Invercargill, took out the Women in Motorsport NZ ClubSport Champion's title and 18-year-old trainee mechanic Jordan Grant, from Tauranga, won the junior champion's title for the second time.
The MotorSport New Zealand championship highlights the sport's grassroots, club-level competition which attracts a high proportion of the country's licenced competitors.
The NZ ClubSport Championship incorporates three very popular motorsport disciplines which form the basis of many New Zealand motorsport club events:
·         Motorkhana – an entry level event, run on a grass or sealed surface, where a competitor navigates their car around a course, of approximately 100 metres in length and marked by cones, at low speeds, usually in first gear and, at times, in reverse.
·         Autocross – a larger version of a motorkhana, but forward direction only and including straights of up to 100 metres (seal) or 200 metres (grass).
·         Bent Sprint – a timed run on a road course, gravel or sealed, which has at least one bend or curve, and is of a length determined by the organisers.
MotorSport New Zealand President Wayne Christie, from Christchurch, congratulated the organisers, Canterbury Car Club, and competitors on a well-run and hotly-contested event.
"These three disciplines – autocross, motorkhana and bent sprint – are the bedrock of our member club events, where competitors learn the key elements of car control and enjoy the excitement of competition," says Christie.
"The skills learned in these grassroots forms of competition are vital for participants wishing to progress to club rallies and circuit racing, and then onto national and international level competition. Having said that, for many thousands of Kiwi motorsport competitors, these club-run events are what they love – relatively low budget, able to be contested in a wide range of cars with core safety equipment, and all about the spirit of competition and comradery you'd expect with a club event.
"By recognising ClubSport with a national championship pays due credit to the club-driven elements of our sport. These are our grassroots classes and it's very encouraging for our sport that this year's championship attracted strong entries and tight-fought competition.
"Canterbury Car Club, with assistance from nearby motorsport clubs, put together a well-organised and very well-presented event, befitting a national championship. Chris Protheroe and his team did themselves proud with a top notch venue and layouts – the autocross course, dubbed the Bathurst 800, reassembled the famed Mount Panorama circuit! Congratulations to all involved and the 2018 champions."
Morison and Grant each receive a prize in the form of an exciting opportunity to compete overseas. These two 2018 ClubSport champions can enter one round of the 2018 Asia Zone Auto Gymkhana Championship. The prize covers their entry, airfares, accommodation and a vehicle to use during the competition.
Brian Budd, CEO of MotorSport NZ says: "The idea of offering this prize followed a presentation on the Asia Zone Auto Gymkhana Championship that Wayne Christie and I attended at the FIA Asia Pacific Zone Congress earlier this year. It seemed a great opportunity for New Zealand competitors to experience grassroots competition in Asia and to create some inter-country competition at this level. MSNZ has offered a similar opportunity for two Asian competitors to compete in our ClubSport Championship from 2019."
Morison, who is originally from Invercargill, belongs to the Ashburton Car Club and is a member of MotorSport New Zealand's voluntary ClubSport Advisory Commission. He says he enjoys the technical skill of the motorkhana and the speed of the bent sprint.
"The personal challenge to do better is what I enjoy most, but I also enjoy the build and work on my car as much as I enjoy driving, but neither would be fun without the friends you meet along the way," says the three-time ClubSport champion who also won in 2014 and 2016. "A friend got me involved using my road car in 2010. I was a student on the time living on $250 a week and that was still enough to get involved. This year's championship is again thanks to my friends who have supported me with encouragement, loaning equipment and storing my toy."
Lawrie, a member of the Southland Sports Car Club, was delighted that a women's championship was officially recognised this year. A three-time ClubSport championship entrant, she says it's extra special to be the inaugural recipient of the Women in Motorsport NZ Ladies' Cup.
"Each year I have improved my skills and slowly but surely I'm climbing the overall leader-board. The new women's category creates an additional competition within the main competition, similar to how the junior class has operated for a number of years. I hope it will encourage others to give it a crack and not be intimidated by the overall extremely competitive, national championship field."
Having started competing in club-level motorsport in 2014, Lawrie enjoys the technical challenge of the motorkhana and the speed of the bent sprint. "It's all about the challenge and excitement, pushing your limits and learning new skills."
She adds: "I'm a keen advocate for getting more young people and females into motorsport and try to get as many people involved as I can in the women's and junior-focused autocross run annually by Eastern Southland Car Club. It's a great, low pressure event to just have a go at the sport."
Grant, who belongs to Motorsport Bay of Plenty and is also a committee member, made his motorsport debut at last year's NZ ClubSport Championship event held in Taupo where he won the 2017 NZ ClubSport Gold Star Junior Championship.
"I love the challenge and fun of racing against the clock," says the teen who competes in a Suzuki Swift. "I'd like to thank my parents for their huge support and helping me work on my car. I'd also like to thank my sponsors Neil Rogers and Associates and Prospeed Motorsport and thank all the people that helped me to build my car into what it is today."
This year's New Zealand ClubSport Championship was run by the Canterbury Car Club at Mike Pero Motorsport Park (Ruapuna) and attracted 34 entries from around the country.
The governing body of motorsport in this country, MotorSport New Zealand is an incorporated society owned by approximately 100 member clubs. See www.motorsport.org.nz for more information.
Source: MotorSport NZ PR