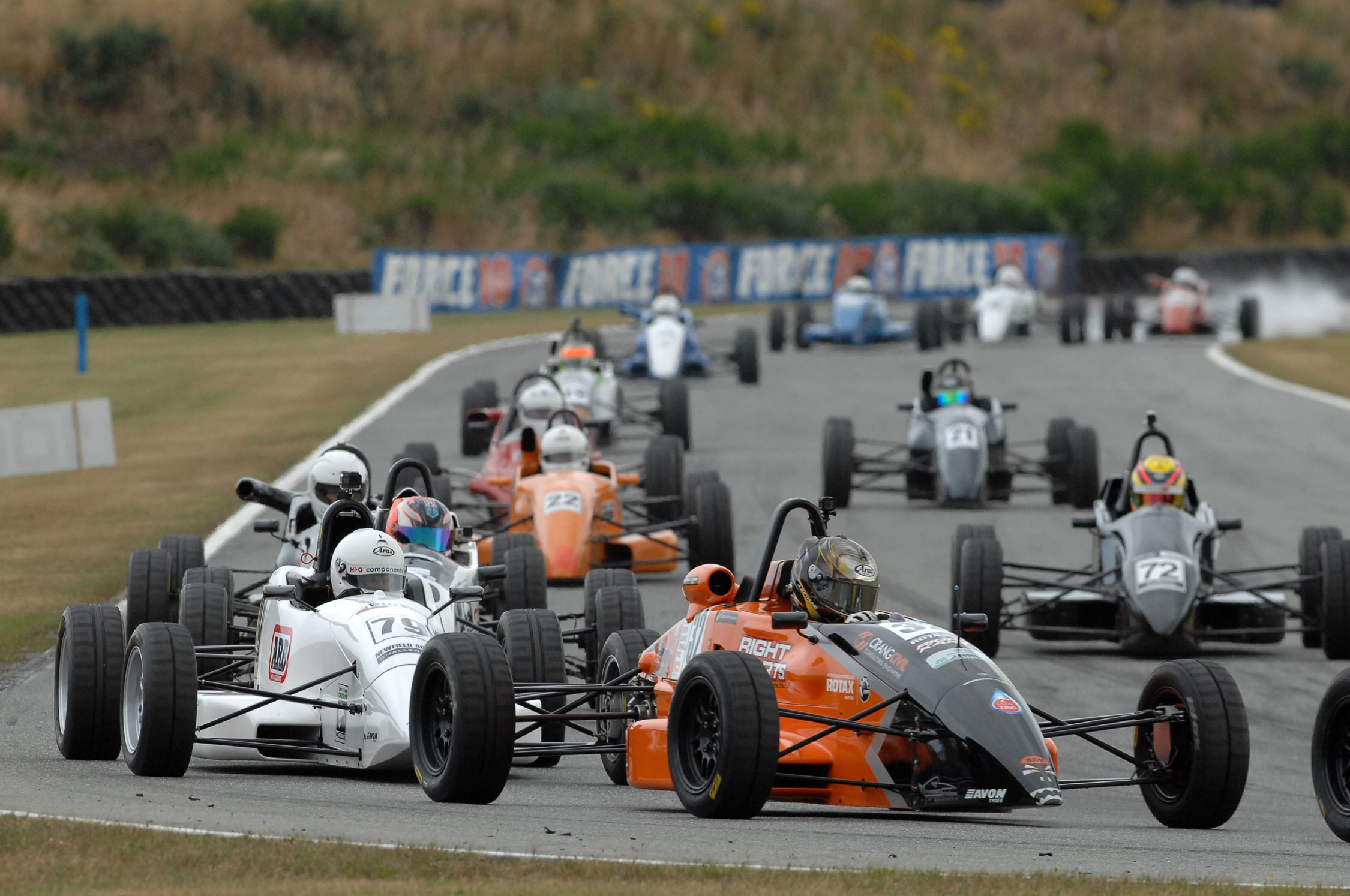 Rivals look to halt Bethune's NZ F1600 title quest at Manfeild this weekend
Auckland's Josh Bethune has a slender 23-point lead heading to the penultimate round of the New Zealand Formula 1600 Championship at Manfeild Circuit Chris Amon this weekend. Competing in his second year of the category, Bethune has led for much of the season but nipping at his heels is experienced Jordan Michels, and rookies James Penrose, Zac Stichbury and Callum Crawley. With two rounds remaining in the North Island, the advantage is with Bethune who is more at home while Michels and Penrose have limited experience at Manfeild and Pukekohe tracks.
Crawley may be the one to watch this weekend. Having won the 2017/18 NZ Formula First Championship, he has made a successful switch to the F1600 category, growing in confidence and experience over the season. Driving a brand-new Spectrum, he gained his first podium at Teretonga Park in January and will now be hunting for his first win.
Bethune has been the man to beat having won six of the ten races so far. Michels, now in his fourth season, has had three wins with Penrose taking his first win in Christchurch back in January.
"We're confident heading north with plenty of experience on the tracks," commented Bethune. "We are taking it in our stride, making the most of opportunities."
"We have good pace which is reassuring heading North, where may be we are a 'bit rusty'" said Michels.
Behind the top five drivers are a number of drivers who are proving very competitive and likely to take away valuable point winning positions in the last six races of the series. American Spike Kohlbecker has been on the podium in four of the five races he has finished so far. Cantabrian Jack Noble-Adams continues to show top five form along with Dunedin's Cameron Dyson and Robert Toshach from Christchurch.
North Island competitors joining the field at Manfeild include Tony Fitzpatrick (Stealth), Nick Buxeda (Van Diemen), Kim Croker (Van Diemen), Dave Silverton (PRS), Paul Dold (GLH), Tony Graham (Reynard) and Alex Hawley (Stealth).
Twenty-two cars are expected to take the grid for the three-race meeting, a continuation of the high entry list throughout the season in both the national and South Island championship. With just six races left in the national series, finishing every one is a top priority for gaining valuable championship points.
2018/19 New Zealand Formula 1600 Championship Points 3/5 rounds(Top 15)
1 Josh Bethune 369
2 Jordan Michels 346
3 James Penrose 265
4 Zac Stichbury 235
5 Callum Crawley 232
6 Jack Noble-Adams 197
7 Cameron Freeman 190
8 Robert Toshach 171
9 Spike Kohlbecker 156
10 Simon Spencer-Bower 133
11 Ben Stiles 128
12 Noel Atley 127
13 Dyson Freeman 123
14 Steve Edwards 114
15 Grant Campbell 105
2018/19 New Zealand Formula 1600 Championship Calendar
Rnd 1 10 November 2018 Timaru International Motor Raceway
Rnd 2 12-13 January 2019 Mike Pero Motorsport Park, Christchurch
Rnd 3 18-20 January 2019 Teretonga Park, Invercargill
Rnd 4 23-24 February 2019 Manfeild Circuit, Manawatu
Rnd 5 3 March 2019 Pukekohe Park Raceway, Pukekohe
Photos: Euan Cameron Photography
Prepared by SB Networks on behalf of the South Island Formula Ford Club