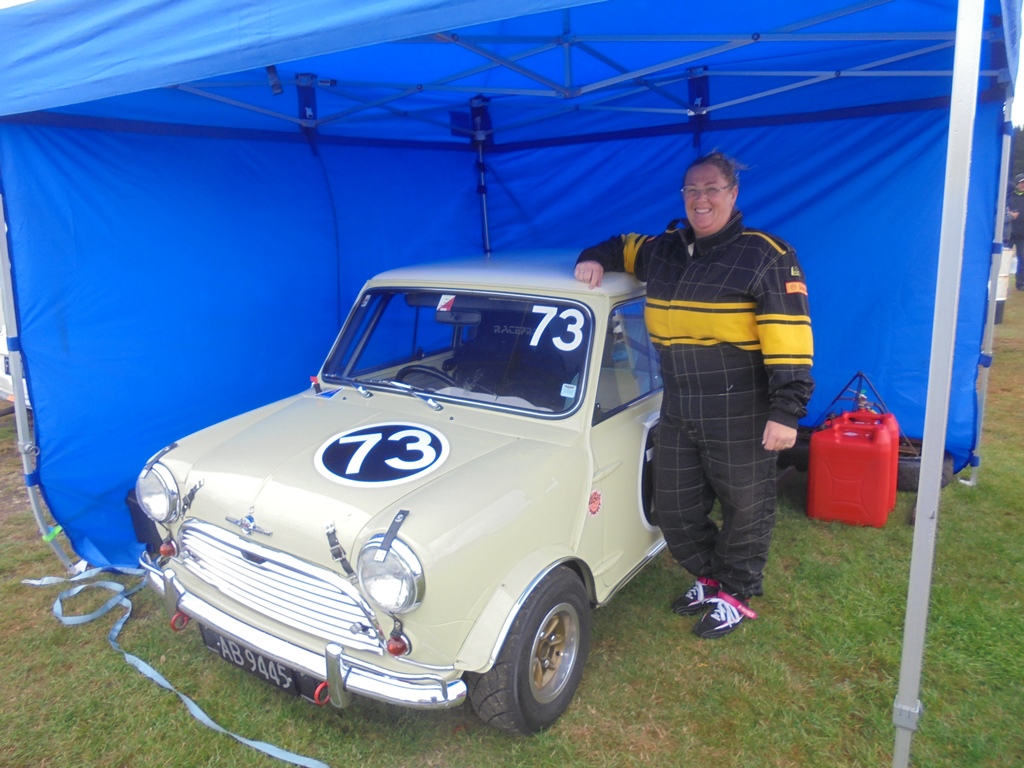 POIGNANT TALE AT TERETONGA PARK
There are always many interesting characters and intriguing tales around the pits at motor race meetings such as the Evolution Motorsport Classic SpeedFest held at Teretonga Park in Invercargill recently and the story of Kelly Pierce of Christchurch in an immaculately presented Mini was a very poignant one.
Kelly is the daughter of Alasdair Brass, a regular at SpeedFest over many years who sadly passed away just prior to last year's event.
Alasdair was a Southlander from the Aparima area who first raced at Teretonga Park during his teenage years in a Riley Elf. He moved to Canterbury, married a girl named Beryl and settled, retaining an interest in cars and keeping a collection of vintage vehicles. It was in his retirement that he returned to motor racing, first in a Mini Cooper S and then in a dedicated race car that he stripped back to bare metal and fully restored in his shed at home. He raced throughout the Christchurch area a lot, doing hillclimbs, big club days and the Skope Classic while also making the trek to SpeedFest at Teretonga Park each year. Son-in-law Hamish Pierce recalls he was very particular about which events he contested.
"He used to enjoy plenty of banter with his old southern mates in the pits, guys like Howard Kingsford-Smith, Doug Erskine and Ewan Macpherson," says Beryl. "He was really passionate about cars but never liked fixing them at the track – he wanted to enjoy racing, not fix cars and he would often sit in his deck chair at events and watch others fixing their cars asking, why didn't they do that before they got here," says Hamish.
His time in the Mini began in 2011 and continued until 2018 when his time was cut short. Fighting cancer, he had competed at Skope last year and was entered for SpeedFest when he very suddenly and unexpectedly passed away.
One year on and the Mini was back at the 2019 Evolution Motorsport Classic SpeedFest with daughter Kelly at the wheel. "I had been to a couple of Mini track days at Mike Pero Motorsport Park at Ruapuna and driven the car twice with Dad watching. Then, I stood up at Dad's funeral and said I would pick up where he left off," says Kelly. "I did a track day for road cars, started and got my M Licence and did some sprints. At the start of this season I did some club days – I wanted to qualify on my own merits – I wanted to know I could cope. My first big meeting was the two day meeting at Ruapuna in January this year. Then it was Skope. It was a success, I finished with the car in one piece after being in races with the likes of Grant Silvester in the big Chev – I was driving as if my life depended on it!"
After Skope it was on to Teretonga Park for SpeedFest, just as her Dad would have done. It was Kelly's first drive at the country's southernmost motor racing circuit. "I think it is a really nice track, really nice and smooth."
"Dad's friends Doug and Ewan are looking after me and I would like to thank everyone for a wonderful weekend. We will continue to support SpeedFest – life goes on," says Kelly. "I want to thank my husband Hamish and Mum as well," she says, "I couldn't do this without them."
The Mini now sports "In loving memory of Brasso" stickers on the side windows. "Dad hated stickers on cars," Kelly says, but after meeting the family and learning a little about the man you walk away thinking he would be very proud of everything his daughter and family have done since his passing.
Caption: Kelly Pierce with the Mini at the Evolution Motorsport Classic SpeedFest
Media release: Lindsay Beer, Southland Sports Car Club