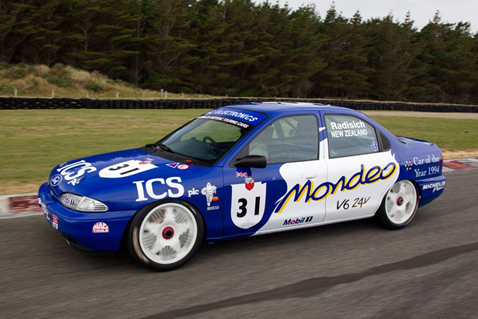 Radisich to race Touring Car winner at Hampton Downs
It's hard to believe that 25 years have passed since Paul Radisich won the Touring Car World Cup at Monza in 1993. The New Zealand driver won the prestigious event again at Donnington the following year, the back-to-back wins two of the highlights of a successful career that saw him race in British Formula 3, Indy Lights and V8 Supercars.
Radisich is looking forward to meeting some old friends at the Legends of Bathurst at Hampton Downs this weekend, including the Ford Mondeo he drove to victory at Monza and Donnington. Radisich will join some of the other Legends of Bathurst on the start line for the Historic Touring Car category.
"I raced the Mondeo for the first time at Teretonga in February in the Historic Touring Car event and finished second," recalls Radisich. "It brought back a lot of memories. It's over 20 years since I last drove the car and it actually felt better than when I last drove it. The car never had power steering back in the day and it does now so it was a lot easier on the arms. I'm looking forward to pushing the car along at Hampton Downs. The competitive juices are still there when I get behind the wheel but Legends of Bathurst is about enjoying the weekend, meeting some old friends and getting to see some really great cars."
"John Bowe and I raced together for many years and I took his seat at Dick Johnson Racing in 1999," says Radisich. "He's a fierce competitor but a fair one. Catching up with guys like John and Dick and swapping stories is a big part of what a weekend like this is all about. I raced with the Dick Johnson team for four years and while Dick could be a tough boss at times, he's a very funny guy and great company. He was the People's Champion back then and he still is."
Two second-place finishes in the Bathurst 1000 and two horrific crashes were the highlights and lowlights of Radisich's racing career around Mt Panorama. "So close but no cigar is my story around Bathurst. I led 'The Great Race' on many occasions but unfortunately, I never got to win it."
Radisich finished runner-up in the Bathurst 1000 in 1990 and 2000 but he reckons 1999 was the one that got away. "1999 should have been my year," he says. "We led the race all day and with 15 laps to go we got a puncture and didn't finish."
Radisich broke his ankle and sternum in a major crash during the 2006 Bathurst 1000 but it was a crash during practice for the Great Race in 2008 that ended his professional racing career.
"It took a couple of years to get over that one," says Radisich. "I pretty much broke everything from my feet up to the vertebrae in my back. It took me a long time to recover and I have to manage some of those issues for the rest of my life. Bathurst is a track that's been full of heartache and drama for me but it was always exciting to race there and I always enjoyed going there regardless of the outcome."
Other categories racing at Hampton Downs this weekend include Central Muscle Cars, Pre 65s, Formula Libre and Historic Formula Ford. The Legends of Bathurst will do autograph signing sessions over the course of the weekend while there will also be a massive Show 'n' Shine exhibition. The Legends on Stage dinner on Saturday evening at Hampton Downs Pavilion promises to be another highlight of the weekend. ​
For tickets and more information visit www.hamptondowns.com