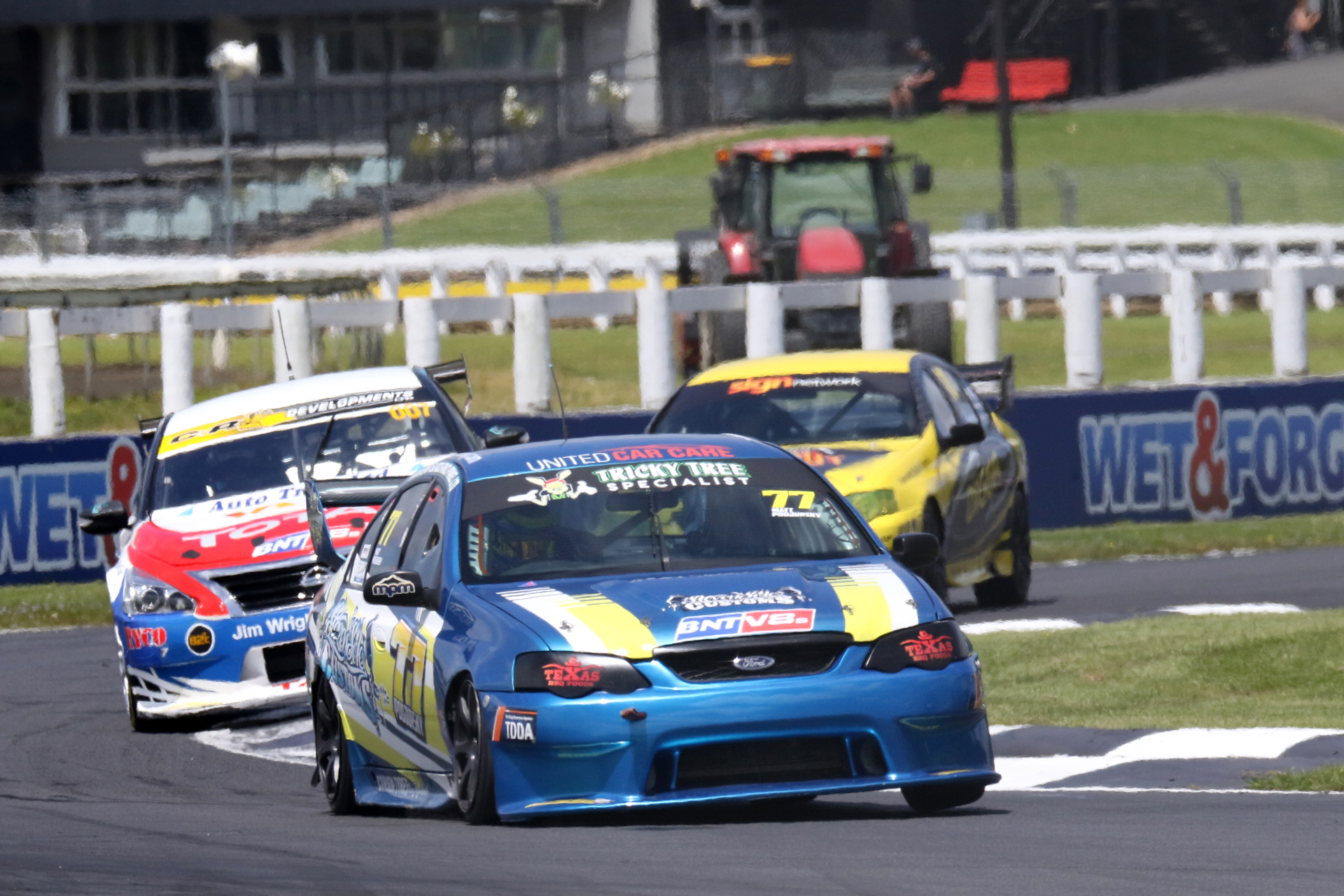 Highlands to Provide Field Leveller in BNT V8s
With the Xmas break behind them, drivers in the BNT V8s Championship are preparing for round three of the season, and for many of them, a new circuit.
It is the first time that the BNT V8s Championship will visit the 4.1km Highlands Motorsport Park circuit near Cromwell this coming weekend, January 12 & 13.
In Class One of the Championship, Australian driver Jack Smith leads having taken the lead at Round Two at Pukekohe in December.
Smith wrestled the championship lead off Nissan driver Nick Ross and now holds a 25-point lead. Smith's teammate, Lance Hughes sits in third place, a further 27 points behind Ross.
"Really looking forward to getting down to Highlands in Cromwell in the New Year, a new circuit for not only me, but a lot of the others drivers, so it should be a good leveller," said Smith.
"A few of the drivers will have been there, I know Nick Ross has and a couple of others, but have done limited miles. So it should be a more even that usual.
"I've heard the circuit is pretty cool, so I'm excited."
In Class Two of the Championship there is a tight battle emerging between Justin Ashwell of Christchurch who leads, with Matt Podjursky of Inglewood who is just one point behind.
Podjursky, who is competing in his first full season of the BNT V8s Championship hasn't raced at Highlands or Teretonga, which is round four of the Championship, but says he is excited about the challenge ahead of also learning two new tracks.
"I am looking forward to the two new circuits for me, that adds a bit of a challenge and after the first session hopefully I am comfortable with them."
Podjursky has been preparing for his first visit to the Highlands circuit by watching on-board footage to try and learn the intricacies of the circuit.
"I've done a lot of time on my simulator around the circuit as well as watching on-board so going in, I'm best as I could possibly be.
"It's massively close between Justin and I, which is always exciting, so we look forward to the challenge."
"We just need to refine a couple of little things we have identified, apart from that we have the car speed."
Over the next two rounds of the BNT V8s Championship, drivers will compete for the Jason Richards Memorial Trophy. Richards was a well-regarded driver by his peers on both sides of the Tasman and competed in the Australian Supercars Championship for ten years, before passing away from adrenocortical carcinoma – an aggressive form of cancer in 2011.
Richards was a three time New Zealand Touring Car Champion and since 2012 the Jason Richards Memorial Trophy has been awarded to drivers in the New Zealand V8 Championship.
The BNT V8 / New Zealand Touring Car trophy has been previously won by Jason Bargwanna in 2012, 2014 & 2015 with Nick Ross winning it in 2013. It has not been awarded since 2015.
For the 2018/19 BNT V8s Championship, the trophy will be awarded to the driver with the most accumulative points following Round Three at Highlands Motorsport Park (January 12-13) and Round Four at Teretonga (January 19-20).
Drivers in both Class One and Class Two are eligible.
Caption: Matt Podjursky is a number of BNT V8 drivers who will experience the Highlands circuit for the first time this weekend.