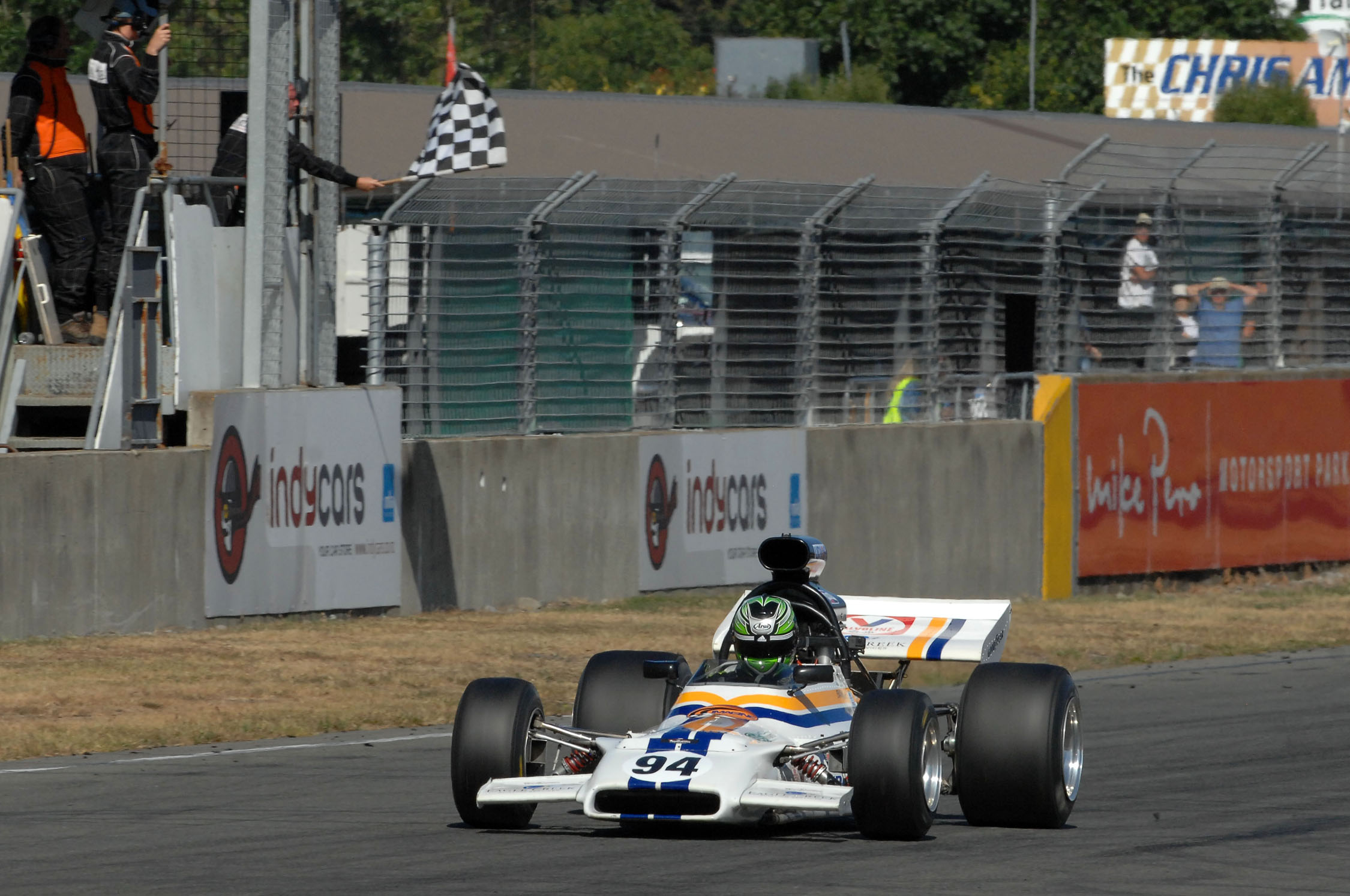 QUICK COLLINS TAKES F5000 BATTLE TO SMITH – AND WINS
With pole position in qualifying this morning, and a breakthrough win over long-time SAS Autoparts MSC NZ F5000 Tasman Cup Revival Series pace-setter Ken Smith (Lola T332) in the afternoon, category young gun Michael Collins (McRae GM1) came of age at the annual Skope Classic historic motor racing meeting in Christchurch today.
The 22-year-old dominated the South Island Formula Ford series but was struggling to work out 'where to next' until local preparation specialist John Crawford suggested he look at the SAS Autoparts MSC F5000 category and series.
Collins himself is too young to have even seen the first of the original Tasman Cup Revival Series races, but jumped at the chance of a drive in one of Queenstown car owner Alistair Hey's cars, the ex Evan Noyes McRae GM1.
That was just over a year ago and after showing speed and consistency in his first season in the car last year, Collins returned this season as the driver most likely to take the battle to four-time series title holder Smith.
Last weekend at the third series round at Hampton Downs Collins outqualified Smith for the first time. But Smith, the 77-year-old Supervet in his 61st season of national level competition, kept his 2018/19 season winning streak alive by getting the jump on fellow front row starter Collins in all three races…and just when Collins looked like he was close enough to make a winning move the input shaft of his car broke (in the third race).
There was no such bad luck on the first day of competition at Christchurch's annual Skope Classic meeting today though. This time it was Collins, revelling in the hot, dry weather and track conditions at his home circuit, who was comfortably quickest in qualifying, and who got the jump off pole at the start of the 8-lap race, he and Smith quickly pulling away from the rest of the field as they engaged in a high-speed game of cat-and-mouse in front of the large and enthusiastic crowd present.
That it was Smith who set the quickest race lap – a 1:18.734 – attests to how hard he was trying. But this time Collins was not to be beaten.
"He deserved that," Smith said of the victory, which ended his own 9-race winning streak. "He's a good young fellow, very good to race with. There were places where I could catch him but others where his car was better than mine but we'll go back to the drawing board and see if we can find something extra to bring to the battle tomorrow."
And Collins?
"I'm just happy to finally get a win. Ken is absolutely on the top of his game at the moment and though we've been able to run the same and better times than him, beating him in a race has been a different story altogether."
UK-based series regular Greg Thornton (Chevron B24) was again the best of the rest of the SAS Autoparts MSC Series runners crossing the finish line third ahead of Brett Willis (Lola T330), Aaorn Burson (McRae GM1), and the Lola T332s of David Banks and Kevin Ingram.
LeRoy Stevenson, driving car owner Alistair Hey's recently rebuilt Leda LT27, qualified and ran in third place early on but pitted to check on a vibration in the rear of  the car, losing two laps before returning to the race with two laps to go.
Unfortunately the qualifying session saw Auckland car owner/driver Tony Galbraith (Lola T332) crash heavily. The session was red flagged while medical officials attended to Galbraith and his car was retrieved, but it resumed after a short delay.
Galbraith was conscious throughout but was admitted to hospital with a leg injury.
There are two more races for the SAS Autoparts MSC NZ F5000 Tasman Cup Revival Series cars at the Skope Classic this weekend, a second 8-lapper on Sunday morning, followed by the event's 12-lap feature scheduled to start at 4.10pm on Sunday afternoon.
2018/19 SAS Autoparts MSC NZ F5000 Tasman Cup Revival Series
QUALIFYING
Michael Collins (McRae GM1) 1.18.133
Ken Smith (Lola T332) 1.18.439
Leroy Stevenson (Leda LT27) 1.18.824
Greg Thornton Chevron B24) 1.20.982
Brett Willis (Lola T330) 1.21.850
Aaron Burson (McRae GM1) 1.22.167
David Banks (Lola T332) 1.22.366
Kevin Ingram (Lola T332) 1.24.463
Tony Galbraith (Lola T332) 1.29.171
Race 1 (Sat) 8 lap
Michael Collins (McRae GM1) 10:38.192
Ken Smith (Lola T332) +1.070
Greg Thornton Chevron B24) +27.320
Brett Willis (Lola T330) +27.998
Aaron Burson (McRae GM1) +31.552
David Banks (Lola T332) +37.288
Kevin Ingram (Lola T332) +38.170
Leroy Stevenson (Leda LT27) + 2 laps
CAPTION: Category young gun Michael Collins (#94 McRae GM1) earned his first SAS Autoparts MSC NZ F5000 Tasman Cup Revival Series race win at the Skope Classic today, finally beating series points leader Ken Smith (#11 Lola T332).  Photo credits: Fast Company/Euan Cameron
Prepared by FAST COMPANY of behalf of the New Zealand Formula 5000 Association