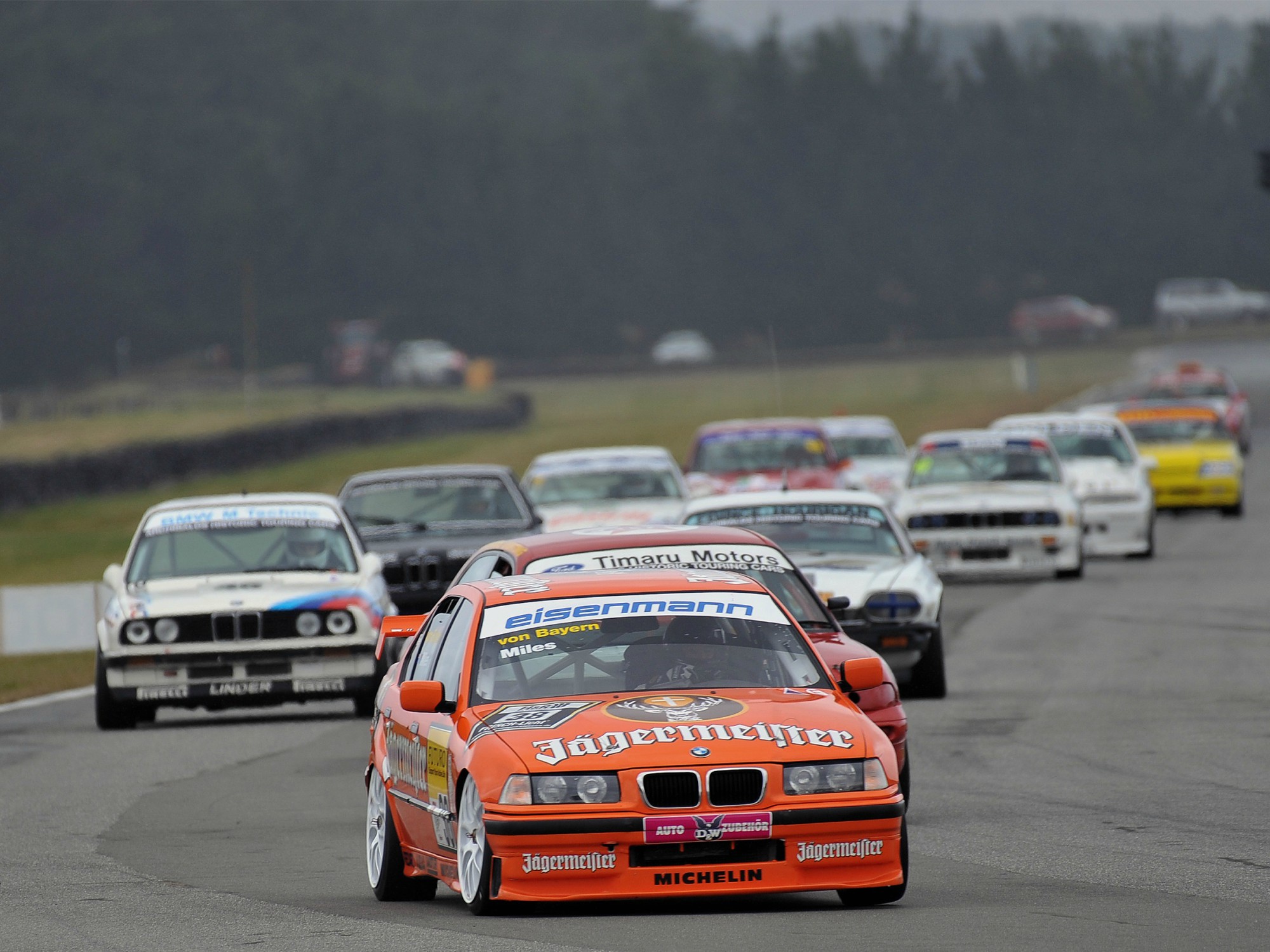 MILES AND BLACK SHARE HISTORIC TOURING CAR SERIES SPOILS AT FINAL ROUND
BMW drivers Bruce Miles (E36 320i Super Tourer) and Arron Black (E30 M3 Gp A) shared the spoils at the final round of this year's Archibalds Historic Touring Car Series (HTC) at the annual Evolution Motorsport Classic SpeedFest at Invercargill's Teretonga Park over the weekend.
Dunedin ace Black qualified quickest and won the first of the three Cooke Howlison BMW-backed category races of the weekend held late on Saturday afternoon, then the second, held in similar cool, damp weather and track conditions, first thing on Sunday morning.
However Christchurch man Miles – who qualified second quickest and was first across the line in the Saturday race only to be relegated to third when a 10-second penalty for a false start was imposed – came back from a sixth place finish in the second race of the weekend on Sunday morning to pip pole man Black virtually on the line to win the third before leading the final race of the weekend and season later in the afternoon from start to finish.
Black remained a factor in both races Miles won and capped of his own weekend with his and the category's fastest race lop of the weekend  – a 1:05.325 – in the final, the only one of the four races which started and finished on a dry track.
Best of the rest over a weekend which saw crews as busy as drivers changing between slicks and wet weather tyres was Timaru NZTC category original Kevin Pateman in his V6-engined Ford Telstar.
He finished a weekend best second in the red-flag punctuated first race on Saturday before finishing fifth in the second race, third in the third and fourth in the final, after again running third early on behind the runaway Miles/Black duo before Christchurch driver Murray Cleland finally managed to catch him then pull away in Bruce Miles' other E36 Super Tourer.
Unseasonably cold and damp weather conditions played their part on all four races, the first of three Cooke Howlison BMW-backed six-lappers on Saturday
The race was effectively a two-part affair after it was red-flagged after just two laps so that officials could remove Simon Crampton's E30 BMW M3 GpA, which had slowed the stopped between the Loop and Castrol corner.
The field was already well mixed at this point, however, after third quickest qualifier Lindsay O'Donnell spun his Volvo S40 entering the first corner. Though those behind were able to avoid hitting the Volvo Austin McKinley from Christchurch ended up with some panel work.to do on his Group A Holden Commodore VK after tagging one of the other cars as both tried to avoid the O'Donnell Volvo.
To add to the drama – and right on time – a rain shower lashed the track as the field was waiting on the race to be re-started.
Bruce Miles was again quickest off the rolling start though Arron Black stayed within striking distance, while category original Trevor Crowe (GpA BMW 635i) made the most of the tricky track conditions to catch and pass fellow Christchurch driver Peter Sturgeon (GpA BMW E30) to take 4th place.
Black then won the second Cooke Howlison BMW-backed race on a wet track on Sunday morning form father and son Lindsay and Matthew O'Donnell with Dunedin driver Stephen Grellet enjoying his most competitive run to date in his ex-Paul Radisich BTCC Peugeot 406 Super Tourer working his way up to fourth place ahead of Kevin Pateman,  Bruce Miles, GpA Jaguar man Gary Johnstone and Nick Young in his GpA BMW 325i
Lindsay O'Donnell joined pole-sitter Arran Black on the front row of the grid for the third – this time  Southland Tyre Centre-backed – race which started just before the lunch break on Sunday, and held second place for the first two laps before being caught and passed by a charging Bruce Miles then outbraking himself on the rain-slicked track with two laps to go and running off the road at the hairpin.
The Volvo was undamaged but that was the end of O'Donnell's race, elevating Kevin Pateman to 3rd,  Trevor Crowe to 4th, Nick Young to 5th and Gary Johnstone to and event-best sixth.
Stephen Grellet was another to lose control  on the damp track, starting from P4 but spinning off – again without car damage on the opening lap. Matthew O'Donnell suffered a similar fate as the group of cars he was with funnelled into the Castrol left-hander. A wheel off the track was all it took to see him spin, pushing him back to 14th place before he could gather his BMW Super Tourer up and work his way back up to 11th place at the flag.
Having pulled out a decent lead early on Arron Black looked like winning his third race in as many starts until the final run from the Elbow corner to the chequered flag.
Putting in a final charge – one which netted hm the fastest race lap, Bruce Miles caught Black's  E30 BMW by the pit lane entrance and was past as the chequered flag was waved, the margin just 0.59 of a second
Behind Black meanwhile, Kevin Pateman was a lonely third, with a large gap back to Trevor Crowe, Nick Young, Gary Johnstone. Murray Cleland, the NZTC-spec BMW 320i twins of Steven Kelly and Graeme Clyde ten Peter Sturgeon, Matthew O'Donnell, Austin McKinlay, Dennis Ham and local man Tony Forde in his GpA Walkinshaw Holden Commodore V8.
Which just left the fourth and final – Cooke Howlison BMW-backed category race, won in imperious pole-to-flag fashion by Bruce Miles in his distinctive bright orange Jägermeister-liveried ex Prince Leopold von Bayern BMW E36 Super Tourer with team mate Murray Cleland also breaking the 1:07 barrier on his run to third place.
Biggest mover this time was Lindsay O'Donnell who set the third quickest race time-  a 1:06.391-  as he charged through the field from his back of the gird starting place to finish 5th.
Also setting his best time in the final race was Steven Kelly who set a personal best time in his NZTC BMW 320 on 1:08.761..
2019 NZ Archibalds Historic Touring Cars NZ Rnd 3 (Final) Evolution Motorsport Classic Speedfest meeting Teretonga Park Fri-Sun Feb 15-17
Qualifying
Arron Black (GpA BMW M3) 1:12.027
Bruce Miles (BMW E36 320i ST) 1:14.894
Lindsay O'Donnell (Volvo S40 ST)1:15.952
Peter Sturgeon (GPA BMW E30 M3) 1:16.304
Matthew O'Donnell (BMW E36 318i) 1:17.090
Nick Young (GPA BMW 325i) 1:20.277
Austin McKinley (GpA Holden Commodore VK) 1:20.976
Trevor Crowe (GpA BMW 635i) 1:21.000
Stephen Grellet (Peugeot 406 ST) 1:21.432
Steven Kelly (NZTC BMW 320i) 1:21.632
Gary Johnstone (GP A Jaguar XJS) 1:22.065
Tony Forde (GpA Holden Walkinshaw Commodore 1:22.824
Kevin Pateman (NZTC Ford Telstar) 1:26.994
Dennis Ham (NZTC Alfa Romeo 155) 1:27.710
Murray Cleland (BMW E36 318i ST) 1:46.633
Race 1 (Sat) 6 laps
Arron Black 13:20.045
Kevin Pateman +3.133
Bruce Miles +8.897
Trevor Crowe +13.007
Peter Sturgeon +14.076
Murray Cleland +15.115
Nick Young +17.073
Matthew O'Donnell +17.343
Lindsay O'Donnell +19.925
Gary Johnstone +24.826
Tony Forde +25.111
Stephen Grellet +26.385
Graeme Clyde +26.707
Steven Kelly +29.01
Dennis Ham +35.841
DNF Simon Crampton 5 laps
DNF Austin McKinley 6 laps
Announcements: Car 38- 10 second time penalty – false start
Race 2 (Sun 6 laps)
Arron Black 7:33.755
Lindsay O'Donnell +5.630
Matthew O'Donnell +36.016
Stephen Grellet +38.302
Kevin Pateman +38.371
Bruce Miles +43.436
Gary Johnstone +50.865
Nick Young +51.369
Peter Sturgeon +57.589
Trevor Crowe +1.02.701
Tony Forde +1.03.541
Steven Kelly +1.04.174
Austin McKinley +1.04.179
Dennis Ham +1.19.016
DNS Murray Cleland, Graeme Clyde & Simon Crampton
Race 3  Sun (6 laps)
Bruce Miles 7.16.284
Arron Black +0.155
Kevin Pateman +9.734
Trevor Crowe +40.475
Nick Young +45.020
Gary Johnston +4.922
Murray Cleland +46.614
Steven Kelly +47.987
Graeme Clyde +48.284
Peter Sturgeon +49.796
Matthew O'Donnell +59.530
Austin McKinlay +1.14.148
Dennis Ham + 1 lap
Tony Forde + 1 lap
DNF Lindsay O'Donnell  4 laps
Race 4 (Sun) 6 laps
Bruce Miles 6:41.973
Arron Black +0.591
Murray Cleland +15.351
Kevin Pateman +19.037
Lindsay O'Donnell +20.275
Trevor Crowe +25.846
Peter Sturgeon +35.420
Gary Johnstone +37.087
Matthew O'Donnell +37.284
Graeme Clyde +37.889
Tony Forde +38.579
Nick Young +38.788
Steven Kelly +39.849
Dennis Ham +1 lap
Austin McKinley + 1 lap
dnf. Stephen Grellet
 CALENDAR
Rnd 1: Jan 12-13, 2019 Legends of Bathurst Festival meeting Hampton Downs Nth Waikato
Rnd 2: Feb 01-03, 2019 Skope Classic meeting Mike Pero Motorsport Park ChCh
Rnd 3: Feb 15-17, 2019 Evolution Motorsport Classic Speedfest Teretonga Park Ingill
CAPTION: Bruce Miles (#38 BMW E36 Super Tourer) claimed two wins from two starts at the final round of the 2019 Archibalds Historic Touring Car Series at Invercargill's Teretonga Park over the weekend. The other two races were won by fellow BMW driver Arron Black (#15). Lindsay O'Donnell (#40 Volvo S40) joined Black on the front row of the gird for the third race and was the big mover in the final race. Photo credit: Fast Company/Richard Dimmock
 Produced by FAST COMPANY on behalf of the Historic Touring Car (NZ) Association