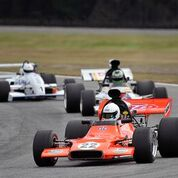 GREAT START TO CLASSIC RACING AT TERETONGA PARK
Spectators at Teretonga Park were treated to some good racing during the opening day of competition at the Evolution Motorsport Classic SpeedFest at Teretonga Park in Invercargill today.
There was much interest in the appearance of three Formula 5000 cars in the Powderline Formula Libre class and LeRoy Stevenson of Queenstown won both of today's races in one of them – a Leda LT27. In the process Stevenson also broke both the Formula Libre and Classic Single Seater lap record with a lap of 54.154 in the second of the day's races. Christchurch driver Michael Collins had taken pole position in Friday's qualifying in another of the Formula 5000 cars, a McRae GM1, but Stevenson got the jump from second on the grid to lead all the way to take victory by 2.521 seconds in Saturday morning's race from Collins with Gary Cooper of Dunedin in a Reynard 92H third. Stevenson was on pole for the second race later in the day and again got the best of the start to lead all the way for his second win, again from Collins and Cooper.
Tony Mann of Dunedin in a Ford Capri won the opening Professionals Real Estate Classic Saloon race by just .804 of a second from Mark Scott of Wellington in a BMW M3 CSL E46 with Australian Jim Wallace third in his BMW M5. Mann was a non-finisher in the second race won by Scott from Wallace and Bradley Dawson of Invercargill (Chev Camaro).
Chris Glasier of Dunedin took the spoils in the first Invercargill Hire Sports & GT Class race in his Marcos LM500 from Sam Smith of Wallacetown in the Rhubarb sports car. Partners, Jason Crosbie (Beck Special) and Southland Sports Car Club President Rachael Beck (Ford GT40 Replica), had shared the front row after qualifying but finished third and fourth respectively. Glasier made it two in a row when he won the second race from Crosbie and David Robertson of Invercargill in an Ace Buckler.
Alex Morton of the UK in his Lightning Envoyette had comfortable wins in both Southland Tyre Centre Formula Junior races, the first ahead of New Zealander Phil Foulkes and his fellow countryman Iain Rowley, both in Lotus cars, while in the second Rowley took second ahead of Foulkes.
Dunedin's Aaron Black in a BMW E30 M3 won the Cooke Howlison BMW Historic Touring Car race from Kevin Pateman of Timaru in a Ford Telstar after Bruce Miles of Christchurch had led across the line only to receive a 10 second time penalty for a false start which dropped him to third in his BMW.
Ashburton driver Russ Haines in his Frangapelli Holden prevailed in the Jesco Hydraulics Vintage Racing Cars from Jim Bennett of Dunedin in a Furi Impulse and Rob Boult of Queenstown in a Furi Mk6.
Australian Lyndon Arnel took out both Downer Formula Ford races in his Lola T440 from Ron Wilkin of Tuakau in an Elden and Aucklander Noel Woodford in his Dulon.
The first Pre 65 Saloon race went to Darryn Sutherland of Dunedin in a Ford Falcon from Paul Clarke of Mosgiel (Holden EH Special) and Stuart Mitchell of Invercargill in a Valiant after Wayne Tuffley of Invercargill in his Ford Mustang retired near the end of the race. The second race for the class was a handicap event and it was Sutherland who came through to win again from Paul Whiting of Christchurch in an Anglia and Michelle Clarke of Mosgiel in a Mustang.
Kyle Dawson of Invercargill qualified fastest in a Nissan Skyline in the Noel McIntyre Drainage Clubmans Saloons but received a penalty promoting Stacy Lines onto pole in his Toyota FX-GT as many of the more powerful saloons qualified down the order in damp conditions. However in the dry later in the day Dawson came through to win from his brother Dion Dawson (Saker) and Andrew Cundall (Toyota Levin).
The action continues with a full day of racing from 9am on Sunday. A day pass purchased at the gate for Sunday's action is just $20 while children 14 & under are free if accompanied by an adult.
Photo: Richard Dimmock
Caption: LeRoy Stevenson of Queenstown leads Michael Collins (McRae GM1) and Gary Cooper (Reynard 92H) in the Powderline Formula Libre category.
Media release: Lindsay Beer for Southland Sports Car Club