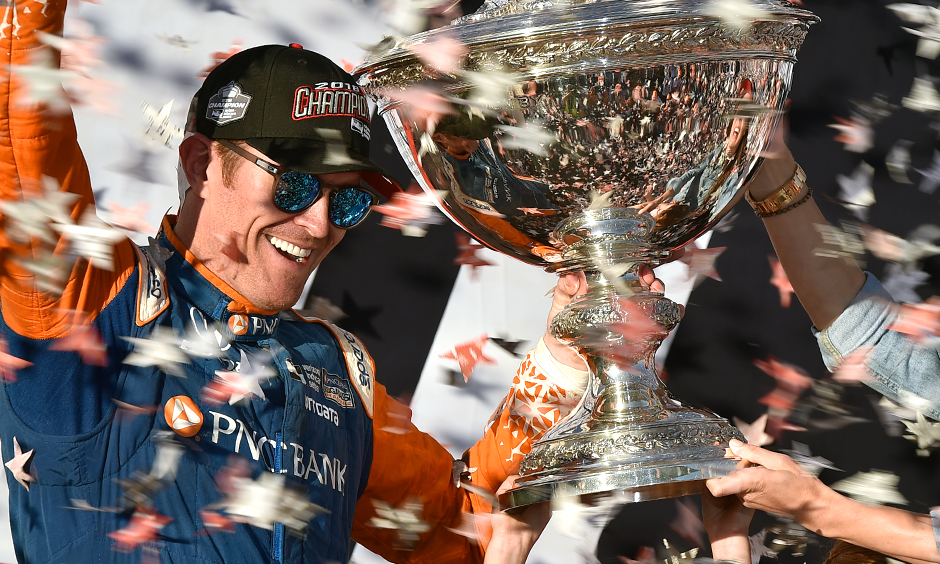 Premier motorsport awards to Dixon, Lawson, Hunt and McKechnie
Five-time IndyCars Champion Scott Dixon, 2019 Toyota Racing series winner and now Red Bull Junior Team driver Liam Lawson, former New Zealand Rally Champion Ben Hunt, and passionate classic car competitor John McKechnie were the recipients of MotorSport New Zealand's four most prestigious awards on Saturday 25 May.
At its annual awards night, held this year at Te Papa in Wellington, MotorSport New Zealand celebrated the successes of competitors, the dedication and contributions of volunteers and officials, and the talents of motorsport media.
MotorSport New Zealand president Wayne Christie says: "Motorsport in New Zealand is in good heart with over 700 events per year permitted by the MotorSport New Zealand office. At our annual awards, we enjoy the opportunity to show our appreciation for the volunteer marshals and officials, club members, event organisers and media who contribute to our sport on every level, making it possible for competitors to enjoy their motorsport. We also congratulate our national champions which includes two important grassroots championships – ClubSport and Hillclimb – which have the prestige of being national championships."
MotorSport New Zealand presents four premier awards each year – the Jim Clark trophy for race drivers, the Rally Founders trophy for rally competitors, the Steel memorial trophy for under 21-year-old race competitors and the Lupp trophy for classic or historic competitors. The trophies themselves were made available to the governing body courtesy of former competitors and administrators.
Christie says: "This year, the recipients of our four premier awards reflect the extraordinary breadth of New Zealand motorsport talent – from our international stars, national champions, rising stars with great opportunities ahead of them, and the classic car fraternity who keep New Zealand's amazing motor racing heritage alive. It was a tough decision for our selection panel to choose from a wonderful array of talented nominees for these awards."
The Jim Clark trophy is awarded in memory of Jim Clark who was the Tasman race champion in 1965, 1967, and 1968 and then tragically killed at Hockenheim, Germany, in April 1968. The trophy is awarded annually to the New Zealand driver competing at a national or higher level who shows a sportsmanlike attitude to the sport and fellow competitors and natural ability in "putting up the most meritorious racing performance during the season".
The three nominees for the Jim Clark trophy were: five-time IndyCars champion Scott Dixon, Toyota Racing Series champion Liam Lawson and Australian Supercars champion Scott McLaughlin, with Dixon getting the nod for earning his fifth IndyCars championship title in an 18-year career. Dixon is now second on the all-time championship winners list behind seven-time USAC winner AJ Foyt. Dixon has been presented with the Jim Clark trophy three times previously (1999, 2001 and 2004).
Inaugurated in 1990, the Rally Founders trophy recognises the rally driver who performs with distinction during the rally season, either nationally and/or internationally; has a sportsman-like attitude towards the sport and others, and displays the qualities of a true sporting ambassador.
The three nominees for the Rally Founders trophy were: Gore's Andrew Graves for his outstanding efforts in club rallies, former national rally champion and 2018 New Zealand Rally Championship runner-up Ben Hunt, of Nelson, and Perth-based Mike Young, a top contender in the Asia Pacific Rally Championship.
This year, the Rally Founders trophy went to Ben Hunt, who also won this award in 2016.
First presented in 1983, thanks to late Owen and Gwenn Steel, the Steel memorial trophy recognises the efforts of a junior (under 21 years) driver at national race level and their dedication, skill and professionalism as they strive to progress to the upper echelons of motorsport.
The three nominees were: Feilding's Callum Crawley (18) who won the 2017/18 Formula First Championship and is now a top NZ Formula 1600 competitor, Pukekohe's Liam Lawson, who is the 2019 Toyota Racing Series champion currently racing for Red Bull in the FIA Formula 3 Championship, and Invercargill's Jordan Michels (21), winner of the 2018/19 NZ Formula 1600 Championship.
Lawson, now aged 17, won the Steel memorial trophy for the third time in recognition of his rising reputation in European single-seater racing.
The Lupp trophy is from the late Sybil Lupp's collection and made available to MotorSport NZ by the Wellington Central MG Car Club. Famed for her motorsport exploits, Wellingtonian Sybil Lupp began racing in 1947 and, by 1952, had won 144 trophies.
The three nominees for the Lupp trophy this year were: John McKechnie, from Auckland, a well-known volunteer who formed the Historic Sports Sedan Club and worked hard to enable historic saloons to race within MotorSport NZ's historic rules, while also restoring his own 'big banger'; prolific racer Ken Smith, also from Auckland, who won this trophy in 2009 and needs little introduction for his own extraordinary racing career and his efforts to assist up-and-coming drivers; and Rangiora's John Silcock, a rally competitor well known for his great sounding Group B-based RX7 and 2018 winner of the Historic Rally Challenge.
McKechnie was named the winner of the Lupp Trophy for 2019.
Nominations for MotorSport NZ's four premier awards come from the 97 member clubs who jointly own and contribute to MotorSport New Zealand as the country's governing body for four-wheeled motor sports.
The awards evening also saw trophies presented to 2018-19 race, rally, hillclimb and ClubSport champions from around the country, as well as an array of certificates and awards acknowledging the contributions of volunteers, officials and media.
Access the full list of this year's MotorSport New Zealand awards.