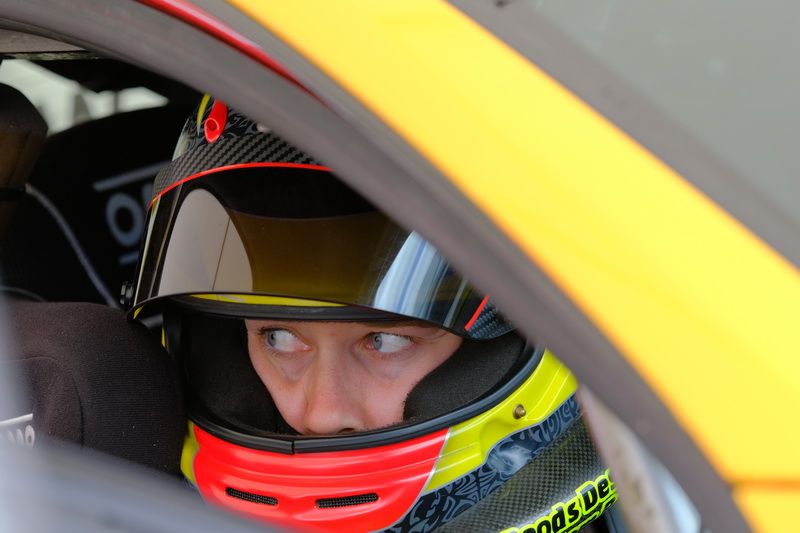 NZ-based Whitley ready for W Series selection
New Zealand-based Australian racer Alexandra Whitley is ready to do her best at the intensive W Series selection programme being run in Austria next week.
Whitley will be up against 59 other talented female racers vying for one of 18 places to compete in the brand-new W Series, a single-seater motor racing series for women drivers only. The six-race series, using Tatuus T-318 Formula 3 cars, is free to enter for the 18 competitors and boasts a top prize of US$500,000 for the winner and a total prize fund of US$1.5 million. The first race takes place in May 2019 with the actual dates and race venues still to be announced.
Whitley, age 25, is originally from Toowoomba in Queensland, Australia, but has based herself in Auckland for the past few years. A seven-time Australian National Ladies Karting Champion, Whitley raced in New Zealand's one-make SsangYong Actyon Racing Series for two seasons before joining the NZV8 Ute Championship series in 2017. Late last year, she achieved a new motorsport milestone at Pukekohe Raceway, becoming the first female competitor to win a NZV8 race in the category's history. She is also a graduate of New Zealand's Elite Motorsport Academy, which she attended in 2016 – one of 13 women to have participated in this highly-regarded motorsport competitor coaching programme.
Whitley was a late addition to the W Series qualifiers' list, with organisers announcing an initial cut of 55 qualifiers then adding the group including Whitley. She found out just after her history-making V8 ute win that she'd been selected to participate in the intensive three-day selection process, becoming one of four Australians and the only qualifier competing with a MotorSport New Zealand licence to be selected.
Whitley is excited by the challenges ahead next week even though she hasn't driven a single-seater race car before.
"Coming from a karting background, I love that kind of feeling [of single-seaters]," says Whitley. "I've done a test day in a Formula Ford and was straight on the pace, so it doesn't worry me, to be driving the Formula 3 car for the first time. I'll spend some time driving in a relevant race simulator; I don't think I'll have a problem picking it up."
The 60 qualifiers come from 28 countries and include highly-regarded female competitors with considerable experience. They will be assessed by former Formula 1 drivers David Coulthard and Alex Wurz, as well as Lyn St James, a retired and highly regarded American race driver who has links to New Zealand, having competed here in the late 1980s as a special guest in the Ford Laser TX3 series.
"I see a really big opportunity for women in motorsport with this series," Whitley adds. "What they're doing for women in motorsport for women around the globe is world-leading. I'm honoured to representing both Australia and New Zealand at the W Series selection event."
Whitley aims to learn as much as she can at the Wachauring circuit in Welk where she will be assessed on her driving ability in the F3 car, her physical fitness, mental aptitude, results of psychological and psychometric testing, and communication, media and PR abilities. "Regardless of the outcome, it's quite an achievement to make the top 60 qualifiers."
MotorSport New Zealand President Wayne Christie is looking forward to seeing how Whitley gets on at the selection days. "It's fantastic to see Alexandra putting herself forward for this opportunity. The W Series offers the selected competitors a wonderful chance to improve their race craft in current specification F3 cars. I feel sure the series will be hotly-contested with very competitive lap times, and enable those drivers to return to mainstream competition with a whole new level of intensity and experience. On behalf of MotorSport New Zealand, I wish Alexandra all the very best for the busy few days ahead. I'm sure her domestic racing can only benefit from this learning opportunity."
Whitley appreciates the support she's had from other women competitors over the years, including Queensland-based New Zealander racer and record-setter Heather Spurle MBE and Australian driver Leanne Tander. "Heather gave me my original leg-up to car racing and has given me a lot of advice and support along the way. It's cool to have such high-profile mentors who are also real people and help you out. I hope that, one day, I can do the same for other young women coming up through the sport."
If Whitley is selected for the W Series, she'll be racing on some of the best and most famous circuits in Europe, which will be a very different experience to her current NZV8 ute racing campaign.
More information about the W Series is available on the website https://wseries.com/ or follow Whitley's progress on her Facebook page https://www.facebook.com/Alexandrawhitleyzoom/.