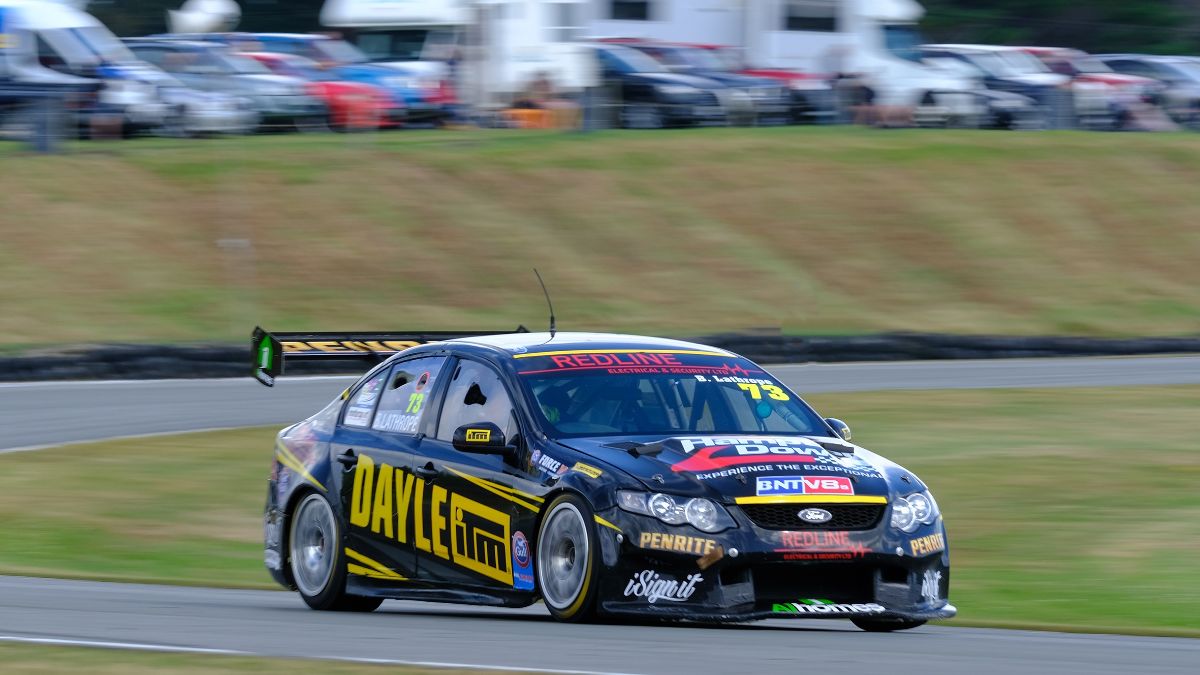 Lathrope enjoys race battles to finish fourth overall at Teretonga
Teretonga Park turned on its usual inclement Invercargill weather for the fourth round of the BNT V8s Championship but it did little to dampen the spirits of Brad Lathrope, who finished the weekend on an absolute high.
He enjoyed battles with his fellow Class One competitors throughout the three races in his Dayle ITM #73 Ford Falcon super tourer and wound up fourth overall. It was a solid effort from Brad and the team and came on the back of their podium placing at Highlands Motorsport Park last weekend.
It was Auckland-based Brad's first time racing his Dayle ITM Ford at Teretonga, so he utilised the practise sessions to get into a flow.
"I was working on lines and looking for where I could push the limit with my braking markers. Every single session we went out in, we made quite a large improvement in regards to quickest lap times and kept improving on consistency, which is definitely key in our Class One racing at the moment," Brad says.
He did end up causing a red flag in practise three, when he beached his Ford in the sand on the final turn onto the front straight. There was no damage, except for a large influx of sand underneath the car.
Qualifying went well in the wet and Brad was pleased with his lap time, which was in the high 1min.10secs.
"We were on top of the wet set-up and it was just me trying to get a little bit more confident in pushing the car in the wet. I was very happy with that because we weren't too far off where everyone else was. They can be a bit of a handful these cars in the wet – which is probably a nice way to put it.
In race one Brad got an average start but quickly started having a bit of fun.
"There was one competitor I kept chasing down and I was quicker than him in a few spots and he was quicker than me in the other half of the track. We had a bit of a battle until I got a little bit too confident around turn three and ran wide and put the car sideways at a pretty decent speed. It was pure luck that I hit the tyre barrier when I went off. Thankfully there was no damage with the car. I got it running again and finished the race in sixth, which wasn't too bad."
In race two this morning Brad started seventh and got a good start. Again he enjoyed battles with his class rivals and this time he came out on top.
"I was putting a bit of pressure on the car in front of me and he must have been in his rear-view mirrors a bit too much because he pinched the rear brakes coming into the final turn and spun himself round. So I took evasive action to make sure I didn't hit him and we finished in fifth."
Brad got a "rocket ship start" in the final race and stuck on the tail of the front cars the whole time. He nailed his best lap time of the weekend, which was a 1.00.9 and ended up fourth.
"From first place to fourth place was only 1sec difference in the overall times. We were having a good battle. I was just sitting right on the end of it, waiting to see what happened. I was over the moon ecstatic with how we ended the weekend with race three."
The BNT V8s were able to complete all three races, unlike the Castrol Toyota Racing Series which had to cancel its two races today due to gale force winds making circuit conditions unsafe for the high speed formula TRS cars.
Brad gave massive thanks to Barry Leitch of Leitch Motorsport for helping out for the second consecutive weekend, this time alongside his Auckland-based team.
"We've all learnt a huge amount from the knowledge Barry has got. It was great to have my boys back and running me as well learning from one of the best."
Brad was also thankful to his sponsors for allowing him to "chase the dream" – right down to  the bottom of the South Island.
"Having my Dayle ITM sponsors Marty and Deb Day down as spectators was absolutely awesome and hopefully I've done everyone proud. I'm excited to see how the last two rounds of the season go as we are definitely starting to find our feet."
The fifth round of the BNT V8s Championship will be held at Manfeild on February 8-10.
Brad Lathrope Racing thanks the following sponsors for their support: Dayle ITM, Redline Electrical and Security, A1 Homes, Penrite oil, Motorsport Communications, iSignIt, Ultimate Performance and AV8 Motorsport.
CAPTION: Auckland's Brad Lathrope raced his Dayle ITM #73 Ford Falcon super tourer to fourth overall in Class One over round four of the BNT V8s at Teretonga Park. PHOTOS CREDIT: GEOFF RIDDER.
Media release: Catherine Pattison