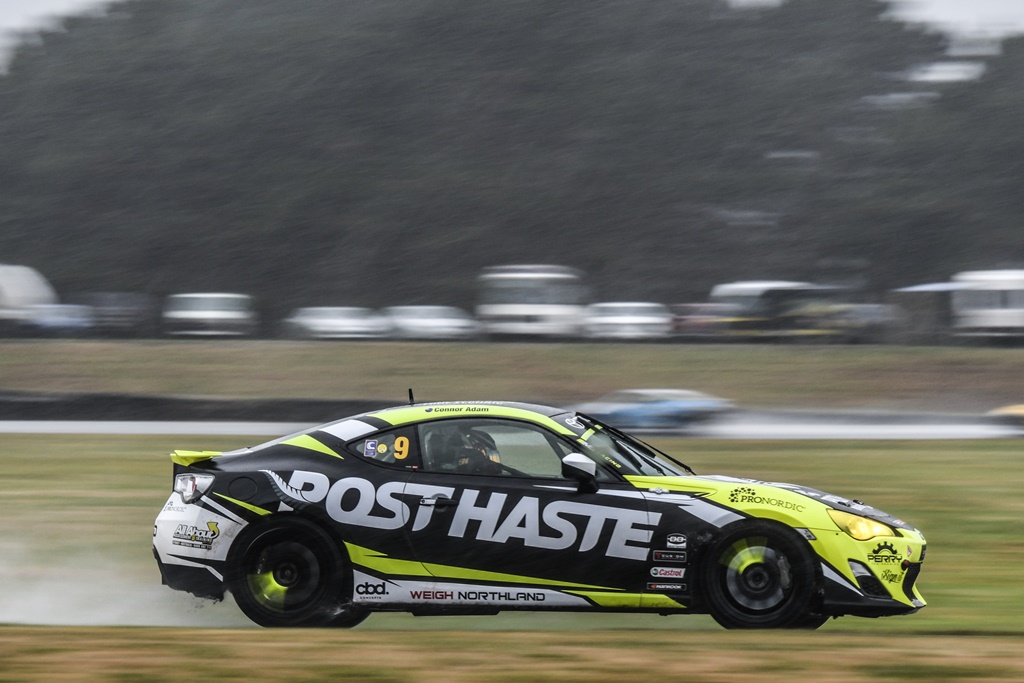 South Island tour proves costly for Connor Adam
Back-to-back South Island rounds for Mount Albert's Connor Adam, 20, have proven costly for his  Toyota 86 Championship campaign. Following another troublesome weekend at Teretonga, Adam has slipped to fifth in the standings.
The weekend started off promising for Adam, who had endured two lacklustre rounds following his incredible start to the championship at Pukekohe. The International Motorsport driver ended Friday's practice second fastest of the 15 strong class.
While Friday provided clear skies and sun, Saturday began with rain, leaving the track wet for the 20-minute qualifying session. The conditions left teams frantically adjusting their cars to suit the wet track, unfortunately for Adam, they were unable to get a fast setup developed and qualified ninth for the first race.
"It was great to end Friday practice so fast!" said Adam.
"We gained a lot of confidence in the car and in myself too, it was just unfortunate that it rained on Saturday and everything we learnt went out the window."
Saturday afternoon's 15-lap race saw improvements in Adam's wet setup which was enough to help him move forward two positions in the race to finish seventh.
The second race of the weekend, also 15-laps, was held in dry conditions but a hectic start to the race saw Adam struggle to move forward. Adam crossed the line ninth but unfortunately received a five-second penalty for a safety-car restart infringement which saw him drop to 12th in the official results.
The final race of the weekend was held over 20 laps again heralded misfortune for Adam who was forced to pit with damage, dropping him two laps down to finish 14th.
"We just struggled to find a setup that worked for us down here.
"To be honest we aren't entirely sure why we couldn't find any speed but we are going to be working hard over the next few weeks to make sure we come back firing at Manfeild."
Adam remains in the top five of the points table following his southern struggles. The Toyota 86 Championship now heads north for the penultimate round at Manfeild Circuit Chris Amon for New Zealand motorsport's headline event, the New Zealand Grand Prix on February 8-10.
Adam's Toyota 86 campaign is supported by Post Haste, ProNordic, Perry Engineering and Weigh Northland.
Toyota 86 Championship points after Round 3 (Top 5)
Callum Hedge – 735
Jaden Ransley – 722
Jordan Baldwin – 712
Peter Vodanovich – 603
Connor Adam – 578
Caption: Connor Adam (#9) sits fifth in the 2018/19 Toyota 86 Championship after the fourth round at Teretonga. Image by Bruce Jenkins.
Media release: Jordie Peters