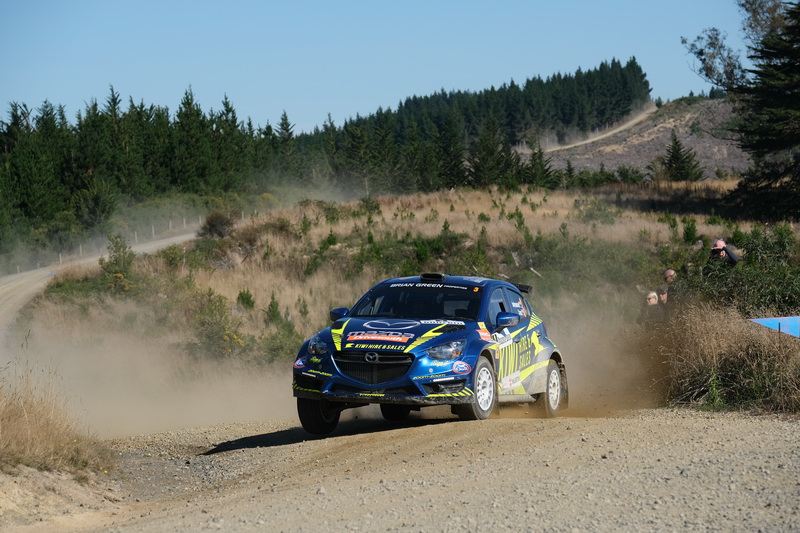 MotorSport NZ supports Hawkewood's Chinese APRC finale bid
New Zealand rally driver Andrew Hawkeswood is heading to the final round of the FIA Asia Pacific Rally Championship in China this October with support from MotorSport New Zealand.
In March, MotorSport New Zealand released details of a $5,000 grant for one New Zealand competitor who qualified for October's APRC final in China.
Auckland-based Hawkeswood qualified for the APRC final by gaining points in the first two qualifying rounds which were run in New Zealand. The Otago Rally was an APRC round for the first time, while the International Rally of Whangarei has been the New Zealand APRC round since 2007. This year, the APRC included rounds in Australia, Japan, Indonesia, and also China's finale.
In a significant change from most rally championships where competitors earn championship points based on their finishing positions in all rounds of the championship, this year, the APRC championship titles are being decided in China. The reasoning behind the change was so that competitors didn't need to travel to several countries to compete for the championship title. So Hawkeswood and co-driver Jeff Cress could potentially come home as New Zealand's next APRC champions.
Hawkeswood will contest Rally China, based in Longyou, 400km south-west of Shanghai, with his Mazda 2 AP4 he used to finish fifth at Rally Otago earlier this year.
"It's the first time I've actually competed in China, but I've travelled over for rallies there since 1998 helping other competitors, either running one of my cars or their own," says Hawkeswood.
"It's also going to be my last major rally. I'm just too busy with other projects and while I might do a few club rallysprints and the like, I'm stepping down from major competition."
Hawkeswood says the grant from MotorSport New Zealand was one of the incentives to confirm his entry. "My son Jack, who's 18, also qualified for the final in China, so we were already taking Jack's car. The freight costs weren't significantly higher to take two cars, rather than one, so the MotorSport New Zealand grant helped me make the decision to go. I also want to support the Asia Pacific Rally Championship so to have two New Zealanders there will be important."
Looking at online footage of previous events in the Longyou region, Hawkeswood says he thinks it's going to be a rally of attrition. "The roads are part concrete, part gravel where you have to watch the edges which can have sharp drop-offs that could rip a wheel off. And with this year's regulations meaning that the championship itself comes down to just this one event, if I can get to the end, who knows, I might be the champion…or Jack might become the youngest champion!"
MotorSport New Zealand President Wayne Christie says: "This year, the APRC working group made significant efforts to reinvigorate the championship, so as motorsport's governing body in New Zealand, MotorSport NZ also wanted to support a New Zealand competitor who wanted to contest the 2019 final in China.
"We wish Andrew and Jeff all the very best, and best of luck also to our young Kiwi pairing of Jack Hawkeswood and Alex Parkin for their first event in China."
A third New Zealander, Mike Young will also contest Rally China. Young has established a solid rally career in the Asia Pacific region and will compete in the 220km Longyou event in a Cusco Toyota.
New Zealander Hayden Paddon won the FIA APRC Pacific Rally Cup recently. This title went to the competitor who earned the most points in the four Pacific rounds – the two New Zealand rallies and two in Australia. With maximum points from his success in his Hyundai i20 AP4 car in Otago and Whangarei, Paddon then leased a Hyundai i20 R5 car in Australia to contest August's Eureka Rally run in Victoria, just north of Melbourne. It's a title Paddon also won ten years ago at the International Rally of Whangarei.
The FIA APRC has been in existence for more than 30 years and past winners include New Zealand greats Possum Bourne and Rod Millen, along with multiple World Rally Champion Carlos Sainz, and more recently, current WRC competitor Pontus Tidemand from Sweden. Visit https://fiaaprc.com/ for full details and https://fiaaprc.com/competitors-qualified-for-2019-finale/ for the competitors who have qualified for the final in China.
Media release: Kate Gordon-Smith for MotorSport NZ
Photo: Geoff Ridder