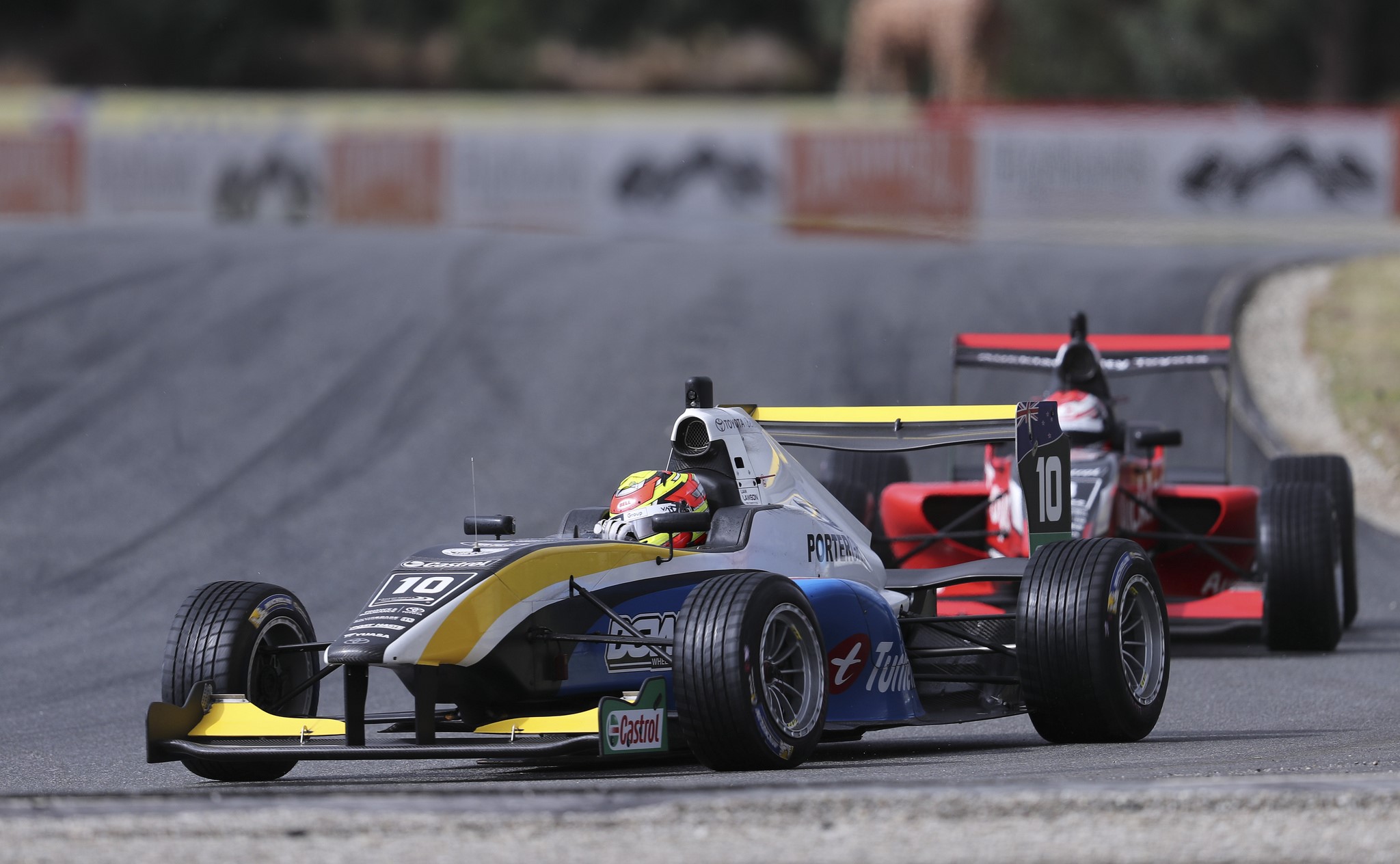 Lawson leaves them standing
If Saturday's first race heralded the arrival of home favourite Liam Lawson in the 2019 Castrol Toyota Racing Series, then the 20 lap Sunday feature race marked him out as one of the championship favourites.
Lawson not only won the wet race by ten seconds, he pulled off the pass of the weekend around the outside of fellow Kiwi Marcus Armstrong on the daunting final corner at the Highlands Motorsport Park before hunting down race leader and pole position holder Lucas Auer to take the win. Not done yet, he then strung a series of laps together that simply left the field for dead to win as he pleased on a drying track.
The race was started under the Safety Car and after a couple of exploratory laps it was Auer – in a rebuilt car after a crash in the morning's race – who led away as the field held station for the first lap. At the end of the first lap it was Auer from Armstrong, Lawson in third, Petr Ptacek in fourth, Artem Petrov in fifth, Raoul Hyman in sixth, Cameron Das in seventh, Race 2 winner and the third Kiwi in the field Brendon Leitch in eighth, Calan Williams in ninth and Kazuto Kotaka in tenth.
Lawson wasted no time in getting stuck into a battle with Armstrong and the Ferrari Academy driver defended against repeated and spectacular attacks from the sixteen year old well in challenging conditions until the end of lap six when even he must have been surprised to see Lawson go for the pass around the outside of the final turn in very wet conditions. The gap was tight but Lawson kept his foot down hard and so did Lawson. Side by side down the home straight, the two then touched briefly as they swept into the first corner, but it was Lawson who came out ahead. On a mission, he immediately opened a gap and set off after Auer, who had benefitted from the scrap behind to take a lead of a few car lengths.
Lawson's pursuit was relentless and he caught and passed the experienced Austrian with a clean and decisive move after the bridge at the half way mark. And then he was gone. Much as he had done on Saturday he got into a groove that was simply faster than his opponents and drive away from all of those more experienced racers behind.
At the flag it was Lawson by ten seconds from Armstrong, who passed Auer on lap 13. Lucas was struggling in his hastily repaired car and ultimately also lost out to Hyman on the last lap, ending up fourth.
Ptacek had a lonely run to fifth while Petrov took sixth and kept a decent battle for the remaining positions behind him. That was ultimately resolved with Das in seventh, Williams in eighth, Leitch in ninth and Kotaka rounding out the top ten.
Race 3 Result – Highlands Motorsport Park Round 1
1. Liam Lawson (New Zealand)
2. Marcus Armstrong (New Zealand)
3. Raoul Hyman (United Kingdom)
4. Lucas Auer (Austria)
5. Petr Ptacek (Czech Republic)
6. Artem Petrov (Russia)
7. Cameron Das (USA)
8. Calan Williams (Australia)
9. Brendon Leitch (New Zealand)
10. Kazuto Kotaka (Japan)
11. Esteban Muth (Belgium)
12.Thomas Smith (Australia)
13.Dev Gore (United States)
14.Parker Locke (USA)
DNF: Petru Florescu (Romania)
Caption:  New Zealand's Liam Lawson put in another impressive drive to win the feature race at the first round of the Castrol Toyota Racing Series.
Picture John Cowpland.
Release: Toyota Racing NZ