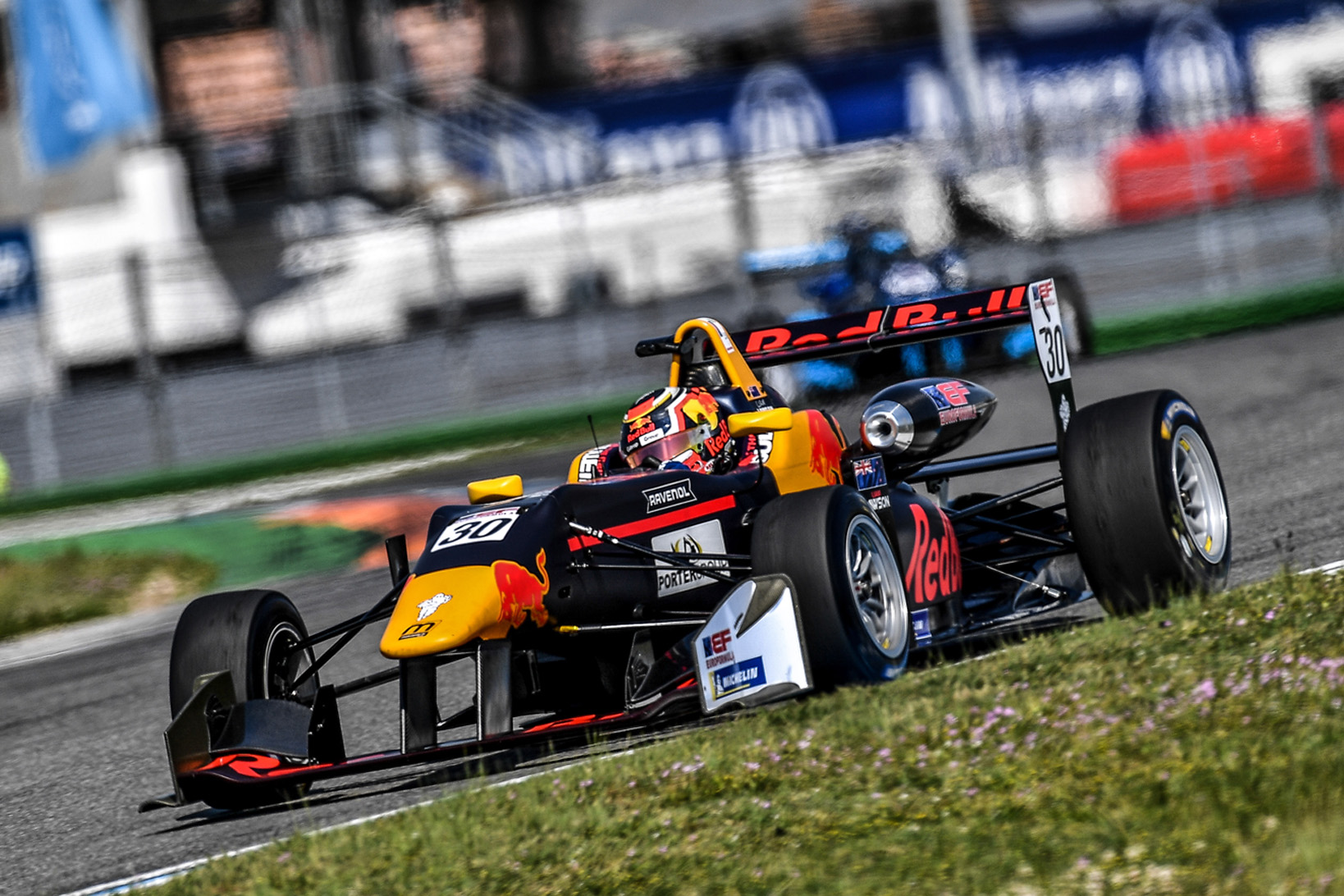 Lawson battles car issues in final race of Euroformula Open at Hockenheim
Red Bull Junior Driver Liam Lawson couldn't repeat his storming first race performance at Hockenheim during the final as he battled an ill-handling car over the closing stages of the last race and fell from podium contention.
From third on the grid the Kiwi driver snatched a position early on but within a handful of laps couldn't stay with his Red Bull Junior teammate Yuki Tsunoda who continued to stretch a gap over the field to take a comfortable victory after 19 laps.
"I was starting to close in on Yuki but very much on the limit. I knew after a few more laps that we were really going to struggle with tyres," said Lawson afterwards.
"I had to kind of back off. In the high speed corners the car had so much oversteer I had so many snaps through turn 1, turn 12 and the last corner as well."
"Then we lost the fronts [tyres]. In the slow speed turns there was massive understeer and the balance over a lap was horrible."
By then poleman Marino Sato, who firstly lost out to Tsunoda and then Lawson was catching back up to the 17-year-old Kiwi and in the second-to-last corner Lawson caught the outside kerb and it spun his car around. He carried on but fell from second place to fifth, but still collected some championship points for the day.
The podium ended up another team Motopark lockout, with Tsunoda, Sato and German driver Julian Hanses, who benefited massively from Lawson's spin.
Sato (20), who is now in his third season of racing Formula 3 in Europe, took pole for both of the Hockenheim races and along with a Saturday win, now leads the Euroformula Open (EFO) series by 15 points over Lawson, with Tsunoda's victory lifting him into third position nine points adrift.
In the Rookie driver standings, Lawson in his first season of Formula 3 is 10 points ahead of race winner Tsunoda. The 19-year-old is the current Japanese Formula 4 champion and is part of the Honda-backed Dream Team. Finnish driver Linus Lindqvuist, the current British Formula 3 champion, who is also in his third season in these cars but classified a rookie in EFO, is a further 10 points behind Tsunoda.
Lawson is hoping for a return to race winning form in his Porter Group/Turners/Giltrap Group backed car at the next round in a fortnight when the EFO heads to Spa in Belgium.
"It's a bit of a mystery the way is car is handling right now so hopefully Motopark can find a cure and we'll be back fighting for wins again," said Lawson.
Euroformula Open: Hockenheim – Race 2 (19 laps) – Top 10
Yuki Tsunoda (Team Motopark)
Marino Sato (Team Motopark) +4.654s
Julian Hanses (Team Motopark) +9.176s
Lukas Dunner (Teo Martin ) +9.707s
Liam Lawson (Team Motopark) +14.255s
Nicolai Kjaergaard (Carlin ) +25.997s
Jack Doohan (Double R) +28.285s
Teppei Natori (Carlin) +35.486
Calan Williams (Fortec) +36.829
Cameron Das (Fortec) +37.382
Qualifying Hockenheim Race 2 – Top 10
Sato 1:31.469
Tsunoda +0.047s
Lawson +0.186s
Hanses +0.499
Dunner +0.550s
Linus Lundqvist (Double R) +0.580s
Doohan +0.680s
Aldo Festante (Teo Martin) +0.916s
Christian Hahn (Carlin Motorsport) +0.938s
Kjaergaard +0.980s
Championship Classification – Top 10
Sato 104 points
Lawson 89
Tsunoda 80
Dunner 74
Hanses 49
Lundqvist 43
Kjaergaard28
Doohan 28
Billy Monger (Carlin) 28
Guilherme Samaia 26
Caption: Liam Lawson had a difficult weekend at Hockenheim, the third round of the Euroformula Open championship.   
Media release: Grant McDonald