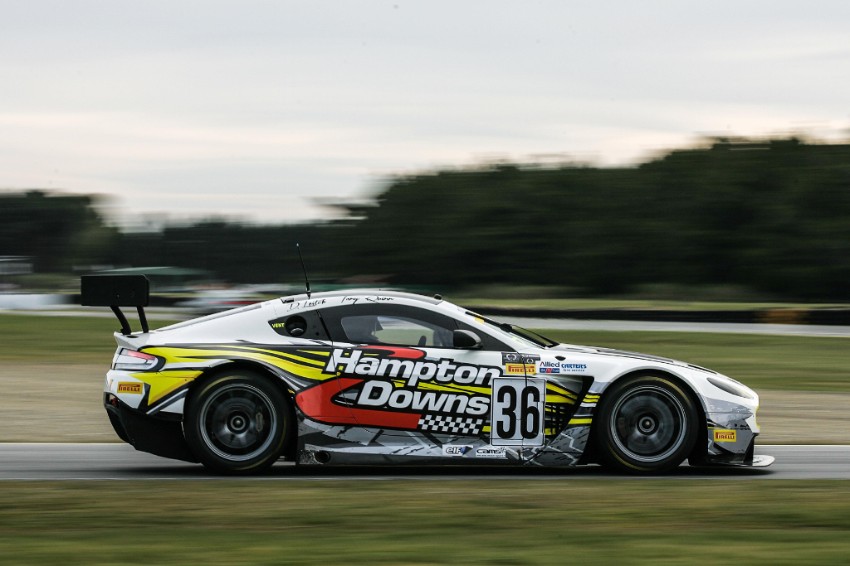 Last hurrah for Australian GTs at Hampton Downs
The Australian GT Championship returns to New Zealand next month for the Laser Plumbing & Electrical Hampton Downs 500 from October 13-14. It's the third year in a row the Waikato track has hosted the cars and stars of the Australian GT Championship and it's the last time for the foreseeable future, says Hampton Downs owner Tony Quinn.
"We've had a great run with the series and it's a fitting finale with both the Australian GT Championship and the Australian Endurance Championship set to be decided at Hampton Downs," says Quinn. "We'll have some of the best GT3 cars in the world on the starting grid including Audi, Aston Martin, BMW, McLaren, Mercedes-AMG, and Porsche so it promises to be an exciting weekend."
Some of the Kiwi drivers confirmed for the event include Craig Baird, Daniel Gaunt, Steve Richards, and Andrew Waite. Quinn, who turned 60 last year, is one of the oldest competitors in the field and while his reflexes may have slowed somewhat, he's still excited about jumping behind the wheel. In June this year, he joined an exclusive club of drivers who've broken the 10-minute barrier on the Pikes Peak International Hill Climb in Colorado.
"It was my third time at The Race to the Clouds and we finished 7th overall so it was an awesome experience," says Quinn. "I have a fear of heights so the first time I went over there I wasn't even sure if I'd make it to the top but going up the mountain is a lot easier than coming down!
"I enjoy rallying and events like Pikes Peak more than circuit racing now because you're against the clock and yourself, not anyone else. When I was in my prime I was determined to be on the podium every time I got into a car. Now I'm happy if not too many people pass me so the bar has been lowered significantly! You can run and hide from Mother Nature but she catches up with you eventually so if you want to do something in life, do it before you turn 60!
"Every time there's a zero in your birthday, your life changes. I've noticed in the last year that I'm more than willing to move over and let other drivers pass me. Your reflexes, your eyesight, your hand-eye coordination — all that starts to go. A wise man would probably retire or move down a grade or two and remain competitive but it's not in my nature to do that."
Quinn teamed up with Damon Leitch for the Carter's Tyres South Island Endurance Series at Teretonga Park in Invercargill at the weekend. The pair won the race in Quinn's Aston Martin Vantage GT3 but were controversially disqualified when Leitch helped his brother Brendon cross the finish line after his car ran out of fuel on the final lap.
Despite the disappointment it was an impressive drive from Quinn who is looking forward to hosting the NZ Endurance Championship at Highlands Motorsport Park from November 23-24.
"There's been a real resurgence in GT racing around the world because the cars are so good and so different," says Quinn. "We first brought the Australian GTs to Highlands in 2013, followed by Hampton Downs in 2016, and both of those events provided a big boost to the local endurance scene which has really taken off in the last few years.
"Our focus for now is on supporting the homegrown talent and series in New Zealand but we'll still look at bringing over one of the major Australian categories to Hampton Downs or Highlands every year. We're also committed to bringing international series to New Zealand. The Asia Pacific Ferrari Challenge at Hampton Downs earlier this year was a great success and the feedback we got from the teams and drivers was really positive."
Tickets are on sale now for the Laser Plumbing & Electrical Hampton Downs 500 from www.ticketmaster.co.nz