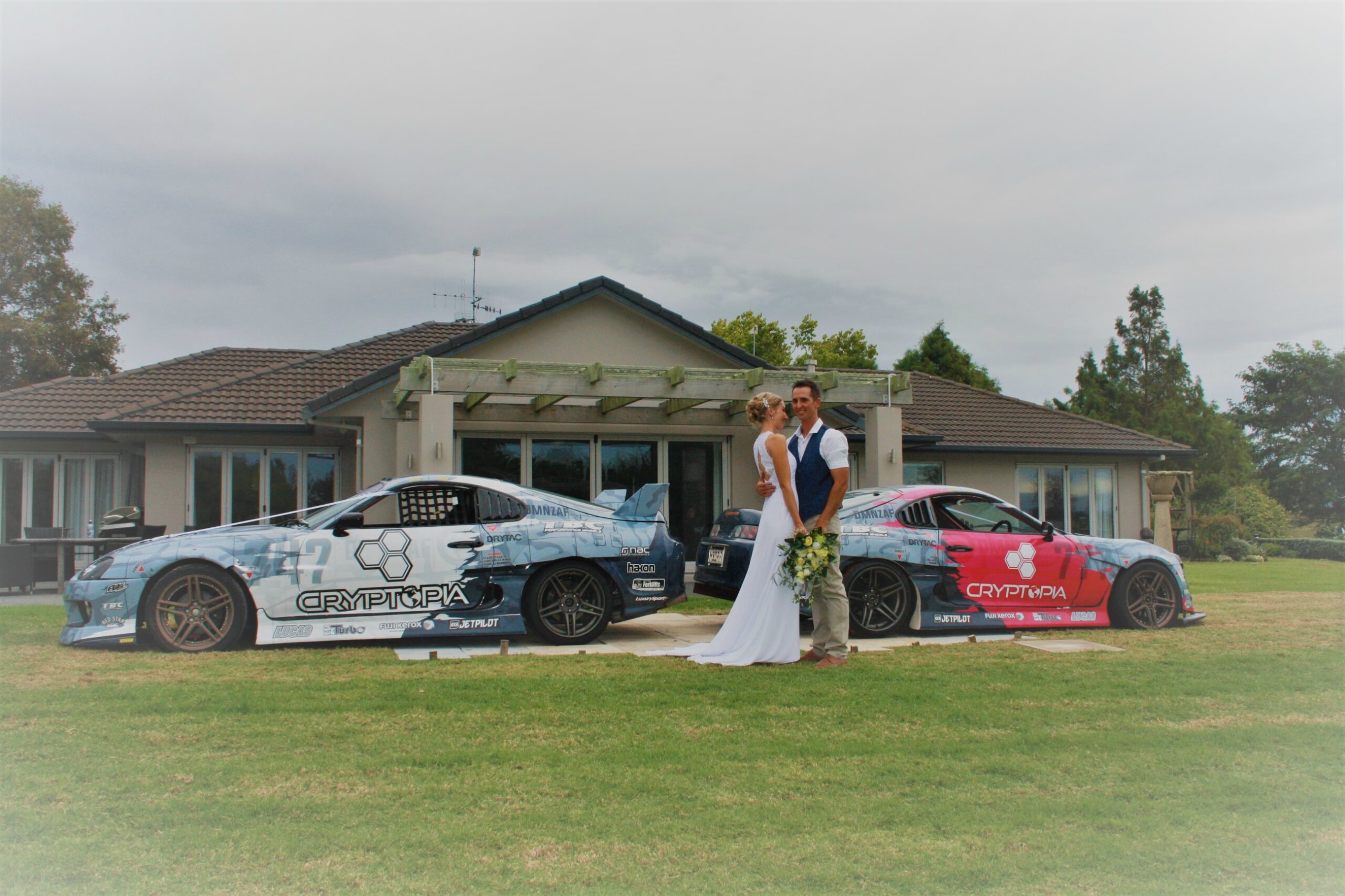 KIWI DRIFT COUPLE HAVE BIG PLANS FOR 'HONEYMOON YEAR'
Newly married Kiwi drift couple Drew and Jodie Donovan have big plans for their 'honeymoon year'.
Major upgrades to their matching Cryptopia-sponsored Toyota Supras are underway now – and the pair are hard at work on an ambitious schedule which will see them compete here over the 2018/19 D1NZ summer drift season and overseas later next year.
While the number of woman competing in motorsport events around the world is growing, there are few husband and wife pairings who compete in the same class or category let alone at a professional level like the Donovans – a fact not lost on the pair as they seek to spread their wings.
"It certainly gets people talking, particular now that Drew and I are married and share the same surname, says Jodie (nee Verhulst)."Drew and I have been together – and drifting – for so long now it seems like the most natural thing in the world. But obviously, people looking in from the outside, particularly if they are new to Drifting, see it differently."
Up until the 2016/17 season the pair have driven very different cars, Drew a Chevrolet V8-powered Nissan S15, Jodie a turbocharged six-cylinder Toyota Supra. Last season, however, the pair both ran Toyota Supras, as part of a revised promotional platform for new sponsor Cryptopia.
They could hardly have asked for a better start to their relationship with Cryptopia (an NZ-based crypto-currency trading and consultancy company) either, Drew claiming his first ever D1NZ series' round win at his home round at Mt Maunganui's Baypark stadium in January and going on to finish 8th overall in the 2017/18 D1NZ national drifting championship points standings.
Jodie, however, never managed to catch a break, a series of niggly mechanical issues often side-lining her just when she thought her luck had changed.
"No excuses, "she says, "but I did find it quite frustrating, which is why Drew decided to completely rebuild all three cars (including his original S15) over the off-season.
"We've done things like the engines and gearboxes in the off-seasons before, but we've always been so busy doing other things that we've never stripped the cars down and rebuilt them from scratch which is what we have done this time."
As part of that process the two Supras (Jodie's is Bonnie, Drew's Clyde) are getting major driveline upgrades including quick-change Winters rear differentials so that they can better withstand the rigours of top-level drift competition.
"When they are finished both cars will potentially be able to produce over 700kWs – which is close to 1000hp – so they really have to be build tough these days if you want them to stay reliable," says Jodie.
This year's D1NZ National Drifting Championship kicks off back at Drew and Jodie's home town of Tauranga (at the ASB Baypark Stadium) on January 11 & 12 and once the venues and dates of the subsequent rounds are announced the pair can firm up plans for the next big step in their interlinked careers.
"Ultimately," says Jodie, "both Drew and I would like to compete in the States….whether we do that next year or the year after we're not really sure yet. What we do know is that drifting is getting bigger and bigger every year and each time it gets bigger, more opportunities open up for us, here, and around the world."
Media release: Fast Company
Caption: NZ's first couple of drift, husband and wife Drew and Jodie Donovan and their Cryptopia-backed Toyota Supra drift cars, Bonnie (Jodie's) and Clyde (Drew's).
Photo credit: Fast Company/Drift Motorsport.