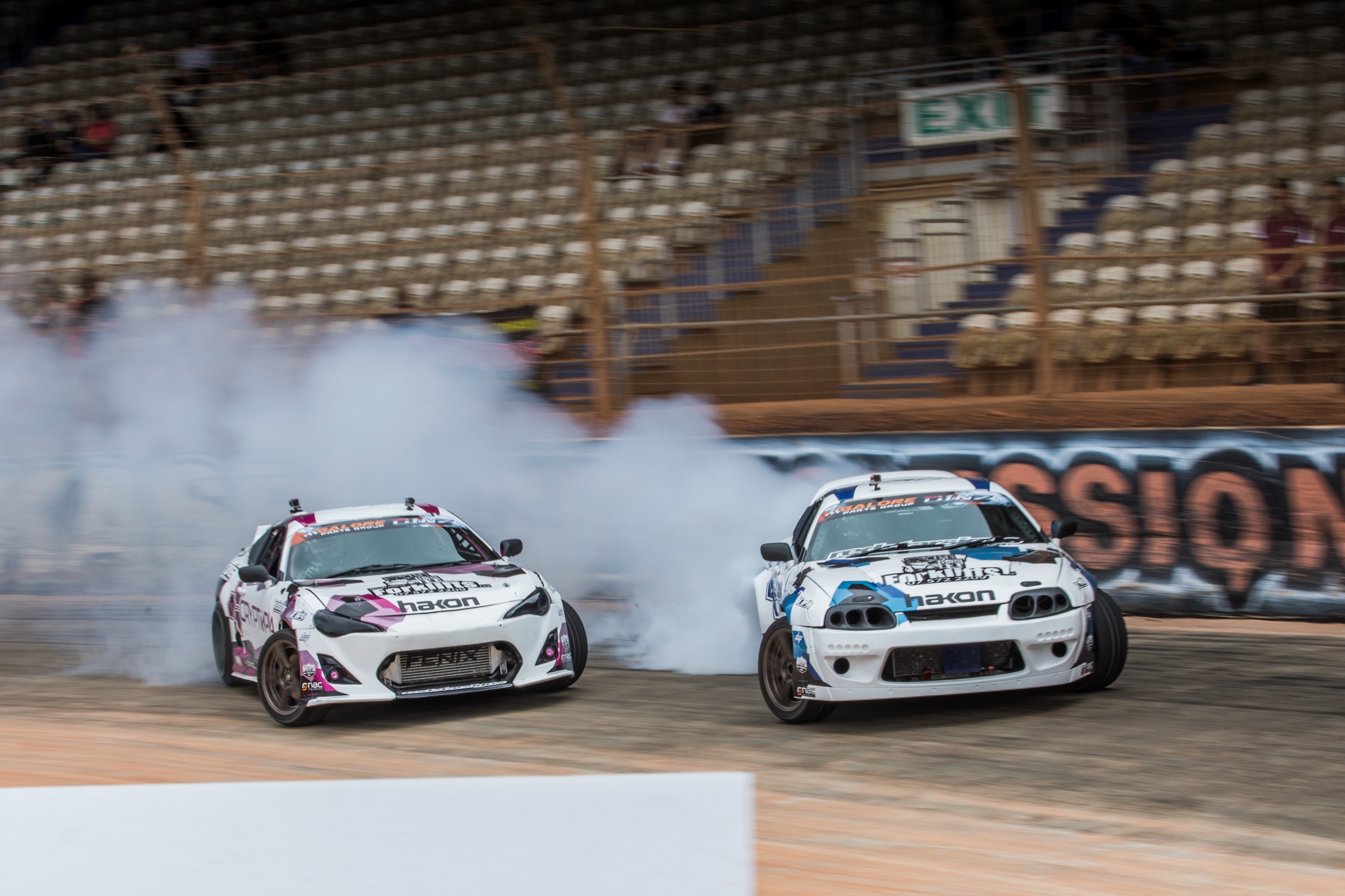 CHINA COMP CALL-UP FOR KIWI DRIFT COUPLE
They say that every cloud has a silver lining and in Kiwi drift couple Drew and Jodie Donovan's case it was a call-up last week for the pair to fly to China to join top local drift team NND for the first two rounds of this year's China Drift Championship.
The invitation came from China-based Moroccan drifter Simon El Alaoui Zidane, who through the pre-season has been piecing together a group of international guest drivers to help grow the profile of the sport in his adopted home country.
Globe-trotting Kiwi engine tuner Ross Honnor from New Plymouth, whose 16-year-old son Liam has also been invited to join the team, was the person who initially put Drew and Jodie's names forward.
Ironically though it was only when their local D1NZ series' sponsor, bitcoin consultancy and trading platform Cryptopia, suffered a multi-million dollar hack recently, that the Tauranga-based couple were effectively free to take up the China opportunity.
" Jodie and I secured the Cryptopia backing to compete in the D1NZ series here this season and all our efforts were focused in that direction," explains Drew. "When Cryptopia got hacked though, obviously they had to cut their marketing spend, and without their sponsorship of both our cars we couldn't afford to continue with our D1NZ campaign this season and both of us were actually wondering what we were going to do next when Simon got in touch."
Though they will have to wait until they get to China to nut out the finer details, Drew and Jodie know where the team is based – Shenzhen near Hong Kong – where the first two rounds of the China Drift Championship are being held – Xiamen approx. 800 km up the coast –  and what each is driving – a Toyota 2JZ-powered BMW E93 M3 coupe for Drew, and a 2JZ-powered Nissan R34 coupe for Jodie – but that is about it.
That said there has already been talk about the possibility of Drew and Jodie returning later in the year to contest rounds of the D1GP China series.
Right now though the Kiwi husband and wife pair are doing the 101 things you have to do before travelling to another country to compete. And not looking too far ahead.
"Yes," says Drew," it's very much one-step-at-a-time at the moment. And I don't really think it has sunk in the opportunity Jodie and I have been presented with. It will, obviously, once we get there, and get to see the cars we are going to drive, and the venue the first round is going to be held at.
"Obviously, both Jodie and I have competed overseas before, but in each case then we've known about the tracks, the other drivers, and the level of competition.
"All we know about China is that the sport has taken off in a big way there and that rather than run on circuits like we generally do here they run on temporary tracks in stadiums or huge car parks.
"The cool thing though is that all Jodie and I have to do is drive – which is very different to how, by necessity, we've always done things in the past here at home."
CAPTION: NZ's first couple of drift, husband and wife Drew and Jodie Donovan from Tauranga – off to China to compete next week.
Photo credit: Fast Company/Drift Motorsport.
Prepared by FAST COMPANY