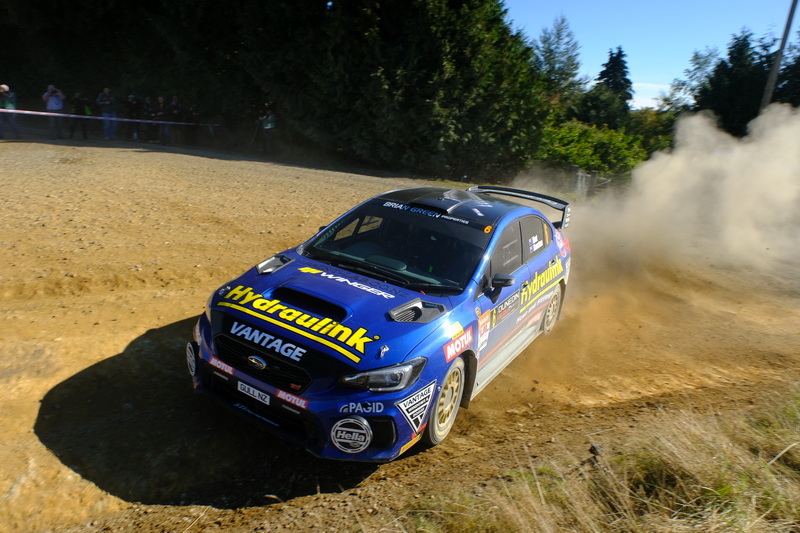 Hunt chasing second three-peat at Rally Canterbury
Subaru driver Ben Hunt heads to round three of the Brian Green Property Group New Zealand Rally Championship in Canterbury this weekend looking to secure a rare three-peat.
Hunt claimed top spot on the podium at the season-opening round in Otago in April before winning at Rally Whangarei earlier this month.
He will look to win a third straight NZRC event for the second time having achieved the milestone in his championship-winning season of 2015. Should he manage a second three-peat he would join a list that includes NZRC royalty in Neil Allport (1983 & 1989-90), Joe McAndrew (1994-95 & 1996) and Richard Mason (2005-05, 2012 & 2014) in achieving multiple three-peats.
In all, a three-peat has been achieved 16 different times across nearly four decades with WRC winner Hayden Paddon winning three in a row last year the most recent occasion.
Pushing Hunt will be local drivers Josh Marston (Holden Barina) and Matt Summerfield (Subaru Impreza). Marston has demonstrated improved pace this season and enjoys driving on the forestry stages having won this event in 2018 while Summerfield knows the roads well and will be out to get his campaign back on track after missing Whangarei.
Phil Campbell showed impressive pace at Rally Otago in his Ford Fiesta AP4 while Raana Horan was in the running for a break-through NZRC win at this event last season. He has had a forgettable season so far in his Skoda Fabia R5 but should be right in the mix at Canterbury.
Others to keep an eye out for are Kingsley Jones, who impressed at Whangarei in his Skoda, Jack Hawkeswood (Mazda) and Dylan Thomson (Subaru).
The overall 2WD scrap between local drivers and arch rivals Marcus van Klink (Mazda RX8) and Regan Ross (Ford Escort) will continue. Van Klink has dominated the opening two rounds but Ross will come back strongly. Anthony Jones, Jeff Judd and Wayne Pittams will also feature in the overall 2WD battle.
Van Klink and Jones fought tooth and nail for Open 2WD honours at Whangarei while Ross has now entered in the Open class as well. Judd is favoured in the Historic 2WD class.
Ben Thomasen (Subaru) has proven to be the driver to beat in the Gull Rally Challenge 4WD category this season. He will be pressured by New Caledonia Eugene Creugnet (Mitsubishi), David Quantock (Mitsubishi) and Garet Thomas (Subaru).
In the Gull Rally Challenge 2WD class a four-way battle between Andy Martin (Mazda RX3), Daniel Alexander (Toyota Starlet), Andrew Gillies (Toyota Levin) and Daph O'Rourke (Toyota FXGT) looms.
Phil Collins (Audi Quattro) leads the Stadium Finance Group A Challenge championship in 2019 but will face a stern test from Tony Gosling (Subaru Legacy) and Wayne Muckle (Mitsubishi).
Action begins just after 8am on Sunday with the first of eight special stages north of Christchurch before the finish at Lone Star after 7pm Sunday night.
Media release: Rally NZ
Photo: Geoff Ridder