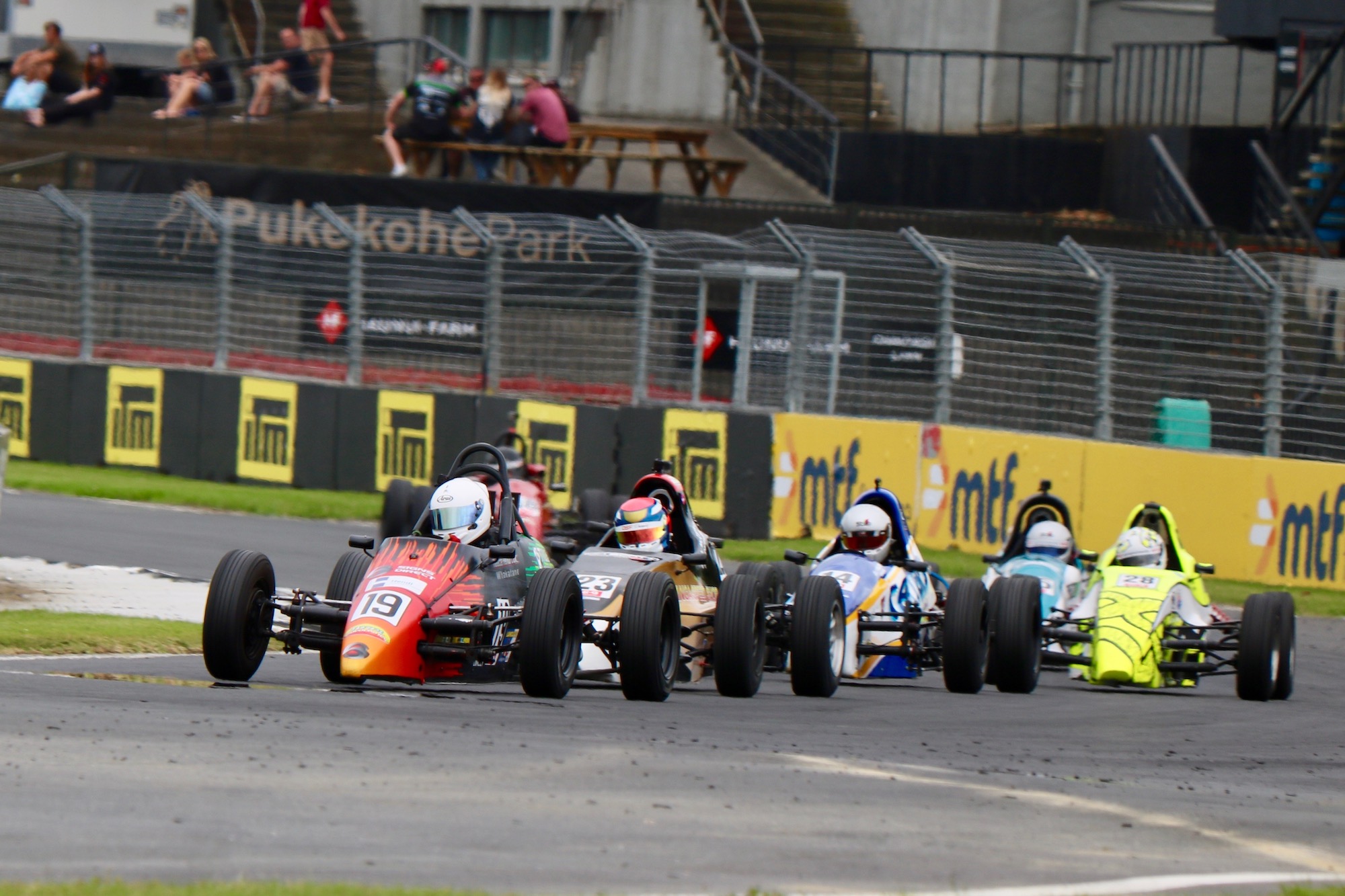 Hendl-Cox tops chaotic NZ Formula First round at Pukekohe
Whakatane driver Reece Hendl-Cox, 19, has walked away from the second round of the 2018/19 Hi-Q Components NZ Formula First Championship with the largest points haul of the field. Hendl-Cox scored a podium finish and a race win in what was a chaotic weekend.
Saturday morning's 15-minute qualifying session saw a slightly larger field of 20 cars take to the traditional Pukekohe Park Raceway layout with the long back straight. The massive straight increased the effect of the draft for the drivers, making a perfectly timed run critical to a fast lap. At the end of the session, it was the experience and speed of Palmerston North's Chris Symon, 28, who reigned supreme taking pole with by just 0.098-seconds over the Kapiti Coast's Brody McConkey, 20. Third fastest was Pukekohe's Billy Frazer, 15, who set a 1:13.336 just 0.021s slower than McConkey. Scored an impressive fourth was Botany's Amy Smith, 17, ahead of Taranaki rookie Thomas Boniface, 14, in fifth.
The seemingly unstoppable Symon carried his perfect run through to the first race of the weekend, taking the eight-lap race from McConkey and Hendl-Cox. The first slip up of the race came at the hairpin on the opening lap when Nathan Sudiono, Barry Holden, Kyan Davie and Louis Redshaw all came together. While both Davie and Holden were unable to finish the race, both cars escaped without major damage. The incident caused a safety car which bunched the field up, reinvigorating the battle for the lead at the restart.
On the final drag to the flag, a high-speed accident involving Frazer and Taylor Hurst saw the race red flagged as the chequered fell. Frazer ended up spinning across the track and Hurst too lost control of his car in avoidance and found himself heading front-on into the inside wall at high speeds. Boniface, who finished third on track, was penalised for his part in the incident and finished tenth in the final results.
Race five of the championship on Sunday morning saw Symon's perfect run come to an end. Symon got the early lead with McConkey following him through turn one, but as always in Formula First, Symon's lead was short lived as eight intense laps of racing, drafting and passing commenced down the long back straight. Symon looked like he would continue his perfect run again until he and Frazer made contact at turn one, allowing McConkey to stretch away and briefly brake the draft. The pair then came together again on the final lap which resulted in Frazer having high-speed spin down the back straight.
It was the rookie Boniface who would take his maiden win by just 0.016s ahead of McConkey and Symon. Hendl-Cox came home fourth with Amy Smith scoring another solid top five with fifth.
The final eight-lap race of the weekend saw potentially championship changing drama at the front of the field. While the racing was intense, dynamic and clean, the penultimate lap saw Symon's #28 machine go up in smoke heading into turn one. The engine failure left oil all over the road creating more chaos when Ron Carter, Dave Scammell and Ronan Murphy all speared off in spectacular fashion after encountering it unexpectedly.
Hendl-Cox would inherit the lead of the race which finished under safety car control. Frazer came home second ahead of Boniface, Smith and Auckland's Liam Foster, 22.
The championship has tighter up at the top following Symon's DNF. While he still retains the lead thanks to his strong string of results, he just three points over Hendl-Cox who has leapfrogged Frazer and Foster to sit second. Frazer and Foster both drop a spot to third and fourth respectively ahead of Smith in fifth. Havelock North's Ronan Murphy, 17, still leads the rookie standings, however, Boniface is catching fast after his strong results at the weekend.
The Hi-Q Components NZ Formula First Championship now goes into hibernation for the summer break before firing back up again for the third round at Hampton Downs for the NZ Motor Cup event on January 25-27.
2018/19 NZ Formula First Championship Standings (Top 10):
Chris Symon (Palmerston North, 28) – 360pts
Reece Hendl-Cox (Whakatane, 19) – 357pts
Billy Frazer (Auckland, 15) – 316pts
Liam Foster (Auckland, 22) – 310pts
Amy Smith (Auckland, 17) – 290pts
Ronan Murphy (Havelock North, 17) – 243pts
Ron Carter (Papamoa) – 224pts
Thomas Boniface (Taranaki, 14) – 217pts
Nathan Sudiono (Auckland, 17) – 190pts
Kyan Davie (Auckland, 13) – 172pts
1st = 75pts, 2nd = 67, 3rd = 60, 4th = 54, 5th = 49
2018/19 NZ Formula First Championship Calendar:
Round 1: Manfeild Circuit Chris Amon – October 19-21
Round 2: Pukekohe Park Raceway – December 7-9
Round 3: Hampton Downs Motorsport Park – January 25-27
Round 4: Manfeild Circuit Chris Amon – February 8-10
Round 5: Manfeild Circuit Chris Amon – February 23-24
Round 6: Hampton Downs Motorsport Park – March 8-10
Round 7: Bruce McLaren Motorsport Park – March 23-24
Round 8: Bruce McLaren Motorsport Park – April 13-14
NZ Formula First Championship: The Hi-Q Components NZ Formula First Championship is an entry-level single seater category which is run as a National Championship by the sports governing body, MotorSport New Zealand. NZ Formula First has been the breeding ground for young motorsport stars such as Brendon Hartley, Scott Dixon, Shane van Gisbergen, Richie Stanaway and Nick Cassidy.
Release: Jordie Peters