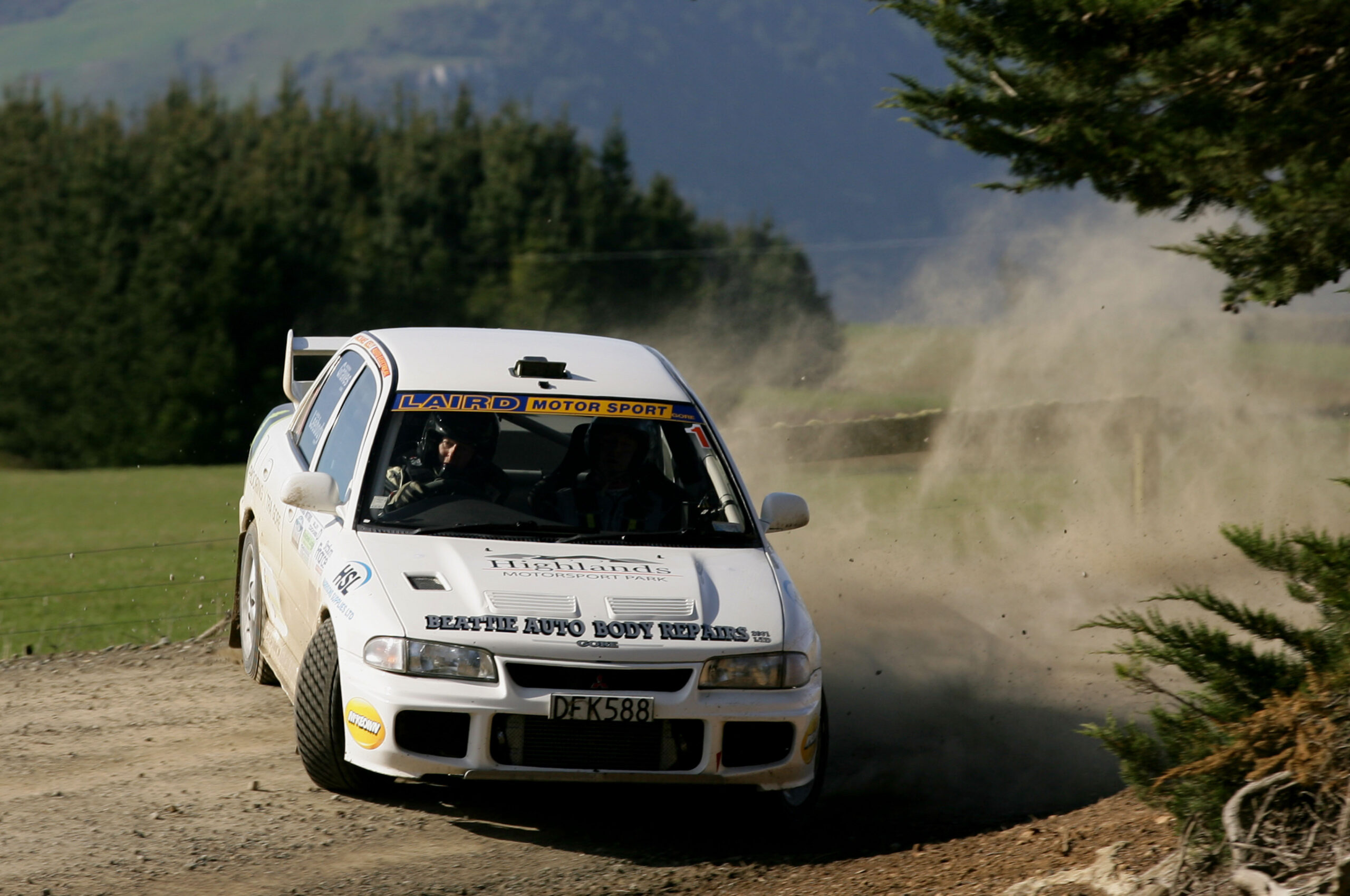 GRAVES WINS HIS FOURTH CATLINS COAST RALLY
Defending champion, Andrew Graves of Gore in a Mitsubishi Lancer EVO 3, took his fourth Catlins Coast Rally victory when he won the 2018 event on Saturday. Graves and co-driver Jared Leebody built a buffer of 43 seconds over current NZ Rally Champion Andrew Hawkeswood in the first two stages and maintained their advantage throughout the day to finish with a 53 second margin over Andrew  Hawkeswood/Jeff Cress of Auckland in their Mazda 2 AP4. Carter Strang and Stewart Robbie of Wallacetown in their EVO 6 were third.
Graves rated the win "really awesome." "It's really cool to win four and great to go back to back. We had our share of problems – I nearly went through a fence on the last stage and I was a bit subdued for the next 5 or 10 kilometres." Asked about his continued success in an older car he replied, "I have a great car, team and navigator. We didn't do anything special at the start just kept it in the middle of the road and got a buffer. It's great as the calibre of the guys behind was so good."
Graves won four of the six stages and Hawkeswood the other two. "I had a couple of goes at crashing" said Hawkeswood, admitting he lost time in both Stages 1&4. "It was hard without notes. This is the first rally without them since last time I was here but no excuses, Andrew (Graves) did really well. He was pretty incredible, the better man won today. I might need to become a local," he joked.
Strang finished third ahead of a trio of Cantabrians, Jeff Judd (Impreza), David Quantock (EVO 8) and Garet Thomas (Impreza) with 2016 winner Vaughan Edie of Invercargill seventh in an EVO 8. John Giltrap of Lincoln was next with the first of the 2-wheel-drive cars, that of Derek Ayson of Gore, ninth ahead of Marcus Van Klink from Christchurch.
Victory secured Graves/Leebody the Darryl Robinson Memorial Trophy while the Kerry O'Donohue Memorial Trophy for the first South Otago crew home went to Dean McCrostie/Kim Craig of Milton and the Glen Shirlaw Memorial Trophy for the first Otago Sports Car Club driver home to Richie Chadwick.
Major casualties were Balclutha driver Barry Mills who went off the road in SS1 in his Hillman Avenger while fellow Balclutha driver, three-time winner Dean Bond, met a similar fate in SS3 in his EVO 6.5. Last year's NZ Rally Championship runner-up, Matt Summerfield of Christchurch, was fast all day in his Subaru Impreza WRX but lost a lot of time in Stage 2 due to overheating.
Aucklanders Hawkeswood/Cress, Mark Parsons/Mal Clark of Drury and Andy Martin/Matt Hayward of Tauranga were the top three in the Stadium Finance Southern Challenge for drivers who crossed the water to compete.
With the top three finishers ineligible for class prizes, the Class D Valley Coachlines 4-wheel-drive honours went to Jeff Judd in fourth in his Impreza while the Ritchies Class E for Pre 96 4-wheel-drive cars went to Mark Parsons in another Impreza in thirteenth. Derek Ayson won the class he contested and sponsored, the Derek Ayson PGG Wrightson Real Estate Class G for 1701cc & over classics. Van Klink took the Window Tint South Class C for 2-wheel-drive cars of 1601cc & over and fourteenth place earned Richie Chadwick the Alexandra Auto Electrical Class B victory. Winton driver Brendon Mitchell took the Flashclad Class F for 0-1700cc Classics in twenty-sixth place and Jonathan Taylor of Waikuku secured the Balclutha Auto Electrics Class A for 2-wheel-drive cars of 0-1300cc.
Chris Hogan of Queenstown was the winner of the Laird Motorsport & Models Novice Driver Award while Greer Edie, co-driving with father Vaughan, won the Novice Co-driver award. A special award was made to Brayden King and Jordyn Whyte of Invercargill who completed the event 20 years after their fathers competed at Catlins.
The rally was Round 6 of the MRF Tyres Mainland Rally Championship and part of the Eastern Southland Car Club Rally Championship.
Major support for the 2018 Catlins Coast Rally came from Rosebank Lodge Balclutha, Southroads, Owaka Motors, Yuasa Batteries and Stadium Finance while special thanks are due to Rayonier NZ Ltd and the Clutha District Council for their assistance with the event.
CLASS A: Balclutha Auto Electrics 0-1300cc
1: Jonathan Taylor/Ben Trevelyan (Waikuku) Toyota Corolla KE25
2: Ryan Blacktopp/Taylor Judd (Christchurch) Toyota Starlet
3: Richard Ford/Liam Carey (Bannockburn) Toyota Starlet
CLASS B: Alexandra Auto Electrical 1301-1600cc
1: Richie Chadwick/Ian Warren (Dunedin) Toyota Corolla GT
2: Mike Sheehan/Janey Blair (Queenstown) Ford Fiesta R2
3: Craig Cormack/Paul Clement (Gore) Toyota Levin AE86
CLASS C: Window Tint South 1601cc & over
1: Marcus Van Klink/Dave Neill (Christchurch) Mazda RX8
2: Jason Keach/Blair McLaren (Mosgiel) Ford Escort MKI RS2300
3: Gavin Read/Joshua Lankshear (Invercargill) BMW 328i
CLASS D: Valley Coachlines 4WD
1: Jeff Judd/Sarah Brennan (Christchurch) Subaru Impreza WRX
2: David Quantock/Malcolm Read (Kaiapoi) Mitsubishi Lancer EVO 8
3: Garet Thomas/Gemma Thomas (Darfield) Subaru Impreza WRX Sti
CLASS E: Ritchies Pre 1996 4WD
1: Mark Parsons/Mal Clark (Drury) Subaru Impreza 6
2: Garry Cliff/James Cowles (Christchurch) Subaru Impreza 3.0L
3: Ray Wilson/Doug Parkhill (Pokeno) Audi S2 Coupe
CLASS F: Flashclad 0-1700cc Classic
1: Brendon Mitchell/Ross Taylor (Winton) Datsun 1600
2: Cory Saxton/Alison Glover (Dunedin) Isuzu Gemini Coupe
3: Mike Cameron/Helen Cameron (Stratford) Mitsubishi Lancer
CLASS G: Derek Ayson PGG Wrightson Real Estate 1700cc & over Classic
1: Derek Ayson/Gavin McDermott (Gore) Ford Escort MK2
2: Graham Ferguson/Ross Moody (Greymouth) Ford Escort RS1800
3: Andy Martin/Matt Hayward (Tauranga) Mazda RX3
STADIUM FINANCE SOUTHERN CHALLENGE
1: Andrew Hawkeswood/Jeff Cress (Auckland) Mazda 2 AP4
2: Mark Parsons/Mal Clark (Drury) Subaru Impreza
3: Andy Martin/Matt Hayward (Tauranga) Mazda RX3
LAIRD MOTORSPORT & MODELS NOVICE DRIVER
1: Chris Hogan (Queenstown) Suzuki Ignis
2: Ray Casey (Cromwell) Nissan Pulsar GTiR
LAIRD MOTORSPORT & MODELS NOVICE CO-DRIVER
1: Greer Edie (Invercargill)
2: Lachlan Garrick (Wanaka)
Release: Lindsay Beer Promotions
Caption – Defending champions Andrew Graves/Jared Leebody on their way to another Catlins Coast Rally victory in their Mitsubishi EVO 3 – please credit Terry Marshall/ Euan Cameron Photography