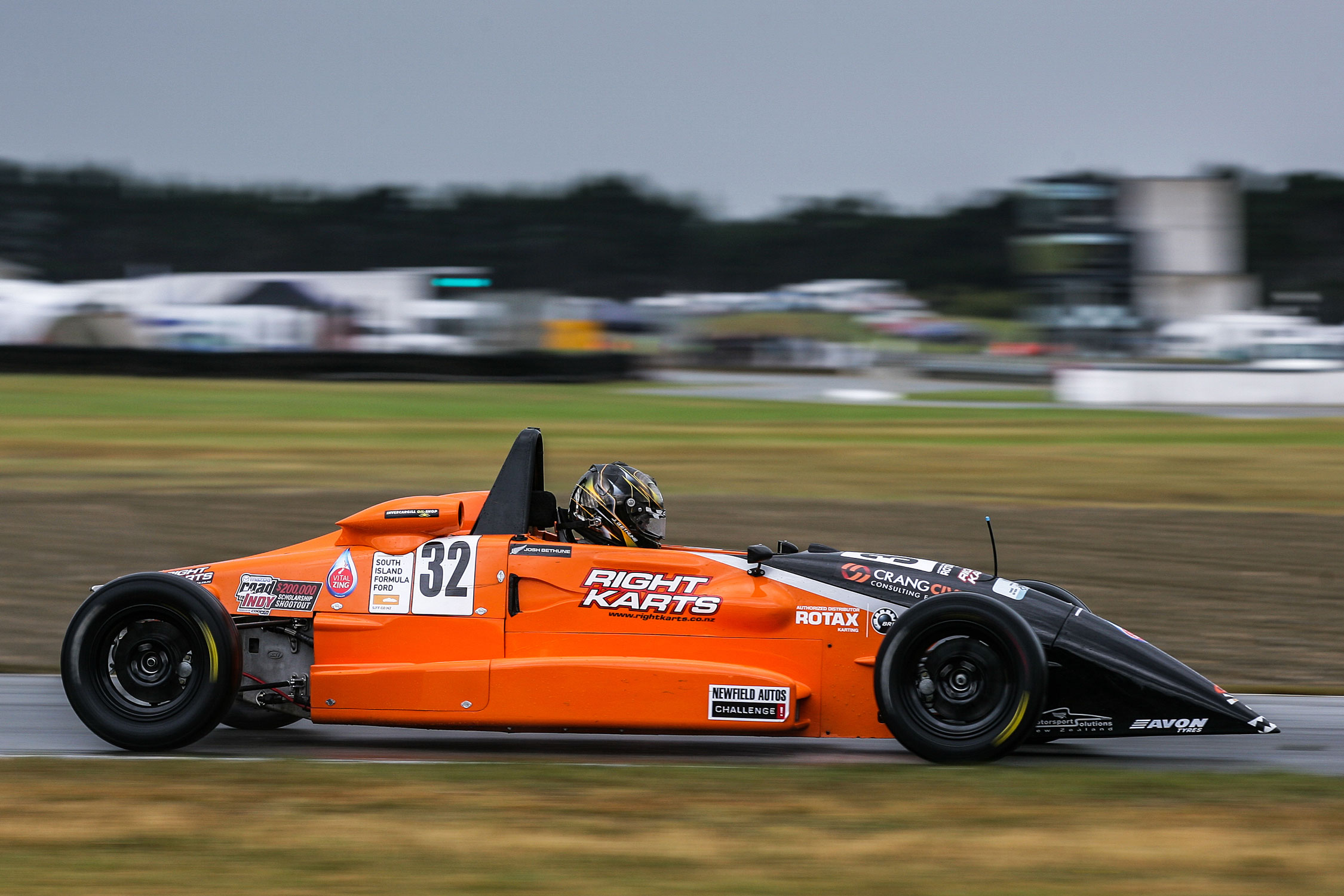 'Game-on' as South Island F1600 title to be decided at Timaru this weekend
Auckland's Josh Bethune (Ray GR17) and Southland's Jordan Michels (Mygale SJ13) go head to head again on Saturday to decide the 2018/19 South Island Formula 1600 Championship title. Bethune heads into the final round at the Timaru International Raceway (long-track) with an 83-point lead over Michels and a maximum of 142 points to compete for.
The rivalry continues after the national title was decided at Pukekohe Raceway, Auckland, in March when Michels grabbed the NZ F1600 Championship title in the last race of the five-round series. It was Bethune's title for the taking but contact with another driver on the last lap resulted in his spinning out of the race, handing the championship to Michels.
Bethune aims is to retain the South Island title he won last season but as the national competition showed it requires finishing every race. Bethune has finished in all sixteen races so far with ten race-wins, leading overall after every round. Michels has won four and finished on the podium ten times but suffered from one race retirement.
Third on points is Christchurch's James Penrose (Stealth) who has a mathematical chance of coming second but will be fighting with fellow Cantabrian Jack Noble-Adams (Stealth) and Dunedin's Cameron Freeman (Van Diemen RF92) for third overall.
Around 20 cars are expected to take to the grid for the three races on Saturday. As well as the overall title, there are three Class titles to be decided.
Bethune has a 78-point lead over Michels in Class 1 with Christchurch's Steve Edwards (Mygale SJ08a) in third. Penrose has a 13-point lead over Noble-Adams in Class 2 with Freeman in third.
Noel Atley (Crossle 55F) continues to lead the Historic Class 3 with a 43-point lead over Andy Downs (Lola 642e) with Dave McKenzie (beg FM3) in third.
The 'End of Season Race Day' will see the Formula 1600 compete in a program along with South Island 2KCup and Mini 7s with qualifying and three races over the one-day program.

2018/19 South Island F1600 Championship Overall Points 5/6 rounds (Top 10)
1 Josh Bethune 603
2 Jordan Michels 520
3 James Penrose 400
4 Jack Noble-Adams 355
5 Cameron Freeman 338
6 Zac Stichbury 324
7 Robert Toshach 255
8 Ben Stiles 220
9 Noel Atley 218
10 Steve Edwards 215

2018/19 South Island Formula 1600 Championship Calendar
Rnd 1: October 27-28 2018, Mike Pero Motorsport Park, Ruapuna, Christchurch
Rnd 2: November 10 2018, Timaru International Raceway, Timaru (also Rd 1 NZ Formula 1600 Championship)
Rnd 3: December 1-2 2018, Teretonga Park Raceway, Invercargill
Rnd 4: January 12-13 2019, Mike Pero Motorsport Park, Ruapuna (also Rd 2 NZ Formula Ford Championship)
Rnd 5: January 18-20 2019, Teretonga Park Raceway, Invercargill; (also Rd 3 NZ Formula Ford Championship)
Rnd 6: April 6 2019, Timaru International Raceway, Timaru

Photo: Terry Marshall/Euan Cameron Photography
Release: SB Networks on behalf of the South Island Formula Ford Club