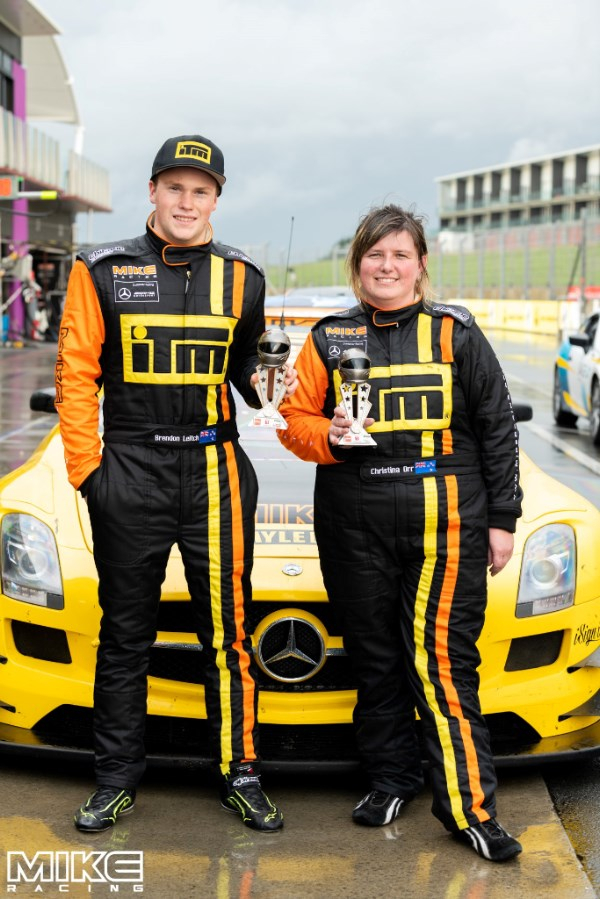 Dayle ITM Mike Racing drivers raring to go in South Island Endurance opener
Sibling rivalry and a staunch male/female battle are on the cards for the Dayle ITM Mike Racing drivers Brendon Leitch and Christina Orr-West in the Carter's Tyres South Island Endurance Series' opening race at Teretonga Park on Saturday.
While Invercargill-based Leitch will be facing down his big brother Damon, on their home track, New Zealand's top female circuit racer Orr-West will be up against Highlands Motorsport Park and Hampton Downs owner Tony Quinn, when the three-hour race begins.
Leitch (22) and Orr-West (30) will have the advantage of having contested the three-round Eneos North Island Endurance Series together in the stunning Dayle ITM Mercedes AMG SLS GT3, where they finished an impressive second overall and won the GT-A division for FIA GT3 homologated cars.
While Leitch is happy to see his brother back racing after a small hiatus, he is determined to be only looking at the Aston Martin Vantage, which Damon and Quinn are driving, in the Mercedes' rear-view mirrors.
"We want to win," is his clear intention for the three-round series, which also visits Mike Pero Motorsport Park, in Christchurch and Timaru's Levels Raceway.
"After our debut endurance series in the North Island, we have figured out how we work together and the ins and outs of the Mercedes. It's now time to put it all together and give it our best shot," Leitch says.
For Orr-West, who will have her dad William manning the deadman switch on their fuel rig, these three South Island races are a chance to consolidate.
"I'm adapting to the car and know how it needs to be driven. I'm looking forward to getting back into racing at speed and fine-tuning all the aspects of my driving skills," she says.
The two drivers have had different occupations over the two-month gap in racing. Mother-of-two, Orr-West has been busy with life at home and also hand-rearing calves on the Edgecumbe farm she shares with her husband, while Leitch has been doing some driver training and helping his dad Barry out as a mechanic in his Invercargill business.
Reuniting on the track, they bring their diverse skill-sets together to make a formidable combination. Orr-West takes the first driving stint and contributes her 25 years of circuit racing experience to the table. She favours longer races and settles into consistently-quick lap times. Her ability to reduce risk and preserve the Dayle ITM Mike Racing Mercedes, means that at the half-way driver swap, Leitch is handed a warmed-up weapon that he can unleash on the field and fight hard with, all the way to the finish flag.
Dayle ITM Director Deb Day will be track side at Teretonga, supporting her team.
"Dayle ITM have been long-time sponsors of Christina and Brendon, in their respective race classes.  The opportunity came for us to put them together in a deal with Mike Racing and their style is well suited – so it was a great chance to see them work together."
"I'm different to most sponsors, because of my involvement in the sport, I want to see them settle into the car more. The reality is we have only run three races and I'm sure Brendon, Christina and the car have more in them yet!  They are fantastic ambassadors for Dayle ITM and we're lucky to be part of their journey with Mike Racing."
"I'd also like to give a shout out to all of the volunteers who will give up their time so we can go racing," Day says.
The 2018 Carters Tyres South Island Endurance Series will be run over three rounds. After this Saturday, it moves to Mike Pero Motorsport Park, Ruapuna, Christchurch for round two on Saturday 29th September, with the grand finale at Levels Raceway, Timaru on 13th October 2018. The series is then followed by the 2018/19 New Zealand Endurance Championship event at Highlands Motorsport Park on Saturday 24th November.
Carter's Tyres South Island Endurance Series calendar:
Round 1: Invercargill – Tertonga Park – 14-15 September 2018
Round 2: Christchurch – Mike Pero Motorsport Park – 28-29 September 2018
Round 3: Timaru – Levels Raceway – 12-13 October 2018
Carter's Tyre Services New Zealand Endurance Championship:
Final: Cromwell – Highlands Motorsport Park – 23-24 November 2018