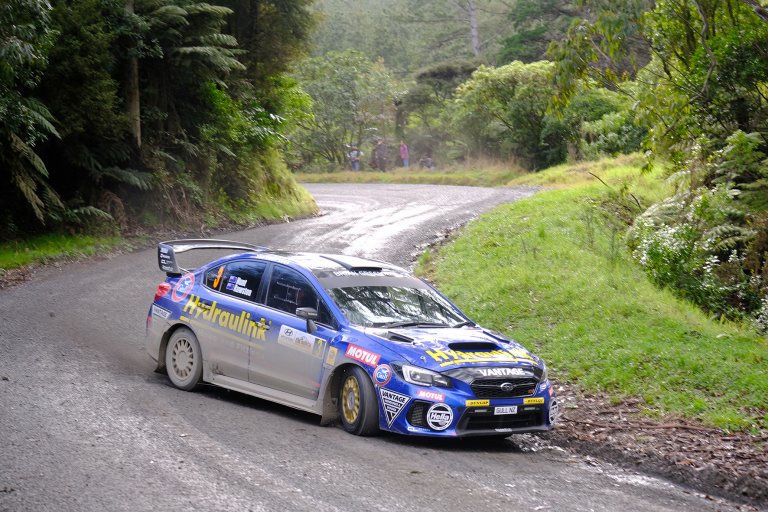 Coromandel second for Hunt moves him to runner-up in NZRC
Subaru brand ambassador Ben Hunt has moved up to second in the Brian Green Property Group New Zealand Rally Championship (NZRC) after finishing a close runner-up to WRC driver Hayden Paddon today.
Auckland-based Hunt and co-driver Tony Rawstorn were ultra-consistent at the Hyundai New Zealand Goldrush Rally of Coromandel, scoring top three stage times across the eight-stage event in their Subaru WRX STI. Clocking two stage wins, four second places and a pair of third-fastest times, they ended up only 18.7secs behind Paddon, who has usually been multiple minutes ahead of his closest rivals in the other three NZRC rounds he has contested this season.
While Paddon and stand-in co-driver Mal Peden battled with a troublesome turbo hose across the day, Hunt had no problems.
"The Subaru ran faultlessly all day. It was a fantastic event and despite the on and off rain showers, the roads held up really well. They did become abrasive, which made tyre strategy important and our Hunt Motorsports team did a great job managing this for Tony and I," Hunt says.
He had some pain management to stay on top of, after injuring his back on Monday night. Some urgent remedial sessions throughout the week made him just comfortable enough to get in the Subaru for today's event.
"I didn't know if I was going to be able to rally today but I'm glad I could, as we have now moved into second place in the championship with just one round remaining," Hunt says.
Although Paddon has already wrapped up the NZRC, Hunt holds a handy 22-point advantage over third-placed Josh Marston.
The 2018 championship concludes at the Hyundai Raglan Rally of the Coast on October 13 and 14.
Hunt Motorsports is grateful for support in the 2018 Brian Green Property Group New Zealand Rally Championship from: Subaru of New Zealand, Hydraulink, Motul Oil, Vantage Windows and Doors, Speedhub Motorsport, Gull NZ Fuel, Dunlop, Winger Subaru, Hella NZ, Reiger suspension, Bluebridge, MTF Finance, The Body Shop, Wurth, Entech, CL Brakes, Vernon Developments, TCC Solutions, Hitech Motorsport, Hunt Diesel, Make Architects, Nuzest, SOS and Hammer King.
2018 Brian Green Property Group New Zealand Rally Championship points
Hayden Paddon – 143
Ben Hunt -107
Josh Marston – 85
Nathan Quinn –  84
Matt Summerfield – 83
CAPTION: Subaru brand ambassador Ben Hunt and his co-driver Tony Rawstorn finished a close second to Hayden Paddon in their Subaru WRX STI at the Goldrush Rally of Coromandel today. PHOTO: GEOFF RIDDER