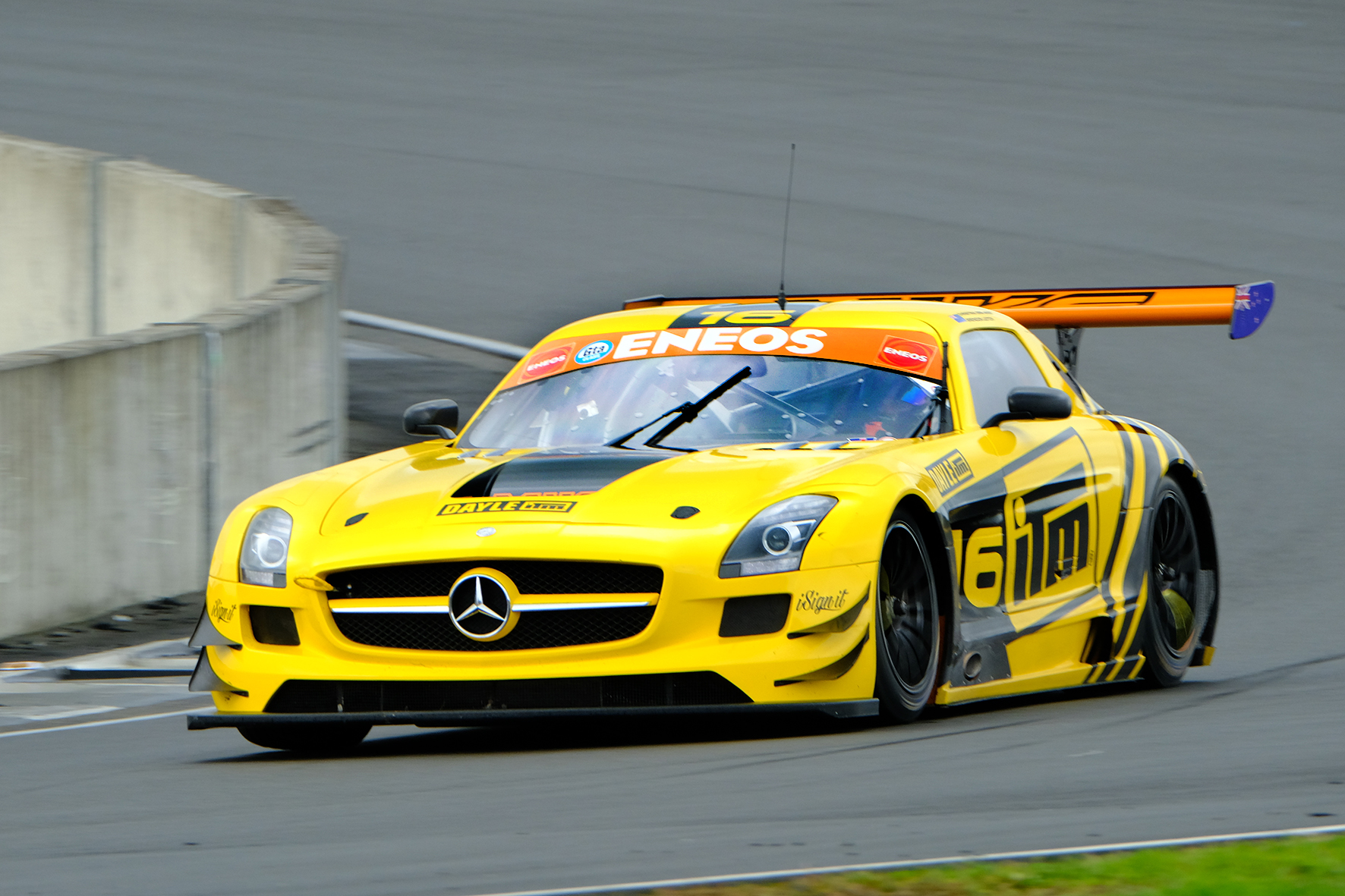 Brothers to battle
A last minute arrangement will see top class Southland motor racing brothers, Brendon and Damon Leitch go into battle with each other at Teretonga Park on Saturday 15 September.
After battling it out over the years against some of the worlds' best up and coming young drivers in the Toyota Racing Series (TRS) both will race in the GT Class of the Carter's Tyre Service South Island Endurance Series 3 Hour Race of which Round 1 is at Teretonga Park.
Since this year's Toyota Series Brendon has shifted focus and has shared the driving of the ITM-MIKE Racing Mercedes AMG SLS GT3 with Christina Orr-West. The pair has done well too, winning their class and finishing second overall in the North Island Endurance Series recently, and they now turn their attention to the South Island Series.
Asked about the adjustment from the very nimble Toyota Racing Series single seater cars Brendon says, "it has been very interesting." "The techniques translate across the two types of car but the main difference is the weight of the Mercedes as we brake into corners. That's where we need a different technique to suit the heavier car."
"We have had good results in the North Island and hope to make improvements for the South Island to show our pace against many of the up and coming stars in the field. Teretonga is my home track and I can't wait to race there again. I've gone very well there over the past few years."
Pressed for a prediction ahead of the round Brendon says, "it is all up in the air and I have no idea how it is going to go. The series features different cars from different manufacturers and it is always interesting to see which car performs at each track."
While Brendon was preparing for the event he received a surprise just a couple of weeks out from the round when he discovered older brother Damon would also be lining up in the 3 Hour Race in the same class. Damon has received a last minute opportunity to drive Tony Quinn's Aston Martin Vantage in the series.
For Damon, also a top performer in TRS for some time, it is around two years since his last really competitive race drive. In the interim he has driven older cars at classic meetings and the like.
"We were just talking about it at work (Highlands Motorsport Park) and the offer came," says Damon.
"I owe a massive thanks to Tony Quinn and Highlands for the opportunity to race a car like that. I hope to bring it home in one piece and have some fun. I haven't driven too  much at Teretonga Park lately so it should be really fun," he says.
Both brothers are looking forward to competing against each other. "It will be awesome to race against Damon," says Brendon. He has been my mentor all the way although we have probably never raced each other on an even playing field. It will be great to compete against each other in such exotic cars." Meanwhile Damon says, "it will be about bragging rights. We like to see each other do well and we are supportive of each other but I want to beat him just like he wants to beat me!"
The Carter's Tyre Service South lsland Endurance Series takes place at Teretonga Park, Invercargill on Saturday 15 September. The on track action starts at 9.30am with qualifying followed by a One Hour Race and then a Three Hour Race.
Tickets will be available at the gate at a cost of $15 with children 14 & under accompanied by an adult free.
Release: Lindsay Beer, Southland Sports Car Club
Photograph: Brendon Leitch of Invercargill at the wheel of the ITM-MIKE Racing Mercedes AMG SLS GT3 at Hampton Downs during the North Island Endurance Series earlier this year – please credit Geoff Ridder