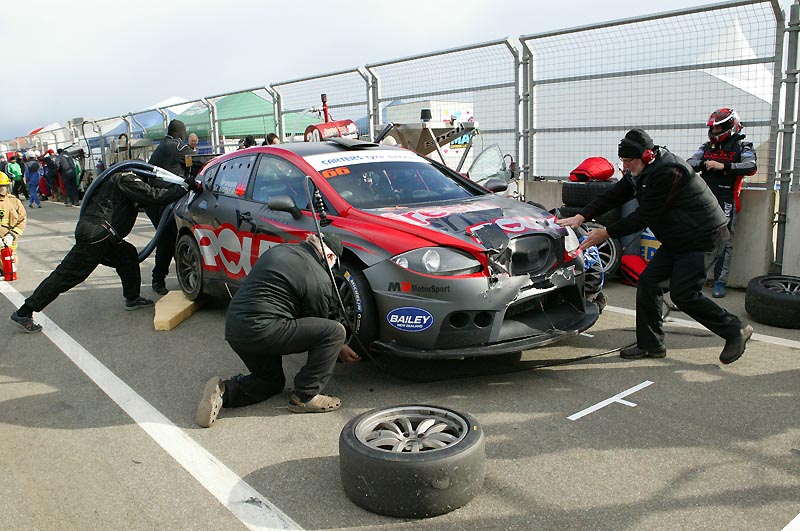 Hot competition set for Teretonga this weekend
The 2018 Carters Tyres South Island Endurance Series explodes into life this weekend with its annual trip to the world's southernmost race circuit at Teretonga Park, Invercargill for the opening round of its Three Round Series. With qualification for the New Zealand Endurance championships on the line as well as big prizemoney and more importantly Series bragging rights, fans are in for another electrifying season.
Most of the fastest endurance cars in New Zealand head south for the Series opener and it will be a sight to behold as they line up on the high-speed Teretonga circuit. And although it is likely to again be a frantic battle at the front of the pack, it is finishing races, performing well & accumulating championship points that is the key to endurance success.
The series is excited to continue the multiyear partnership with Carters Tyre Service and along with associate supporter Allied 24/7/Fuel the series again has a significant prize money pool to pay out to series competitors. "We again have substantial prizemoney pool for our class winners" said SIERDC Secretary Chris Dunn. "We also have our rookie scholarship award, plus will give away cash as a spot prizes, and that is in addition to the Michelin race tyres and products from ENDLESS brakes that are also given away" he said. "There is again a mind blowing caliber of cars, with yet again a large number of new cars or cars never seen on the South Island circuits before, so it will be an awesome series"
The podium is likely to be filled from the glitzy Class E for GT3 type machinery, with defending Series champion Dwayne Carter teaming up with New Zealand One Hour Champion Shane Hodgson in the Mercedes AMG SLS GT3. There is a similar car for Teretonga local Brendon Leitch who teams up with Christina Orr-West in the ITM Mike Racing SLS fresh from a full campaign in the North Island Series. Add into the field recently crowned North Island Series champions John McIntyre and Simon Gilbertson who will pilot a SaReNi Camaro GT3 for this year's South island campaign. Ben Byers steps up from the 1hr Series this season and will run his new Audi R8 LMS Ultra with hot-shot co-driver, Jaxon Evans who is currently leading the ultra-competitive Australian Carrera Cup. Audi will also be represented by International Motorsport running Neil Foster/Johnny Reid in Fosters current spec Audi R8 GT3 and possibly a second IMS Audi as well. Series regular George McFarlane teams up with current TR86 champ Jack Milligan in the Porsche 997 GT3R and will be looking to add a second SI title to his name. Another top combination will be Highlands owner Tony Quinn who will team up with the other Leitch brother, Damon, in an Aston Martin Vantage GT3 car.
Class D is for GT type cars and will see the immaculate Porsche 991 Cup car of Scott O'Donnell/Allan Dippie take on the slightly earlier 997 Cup S of Marco Schelp and karting icon Matt Hamilton. They will be joined in class by Ford Falcon V8 Super Tourers of Paul Rickerby/Graeme Rhodes and Darryl Barrett/Hamish Frew as well as the beautiful FIA GT4 spec Ford Mustang of Rick & Deon Cooper.
With the factory built and space framed cars in the exotic D & E classes, Class C (3501cc +) is dominated by the more traditional 'home-built' Kiwi Hybrids. 2017 class winner Scott McDermid returns in the incredible twin turbo Toyota 86, joined by Tony Head for the Series opener. The rest of this class is dominated by V8 machinery for Ben Coffin/Sam Bushell (RX7 V8), Grant Williams/Rick Matheson (RX8 V8), Bruce Tinnelly/Ryan Tinnelly (Monaro V8) and the NZV8 spec Falcon V8 of Kevin Underwood who teams up with young gun Jordan Michels.
The battle for Class B (2001cc -3500cc) 2 honors will be as hotly contested with the return to the 3hr for Pat & Ryan Heagney's rapid Toyota AE86, who will go head to head with 2017 Class champions Barry Moore & Tim Mackersey in the awesome little TCR spec VW Golf. Also in this class is 2014 & 2016 Class champions Mike Driver/Phil Hood in the turbocharged Seat Leon Supercopa and a similar VW Golf GTi for Ron Mackersey/Warren Good, who continue there long driving partnership. Also look out for the class spec Mazda RX8 for multiple NZ RX7 champion Jarrod Parmenter/Andrew Brunton and a similar car for past series champion Darryl Pyke teaming up with son Jared and the Series 1 RX7 of North Island hard cases Tom Sutton & Shane Holland who will be battling for to be the first rotor home.
The final class is Class A (0-2000cc) and this class sees a big field of cars for 2018. Class favorites' include the current NZ Class A Champions Arron & Stu Black's ex-World Touring Car BMW E46 but will they will face stiff competition from the Honda S2000 of Rodney & Michael Parkes. Others to return to this class for 2018 include two father & son teams being Darryl & Terence Phillips (Integra) and Grant & Matt Moore (Toyota Altezza) and 2017 Rookie championship winners Mark Taylor/Vaughan Moloney who may yet use their new S2000 rather than the trusty Integra. However as we all know it's about finishing races & collecting points and this is where the Peugeot 106 of Tim Stanton/Leyton Tremain will keep everyone in this class honest through reliability if not speed.
So this season sees up to 9 FIA GT3 type cars taking part in the 2018 Carters Tyres SI Endurance Series as teams via for the Series title. With so many top spec cars set to compete for big prizemoney as well as qualification to the NZ Endurance Championship event, there certainly is more than just South Island Endurance silverware on the line.
After this weekends round at Teretonga, the Carters Tyres SI Endurance Series moves to Mike Pero Ruapuna, Christchurch on Saturday 29th September before the Series grand finale at Levels Raceway, Timaru on 13th October, where the overall 3 Hour Series champion will be awarded the prestigious South Canterbury Toyota Cup as the winner of the 2018 Carters Tyres SI Endurance Series.
Qualifying and the race at Teretonga are on Saturday 15th September, with the 3hr race expected to start at 1:30pm. There are still some entry spots still available and for more information on the South Island Endurance Series, entries, or to be added to the South Island Endurance Racing Drivers Club's e-mailing list, please contact Chris Dunn via e-mail at sierdc@xtra.co.nz  ph 021-107-9293. Club information can also be found on facebook at www.facebook.com/sierdcnz  For more information on the series sponsor Carters Tyre Service, please visit www.carterstyres.co.nz
Release: SIERDC
Photo: Euan Cameron