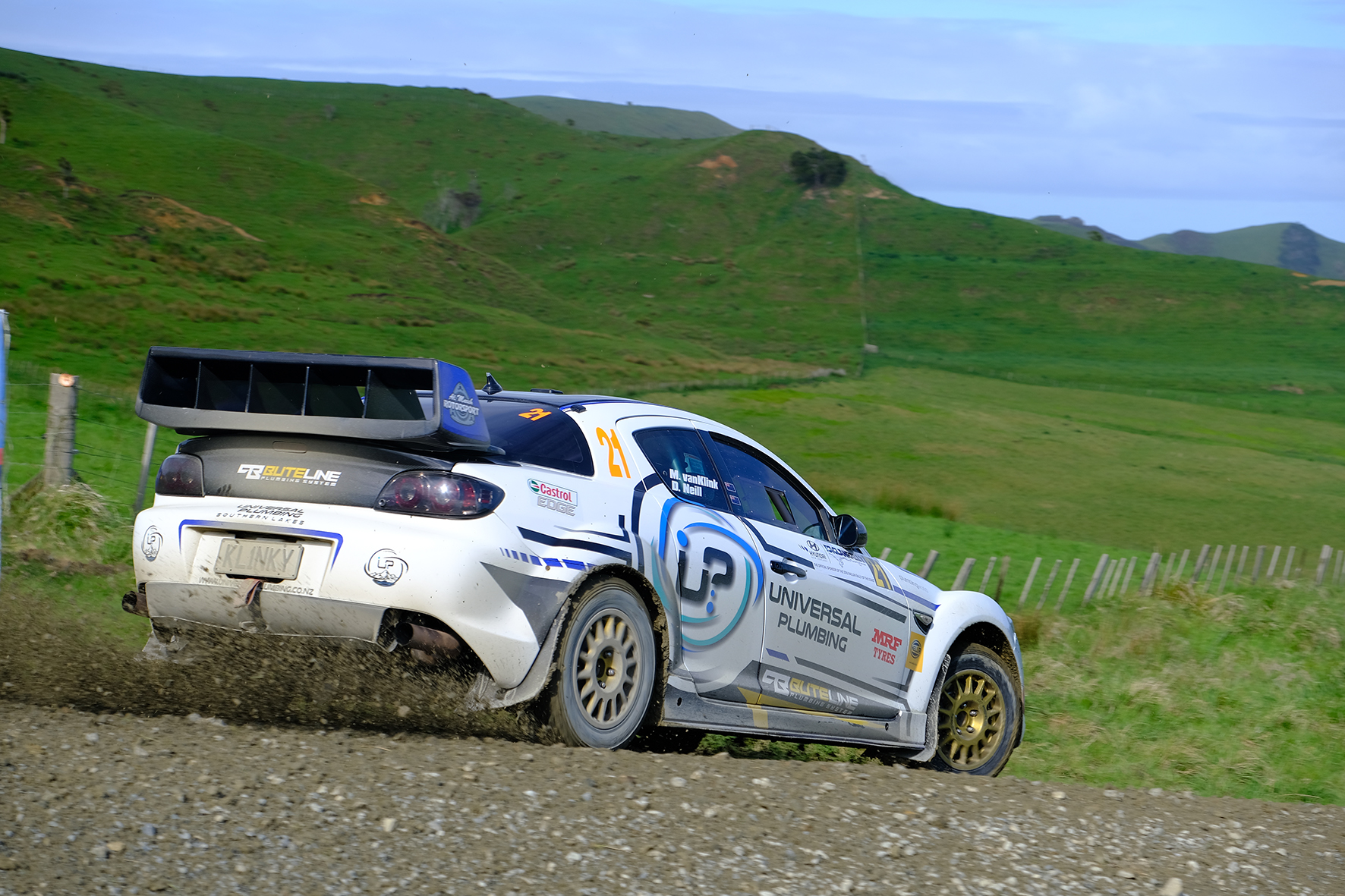 Boxes ticked at series finale for van Klink
Christchurch's Marcus van Klink has wrapped up the Gull Rally Challenge two-wheel drive class title after a third-place finish at the final round of the Brian Green Property Group New Zealand Rally Championship, the Hyundai NZ Raglan Rally of the Coast, held over the weekend.
Coming to the event, van Klink knew a strong finish was a priority as opposed to outright speed, with not only the Gull challenge two-wheel drive victory on the line, but also a podium finish in the outright challenge class. He was however surprised by the speed of his rivals and set the third fastest time.
Moving up to second place in stage two, van Klink and co-driver Dave Neill maintained the position until stage six, the 30 kilometres of Whaanga Coast, where the powerful Buteline Mazda RX-8 suffered from excessive tyre wear, costing more than 30 seconds. Knowing that a second pass of the stage to finish the event would see a similar result, van Klink was forced to settle for third at the finish and the vital points that went with it.
"We had a good rally, man I was surprised by the pace, especially Bruce Herbert, he's not bad for an old fella. It was a bit gutting to lose second with the tyre wear, but we achieved what we set out to and the car is in one piece," said van Klink. "The team has worked hard all season and the result really wouldn't be possible without everyone that has made it happen."
With a short turn around, the team have only a handful of days to prepare for their next event, Targa New Zealand, based in the lower South Island starting on Labour Monday.
The Klink Rallysport team would like to thank everyone that has made their 2018 campaign possible including Buteline Plumbing Systems, Universal Plumbing, Entire Electrical Solutions, MRF Tyres, Palmside, Al Marsh Rotorsport and Castrol.
Press Release by BB Media    
Image: Geoff Ridder