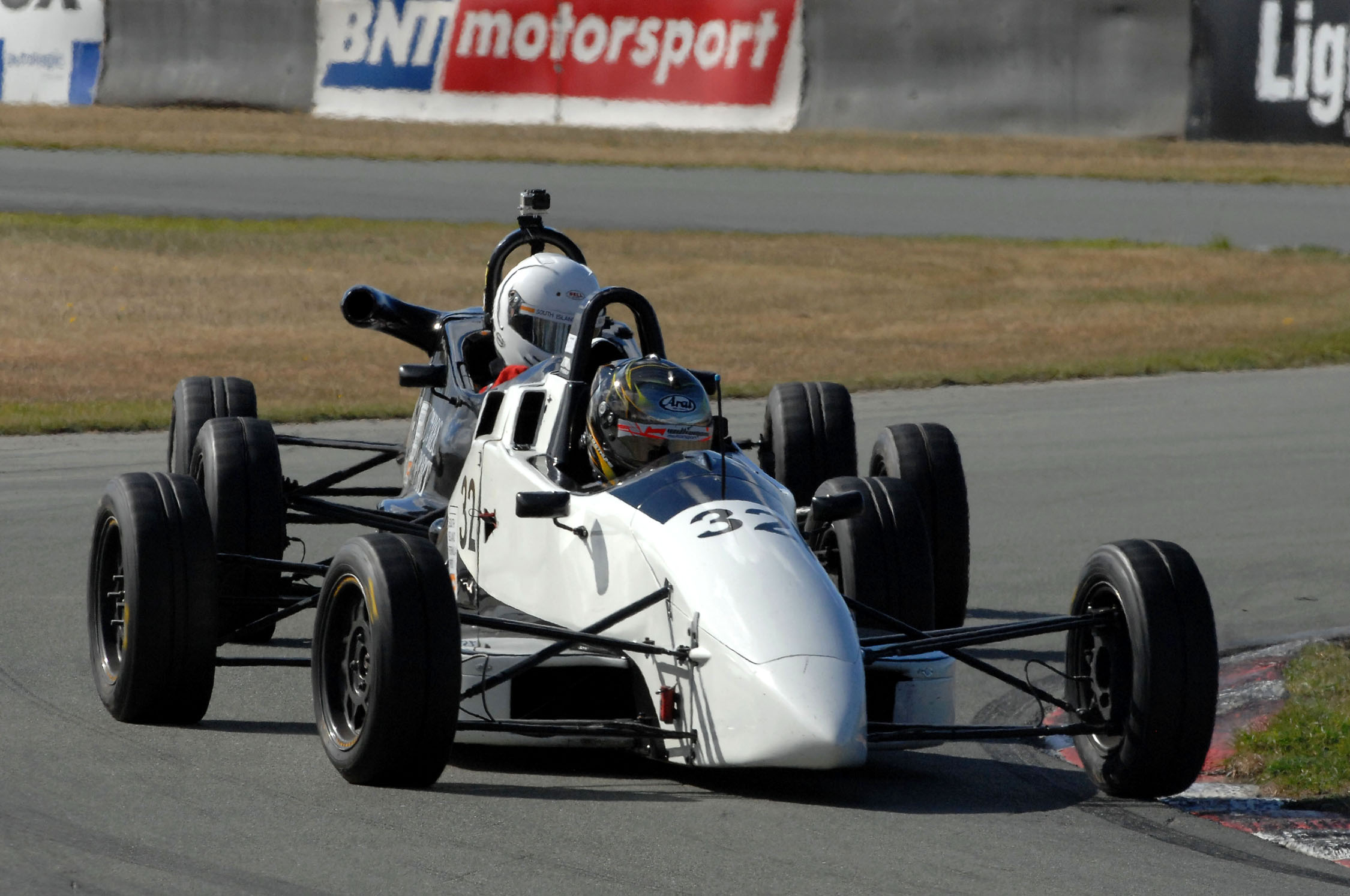 Bethune seals second consecutive South Island F1600 Championship title
Auckland's Josh Bethune (Mygale SJ08) has won his second consecutive South Island Formula 1600 Championship title, 35-points ahead of Southland's Jordan Michels (Mygale SJ 13) with Christchurch's James Penrose (Van Diemen RF93) third.
Bethune went into the sixth and final round at Timaru International Raceway with an 83-point buffer to Michels and effectively just needed to finish each of the three races held on Saturday to seal the title. Bethune qualified fifth and then went on to finish fifth in all three races.
"We have achieved what we wanted to do today although it has been a bit of a challenge," commented Bethune. "We have been running the old car (Mygale) as the Ray is still in pieces from our accident at Pukekohe (in the final round of the NZ F16000 Championship). We were down on power today, but we got the results so thrilled with that."
Having secured the national championship title at Pukekohe in early March, Michels was still in contention for the South Island championship. He almost had the perfect round qualifying on pole and winning the first two races and finishing second to Penrose in the third.
"I'm pretty relaxed about today," said Michels. "This is my last F1600 round so enjoying myself and enjoying having #1 on the car."
Penrose, driving an older Class 2 car, finished the series with two seconds and a race win and takes the Class 2 title ahead of Jack Noble Adams (Van Dieman Stealth).
"That's the best way to finish off the season," said Penrose. "It took a while to get ahead of Michels in the final race but once clear I was able to focus on making clean laps."
It was Michels and Penrose who battled for the lead in all three races. Penrose got the better start and led for most of the opening 10 lap race, only to be passed by Michels when they came upon lapped traffic. Michels led from start to finish in the second 10 lap race while in the final 12-lap feature Penrose took the lead with four laps remaining. He was able to create a gap and maintained his lead to win his second race of the championship.
Also making a huge improvement from the beginning of the season was Noble-Adams. "We didn't have the best of starts at the beginning of the season. We have made progress getting better as we went on and have finished on a high."
In the Historics Class 3, Southland's Noel Atley (Crossle 55F) continued his battle with Andy Downs (Lola 642E) winning by 53-points. Roger McKenzie (Begg FM3 was third).
The round concludes a successful summer of Formula 1600 racing which has repeatedly experienced some top racing throughout the field and large grids at both the NZ and South Island championship rounds.
ENDS
2018/19 South Island F1600 Championship Overall Points 6/6 rounds (Top 20)
1 Josh Bethune, Ray GR17, 707
2 Jordan Michels, Mygale SJ13, 672
3 James Penrose, VD Stealth, 550
4 Jack Noble-Adams, VD Stealth, 476
5 Zac Stichbury, Mygale SJ08a, 439
6 Cameron Freeman, VD RF92, 432
7 Steve Edwards, Mygale SJ08a, 297
8 Noel Atley, Crossle 55F, 284
9 Dyson Freeman, VD RF92, 257
10 Simon Spencer-Bower, VD Stealth, 256
11 Robert Toshach, Spectrum 08, 255
12 Andy Downs, Lola 642e, 240
13 Ben Stiles, VD Stealth, 220
14 Corey Hodges, VD RF92, 198
15 Stephen Heffernan, VD Stealth, 191
16 Bailey Paterson, VD Stealth, 186
17 Dominic Robertson, VD RF92, 176
18 Grant Campbell, VD RF03, 173
19= Roger McKenzie, Begg FM3, 156
19= Spike Kohlbecker, Mygale SJ07a, 156
Results
Qualifying
1 Jordan Michels Mygale SJ 13 1:06.025
2 James Penrose Van Diemen RF93 1:06.159
3 Zac Stichbury Mygale SJ08a 1:06.296
4 Jack Noble-Adams Van Dieman Stealth 1:07.295
5 Josh Behtune Mygale SJ08 1:07.655
6 Cameron Freeman Van Dieman RF 92 1:07.797
7 Steve Edwards Mygale SJ 08a 1:08.189
8 DysonFreeman Van Dieman RF 92 1:08.557
9 Robert Toshach Spectrum 0801 1:08.899
10 Simon Spencer-Bower Van Dieman RF 93 1:09.052
11 Andy Downs Lola 642E 1:09.212
12 Noel Atley Crossle 55F 1:09.281
13 Stephen Heffernan Mygale SJ013 1:09.420
14 Corey Hodges Van Dieman RF 92 1:09.992
15 Oscar Noble-Adams Van Diemen RF90 1:11.311
16 Greg Inwood Van Diemen RF91 1:13.606
17 Roger McKenzie Begg FM3 1:15.331
18 Dave McKenzie Begg FM3 1:16.986
Race 1 10 Laps
1 Jordan Michels
2 James Penrose
3 Zac Stichbury
4 Jack Noble-Adams
5 Josh Behtune
6 Dyson Freeman
7 Cameron Freeman
8 Steve Edwards
9 Simon Spencer-Bower
10 Andy Downs
11 Stephen Heffernan
12 Noel Atley
13 Corey Hodges
14 Oscar Noble-Adams
15 Roger McKenzie
16 Greg Inwood
17 Dave McKenzie
DNS Robert Toshach
Race 2 10 laps
1 Jordan Michels
2 James Penrose
3 Jack Noble-Adams
4 Zac Stichbury
5 Josh Behtune
6 Cameron Freeman
7 Steve Edwards
8 Dyson Freeman
9 Simon Spencer-Bower
10 Noel Atley
11 Corey Hodges
12 Andy Downs
13 Roger McKenzie
14 Stephen Heffernan
15 Greg Inwood
16 Oscar Noble-Adams
17 Dave McKenzie
Race 3 – 12 Laps
1 James Penrose
2 Jordan Michels
3 Jack Noble-Adams
4 Zac Stichbury
5 Josh Behtune
6 Cameron Freeman
7 Dyson Freeman
8 Steve Edwards
9 Noel Atley
10 Andy Downs
11 Simon Spencer-Bower
12 Oscar Noble-Adams
13 Stephen Heffernan
14 Roger McKenzie
15 Greg Inwood
DNF Corey Hodges
DNF Dave McKenzie
2018/19 South Island Formula 1600 Championship Calendar
Rnd 1: October 27-28 2018, Mike Pero Motorsport Park, Ruapuna, Christchurch
Rnd 2: November 10 2018, Timaru International Raceway, Timaru (also Rd 1 NZ Formula 1600 Championship)
Rnd 3: December 1-2 2018, Teretonga Park Raceway, Invercargill
Rnd 4: January 12-13 2019, Mike Pero Motorsport Park, Ruapuna (also Rd 2 NZ Formula Ford Championship)
Rnd 5: January 18-20 2019, Teretonga Park Raceway, Invercargill; (also Rd 3 NZ Formula Ford Championship)
Rnd 6: April 6 2019, Timaru International Raceway, Timaru
Photo: Euan Cameron Photography
Prepared by SB Networks on behalf of the South Island Formula Ford Club