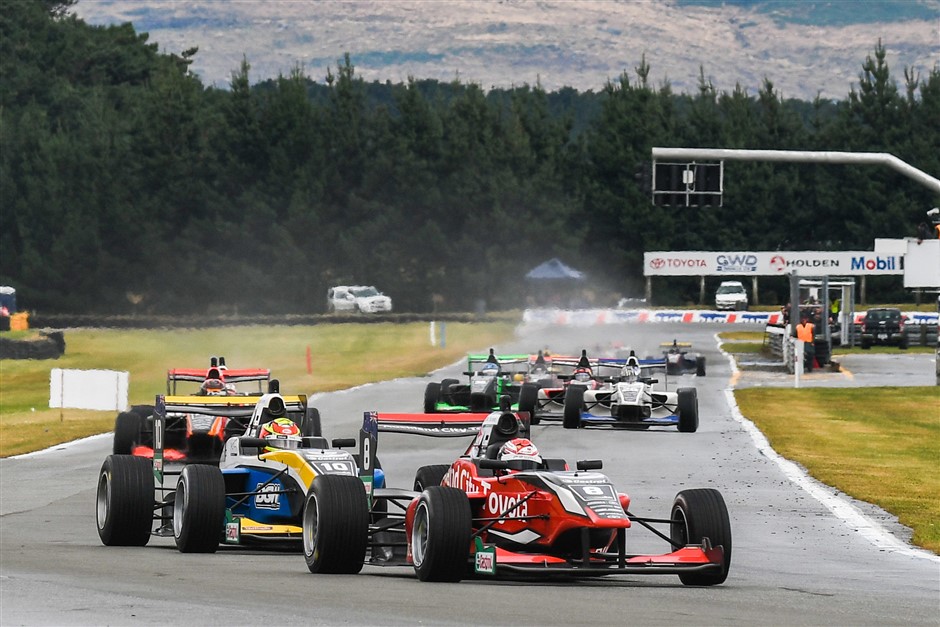 Battle recommences in New Zealand this weekend
The Castrol Toyota Racing Series battle resumes this weekend at the New Zealand Motor Cup meeting at Hampton Downs and at the forefront of an intriguing chase for the championship right now are two up and coming young Kiwi racers – Marcus Armstrong and Liam Lawson.
After four stunning races, the two are tied on points after some thrilling racing that has caught the attention of the motorsport world.
At the first round it was Lawson who stole the show, taking two wins at Highlands Motorsport Park that included an outrageous pass in the wet around the high speed final turn on Armstrong. Marcus was wise to a similar passing attempt around the daunting first turn at Teretonga last weekend and held Lawson at bay at the key moment. The sixteen year old kept the pressure on throughout the remaining laps but it was Armstrong who raced home to take his first win of the series. There's little or nothing to choose between the two of them and four races into the 15 race championship, there are still a host of other top young single seater aces from around the world who could seize the initiative, especially if they go well over the next two weekends at Hampton Downs and Taupo where there will be added pressure to be consistent.
The curtailed programme from Round 2 at Teretonga means there will be an extra race this weekend at the Motor Cup meeting at Hampton Downs, which will be run on Friday afternoon at 4.25pm. That's on top of qualifying and a race on Saturday, and qualifying and two races on Sunday. At the Denny Hulme Trophy meeting at Taupo the following weekend there will be two qualifying sessions and two races on the Saturday and then the regular format of one qualifying session and two races on the Sunday. That leaves little time for teams to undertake significant changes or repairs between races so keeping it on the track and performing consistently will be uppermost in the minds of the top runners.
Chief among the rivals so far to Armstrong and Lawson are Asian Formula 3 champion Raoul Hyman, Austrian ace Lucas Auer, Russian Artem Petrov, American Cameron Das, Japanese driver Kazuto Kotaka and Belgian Esteban Muth. Third Kiwi Brendon Leitch – the most experienced driver in the series in the category FT-50 chassis – has a race win to his name this season and cannot be discounted on any 'home' New Zealand track.
Hyman left Highlands after impressing to take third for the round and produced a stunning drive at Teretonga to go from 11th on the grid to the leaders by the end when a do or die last corner passing attempt for third sent him slithering off the road and down the tightly packed order. The Asian Formula 3 champion has speed, learns quickly and will be on the pace at Hampton Downs. So too will Lucas Auer, who seems to have picked up a bit of bad luck in his first single seater campaign for several seasons.
With four years in the high profile German DTM series behind him, testing time in a contemporary Force India F1 car and a season of Japanese Super Formula ahead of him for the Red Bull backed driver, there's no question he'll be there or thereabouts in the North Waikato this weekend. Petrov is improving with every race and produced one of the best starts ever seen in the category at Teretonga to vault to second behind Armstrong at the first corner. And whilst Lawson ultimately found a way past, Petrov did a great job to hang on to third in the battle pack behind. Das, Kotaka and Muth have also been in the thick of the action and will also likely feature this weekend.
Three Australians race in the championship this season and thus far the best of those has been Calan Williams. Jackson Walls joined the series at round 2 having just reached the minimum age requirement for his International racing licence, and immediately impressed with a fearless drive in the wet conditions at Teretonga. Thomas Smith is the third driver from Australia and will no doubt be looking to move up the pack this weekend.
United States racers Dev Gore and Parker Locke, Czech Republic racer Petr Ptacek, Romanian Petru Florescu complete the field with Gore, Ptacek and Florescu all capable of turning in top five results or better. Locke is in the series primarily as a learning experience for his United States based career, but is improving with each outing in the car.
The last race of the weekend for the Castrol Toyota Racing Series at Hampton Downs will be run for the New Zealand Motor Cup – an iconic trophy and one of the most prestigious sporting trophies in the country. It has a list of former winners in its flanks that reads like a Who's Who of international motorsport over the past century and more. Stirling Moss, Jack Brabham, Reg Parnell, John Surtees, Bruce McLaren, Graham Hill, Jackie Stewart, Chris Amon and Keke Rosberg all feature on a list of genuine greats on the impressive cup.
There's practice and a race on Friday at Hampton Downs, with qualifying and racing on both Saturday and Sunday in a packed schedule that includes a host of other single seater categories like Formula 5000 and historic Formula Ford.
2019 Castrol Toyota Racing Series – Points after Round 2
1. Liam Lawson (New Zealand) 113
2. Marcus Armstrong (New Zealand) 113
3. Raoul Hyman (United Kingdom) 79
4. Lucas Auer (Austria) 73
5. Brendon Leitch (New Zealand) 72
6. Cameron Das (USA) 66
7. Artem Petrov (Russia) 59
8. Esteban Muth (Belgium) 58
9. Petr Ptacek (Czech Republic) 57
10.Calan Williams (Australia) 53
11.Kazuto Kotaka (Japan) 48
12.Dev Gore (USA) 34
13.Parker Locke (USA) 26
14.Thomas Smith (Australia) 26
15.Petru Florescu (Romania) 15
16.Jackson Walls (Australia) 8
2019 Castrol Toyota Racing Series
January 12-13 – Dorothy Smith Memorial Cup – Highlands Motorsport Park, Cromwell (completed)
January 19-20 – Spirit Of A Nation Cup – Teretonga Park, Invercargill (completed)
January 26-27 – NZ Motor Cup – Hampton Downs Motorsport Park, Waikato
February 2-3 – Denny Hulme Memorial Trophy – Bruce McLaren Motorsport Park, Taupo
February 9-10 – New Zealand Grand Prix – Manfeild Circuit Chris Amon, Feilding
Caption:  Battle in the tightly contested Castrol Toyota Racing Series gets back underway this weekend at Hampton Downs. Picture Bruce Jenkins.
Media release: Toyota Racing NZ