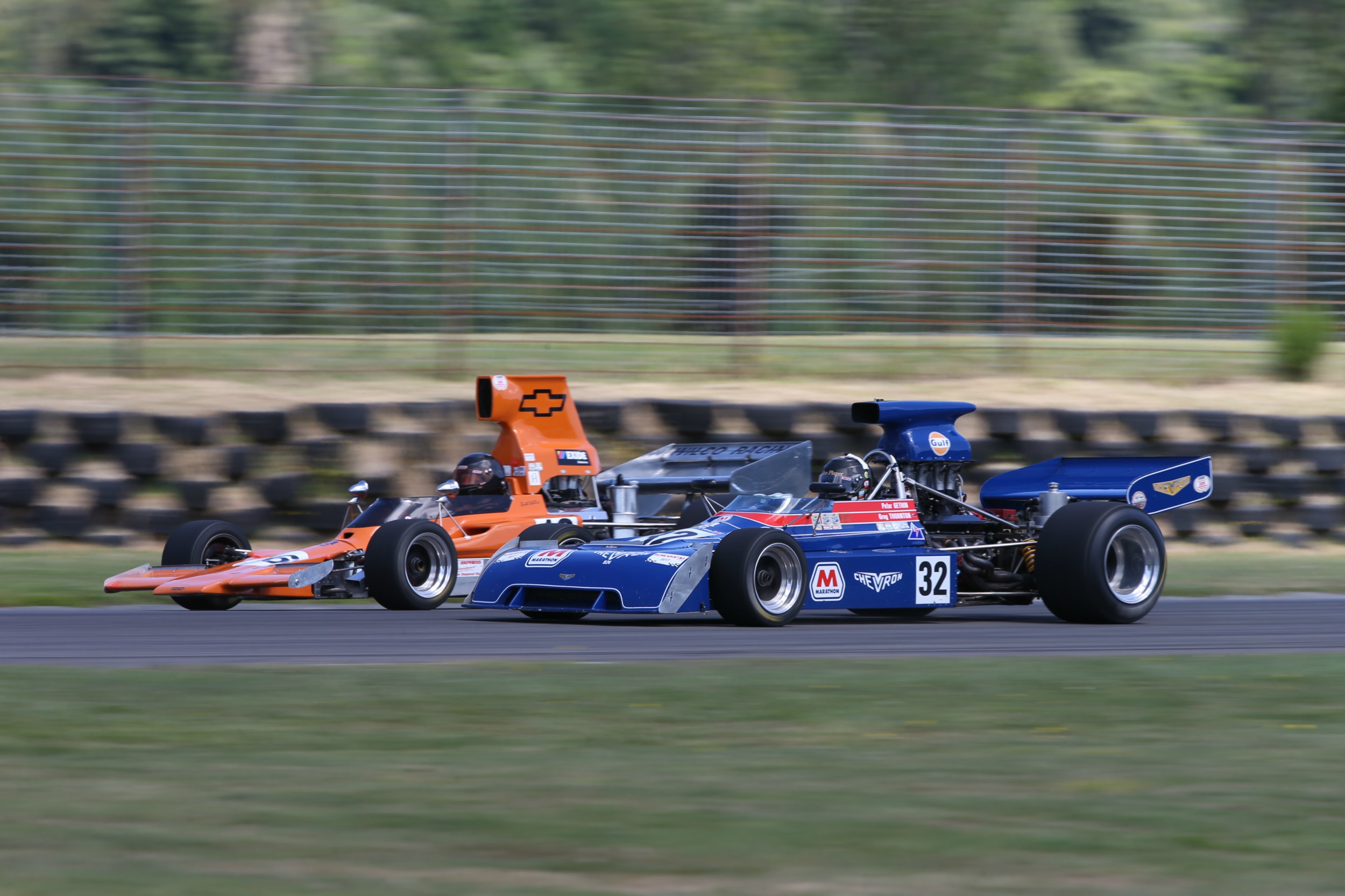 SMITH EYES OUTRIGHT LAP RECORD AT HAMPTON DOWNS THIS WEEKEND
After totally dominating the first two rounds of this season's SAS Autoparts MSC NZ F5000 Tasman Cup Revival Series, Kiwi racing great Ken Smith (#11 ex Danny Ongais Lola T332) has his eye on an extra 'prize' at the third round of the 2018/19 title fight at the annual SpeedWorks Motorsport NZ Championship/HRC Events' NZ Motor Cup meeting at Hampton Downs this weekend.
Now well into his 61st consecutive season of national level motor racing in this country, the 77-year-old 'super-veteran' reckons it's about time he reclaimed the outright National circuit track lap record – 59.483 – from current holder, and fellow F5000 ace, Michael Lyons from the UK.
Smith set the original lap record for the 2.7km National circuit track at Hampton Downs – a 1.02.279 – in the Lola T430 he raced at the time, at the NZ Festival of Motor Racing meeting in 2010. That time however, was soon eclipsed, first by the contemporary Tatuus TRS car of Mitch Evans (who set a 1.01.846 at the NZ Motor Cup meeting later that year) then by the booming historic F5000s of Steve Ross (McRae GM1 @ 1.00.497) in 2012,  and Lyons (Lola T400 @59.483) in 2014.
"There's definitely a 58 in the 332," he said at the second round of the SAS Autoparts MSC series at Taupo last weekend. "It's not going to set itself though, I'm going to have to go out and find it. That's why I haven't put on a new set of tyres this weekend. I've been saving them for Hampton Downs."
Judging by the pace at the Taupo Historic GP meeting last weekend Smith might not be the only driver lapping under the magic minute mark at Hampton Downs this weekend either.
In the feature race on Sunday the wily veteran had at least four fellow competitors snapping at his heels.
Earlier in the weekend it had been category young gun, Michael Collins from Christchurch, driving the ex-Evan Noyes's #94 McRae GM1 he and his family recently bought off McRae aficionado Alistair Hey, who had provided Smith with his sternest challenge.
However, former South Island Formula Ford title-holder Collins, 22, found himself struggling for grip in the feature race on Sunday, fading to fourth.
Conversely, getting better and better as the weekend went on were UK-based series regular Greg Thornton driving his ex Peter Gethin 1973 Race of Champions-winning #32 Chevron B24, and former SAS Autoparts MSC series title holder Brett Willis from Rotorua in his ex Tom Belso/Tony Trimmer #16 Lola T330.
Fresh from a Xmas/New Year racing trip to Zimbabwe, retired former charter jet pilot and company owner Thornton set the quickest lap of the race in the eight lap GP preliminary race on Sunday morning, then caught, passed and briefly led Smith in the feature in the afternoon.
Smith prevailed, but the sight and sound of four F5000 cars lapping within mm of each other for 10 laps certainly augurs well for their support class slot at Hampton Downs this weekend.
For a number of – unconnected – reasons the number of cars contesting the SAS Autoparts MSCs series is down a little this season though the racing throughout the field has, conversely, been some of the best ever produced by the category.
Easily capable of joining the likes of Willis and Thornton this weekend are Glenn Richards in his ex Eppie Wietzes #99 Lola T400, and larger-than-life series sponsor (aka "Mr SAS Autoparts") David Banks, in his now fully-sorted ex Johnny Walker #50 1979 Australian Grand Prix-winning Lola T332.
New Zealand Muscle Car series racer and now F5000 series regular Tony Galbraith in his ex-Tuck Thomas (US), Ian Clements/Sefton Gibb (NZ), #88 2006/07 Tasman Cup Revival Series-winning Lola T332, and former New Zealand Formula Ford champion Kevin Ingram (who now owns and runs the other ex-Ian Clements' #30 Lola T332) are also proving to be quick learners.
Also entered is long-time Auckland F5000 category car owner and driver Shayne Windelburn in his ex McKechnie Racing (Richard Scott and Bob Evans) Lola T400, a car Windelburn has owned since the early 1990s.
Add in the ex Jon Woodner #29 McRae GM1 of former SAS Autoparts MSC series runner-up Aaron Burson (who missed Sunday's racing at Taupo with a stomach bug) and category and series stalwart Tony Roberts 'new' Class A (for early F5000 cars) McLaren M10B, the ex David Good British Hill Climb Championship #7 car first owned here by  David Mitchell, and you have a field which could hardly better represent the category that – perhaps more than any other, Kiwi motor racing fans think of as their own.
CAPTION: Evergreen Kiwi motorsport veteran Ken Smith (#11 Lola T332) won the Taupo Historic GP feature race last weekend from Greg Thornton (#32 Chevron B24) and Brett Willis (#16 Lola T330). Photo credit: Fast Company/Jim Lester
Prepared by FAST COMPANY of behalf of the New Zealand Formula 5000 Association