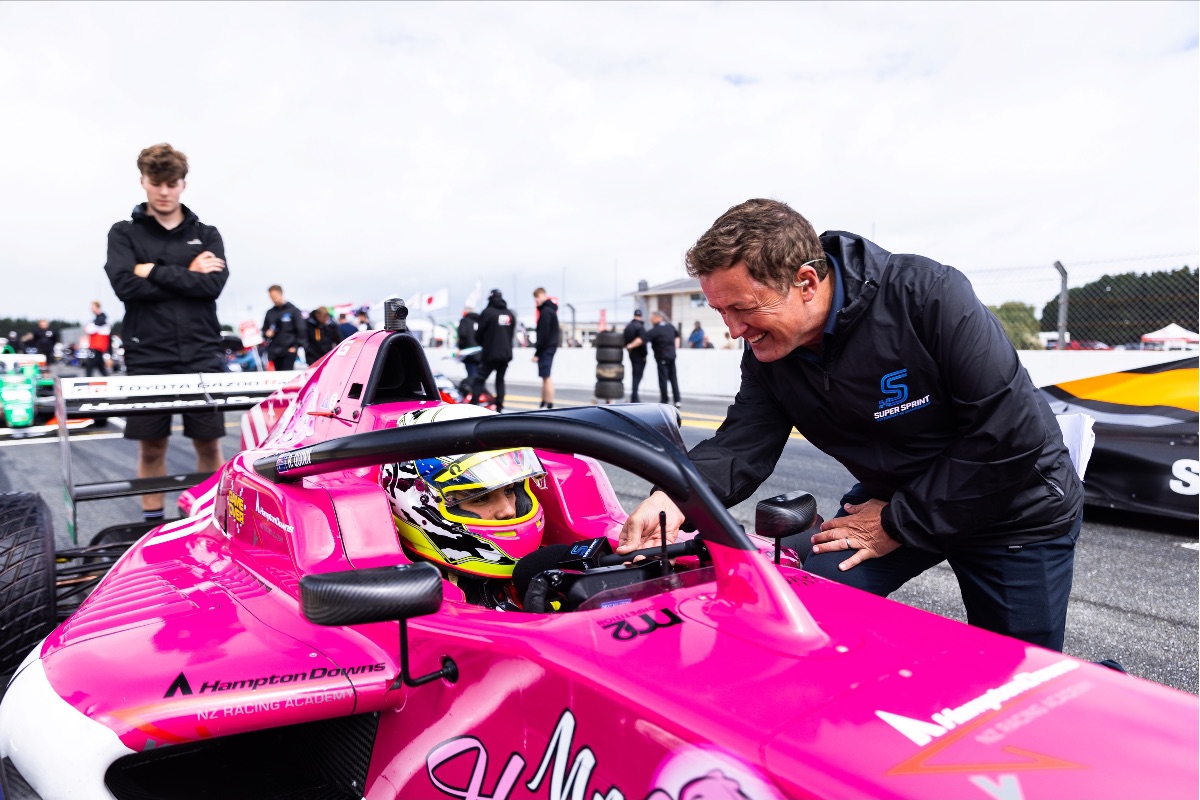 World class commentary team for Highlands 6 Hour
Organisers of November's huge 10th Anniversary weekend 6 Hour race at Highlands Motorsport Park have confirmed the event commentary team – and it's a star studded and vastly experienced crew who will be behind the microphones.
Heading the line-up is multiple-championship winning Australian racing driver Garth Tander. He'll be joined in race commentary by countryman Chad Neylon and pit lane action will be brought to fans and viewers by iconic Kiwi sports presenter Stephen McIvor.
All three have extensive experience in commentary in motorsport, while sports journalist McIvor has a virtually unrivalled portfolio of sporting commentary that includes rugby league, the Olympics, sailing, rowing and tennis. His motorsport role also includes presenting Sky Speed with another Kiwi legend, Greg Murphy.
The commentary team will be live at the event and will also be the backbone of the TV coverage for the historic weekend of motorsport. Coverage will be extensive across both Saturday 4th November and race day itself, Sunday 5th. New Zealand viewers can follow the action on Sky between 12.45pm and 18.00pm on Saturday and 8.45am and 17.30pm on Sunday. Action will also be available in Australia on Fox Television – from 10.30am AEST until 16.00pm AEST Saturday and 08.30am AEST until 15.30pm AEST Sunday.
Tander will have a unique insight for the event – the biggest endurance event for GT type cars in New Zealand motorsport history – having raced several times at the track in the same type of cars.
"I've had the pleasure of racing at Highlands a few times, actually the very first time was with the great Tony Quinn himself, aboard his Aston Martin at the time, we had a bit of success and managed to win that one!," he explained.
"Highlands is a seriously cool track, a really exciting challenge, driving it requires maximum focus and skill. Going back there in a broadcast role is equally exciting. The track always evokes plenty of emotion from the drivers and teams. Having the chance to help tell that story will be just as enjoyable as driving itself.
"Plus, now that I am doing the TV for the 6 Hour, I get out of doing the Le Mans start!"
Neylon too has time under his belt at Highlands, albeit not behind the wheel. "I was lucky enough to work at the inaugural Highlands 101 event back in 2013 so it's fitting that I come back for the 10th anniversary six hour," he added. "It really is one of the great places to race. An amazing facility that is as picturesque as it is fast.
"Garth and I have a great time working together on the Supercars tour and I'm sure we'll slot in nicely alongside Stephen to provide the fans with plenty of insight, while having a heap of fun on air."
McIvor has brought the pit lane action in major domestic motorsport events to life in recent seasons and has a strong knowledge of the domestic motorsport scene. "Like most sports you learn more as you go and my job will be to hunt out the big stories happening in pit lane and make sure the fans know exactly what's going on. It's a big weekend and a big moment for New Zealand motorsport and it's great to be part of it."
An invitation field of 32 of the fastest GT cars in Australasia – equalised by Balance of Performance criteria – will take to the track over the weekend of November 3-5 in a massive weekend for motorsport at the scenic Cromwell track. Drivers including Shane van Gisbergen and Jonny Reid are already confirmed.