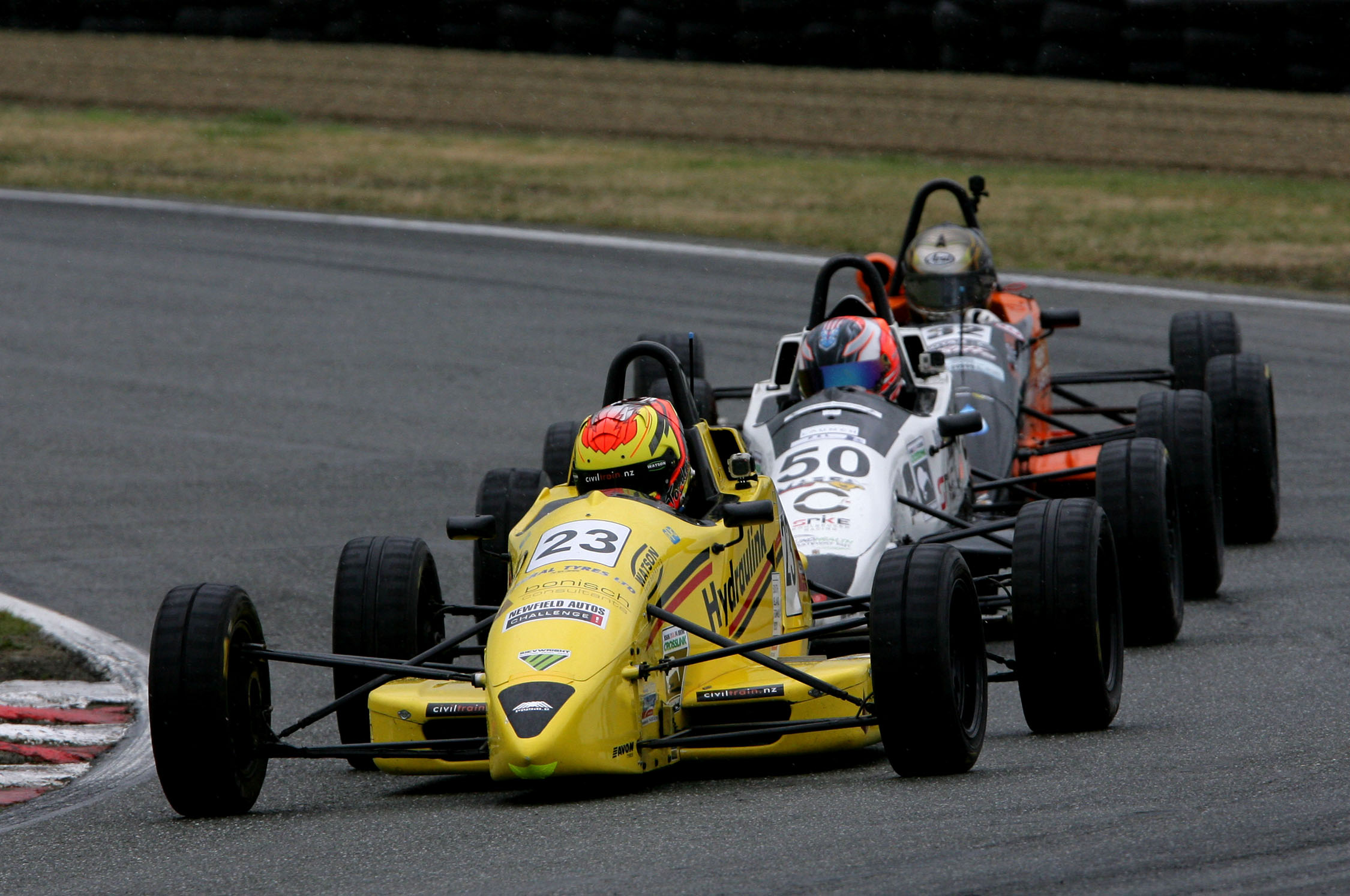 Wins propel Michels into NZ Formula 1600 title contention at Manfeild Park
Two wins and a second place have propelled Southland's Jordan Michels to just three-points shy of 2018/19 New Zealand Formula 1600 Championship leader Josh Bethune with one round left to play. Michels set fastest lap in qualifying at the Manfeild Circuit Chris Amon in Fielding, and went on to reduce the 23-point deficit he had leading into the weekend. While Bethune struggled with pace, the Auckland driver was able to score enough points to keep his title hopes alive.
"It was not too bad in the end," commented Bethune. "We struggled for pace much of the weekend. It's not what we wanted but we got some good points in the end."
Also making a move over the weekend was rookie Callum Crawley. Racing at his home circuit, Crawley finished third, fourth and then took his first win of the season in the final 12-lap feature race. Victory in the Morrie Smith Memorial Trophy race now sees him third overall, but 135 points off the overall lead.
The first race on Saturday was run in fine weather. While Michels held the lead for the entire race, there was plenty of action behind him. Rookie James Penrose from Christchurch finished second with Crawley third ahead of Bethune, US driver Spike Kohlbecker and Hawke's Bay's Zac Stichbury.
This season both the South Island and New Zealand Championships have had fields with well over 20-cars taking to the grid. This round has shown that there are six or seven drivers that are very close, all capable of finishing on the podium.
"It's very close," commented Michels. "There are six or seven of us that have been so close all weekend.
"I think our pace has always been there throughout the season, but we've missed out on some luck. However, right from Friday we landed every punch. The goal was to finish ahead of Josh. We have lifted our game and accomplished that. I'm ecstatic for the team"
Sunday brought about a wet second race in the morning while the afternoons feature gave drivers' a damp track with a dry racing line.
"Race 2 was in the wet, so I was able to break away and got a 5-second lead," said Michels. "The others were fighting which eased the pressure on me."
Second home was Bethune followed by Stichbury, Crawley and Christchurch's Jack Noble-Adams.
"Conditions for the third race made it interesting for everyone as they were difficult to read," said Michels. "I dropped back to fourth, then made it past Zac (Stichbury) and was able to make a move on Josh (Bethune) for second then a safety car came out and had to settle for second behind Callum (Crawley) who led for much of the race."
There are just three races left in the national championship at Pukekohe Park, Auckland, next weekend. On the line is the overall national title plus three class titles. As well as the overall lead, Bethune has a two-point lead in Class 1 from Michels followed by Stichbury and Crawley. While the weekend was disappointing for James Penrose he stills leads Class 2 from Jack Noble-Adams and Christchurch's Robert Toshach. In Class 3, Andy Downs has a 30-point lead over fellow Southlander Noel Atley with Dave McKenzie third.
There is little time to celebrate and prepare for the final show-down at Pukekohe. This is a competition where drivers must finish to gain vital championship points. While the pace and competition are close, it may be the one who makes the least mistakes that will take the 2018/19 NZ F1600 Championship title.
ENDS
2018/19 New Zealand Formula 1600 Championship Points 4/5 rounds (Top 15)
Position, Driver, Car, Points
1 Josh Bethune Ray GR17 466
2 Jordan Michels Mygale SJ13 463
3 Callum Crawley VD RF92/Spectrum 015 335
4 James Penrose VD Stealth 325
5 Zac Stichbury Mygale SJ08a 322
6 Jack Noble-Adams VD Stealth 271
7 Robert Toshach Spectrum 08 212
8 Spike Kohlbecker Mygale SJ 07a 195
9 Cameron Freeman VD RF92 190
10 Grant Campbell VD RF03 159
11 Noel Atley Crossle 55F 137
12 Simon Spencer-Bower VD Stealth 133
13 Dominic Robertson VD RF92 132
14 Andy Downs Lola 642e 131
15 Ben Stiles VD Stealth 128
Results
Qualifying
1 Jordan Michels Mygale SJ13 1:12.977
2 Zac Stichbury Mygale SJ08a 1:13.005
3 Josh Bethune Ray GR17 1:13.061
4 Callum Crawley Spectrum 1:13.115
5 Spike Kohlbecker Mygale SJ08a 1:13.120
6 James Penrose VD Stealth 1:13.133
7 Jack Noble-Adams VD Stealth 1:14.520
8 Kim Crocker Van Diemen 1:14.692
9 Robert Toshach Spectrum 08 1:15.417
10 Blake Evans Mygale SJ11 1:15.702
11 Grant Campbell VD RF03 1:15.720
12 Noel Atley Crossle 55F 1:16.351
13 Tony Graham Reynard 1:16.474
14 Andy Downs Lola 642e 1:16.722
15 Dominic Robertson VD RF92 1:6.961
16 Paul Dold GLH 1:16.962
17 Dave Silverton PRS 1:17.455
18 Steve Heffernan VD Stealth 1:18.265
19 Tony Fitzpatrick VD Stealth 1:20.504
20 Alex Hawley VD Stealth No time
DQ Nick Buxeda Van Diemen 1:14.566
Race 1 (10 laps)
1 Jordan Michels
2 James Penrose
3 Callum Crawley
4 Josh Bethune
5 Spike Kohlbecker
6 Zac Stichbury
7 Jack Noble-Adams
8 Kim Crocker
9 Blake Evans
10 Grant Campbell
11 Nick Buxeda
12 Alex Hawley
13 Robert Toshach
14 Tony Graham
15 Andy Downs
16 Noel Atley
17 Dominic Robertson
18 Dave Silverton
19 Steve Heffernan
20 Tony Fitzpatrick
21 Paul Dold
Race 2 (10 laps)
1 Jordan Michels
2 Josh Bethune
3 Zac Stichbury
4 Callum Crawley
5 Jack Noble-Adams
6 Dominic Robertson
7 James Penrose
8 Kim Crocker
9 Grant Campbell
10 Nick Buxeda
11 Tony Graham
12 Andy Downs
13 Dave Silverton
14 Robert Toshach
15 Paul Dold
16 Steve Heffernan
17 Tony Fitzpatrick
DNF Blake Evans
DNF Spike Kohlbecker
DNF Noel Atley
DNF Alex Hawley
Race 3 (12 laps)
1 Callum Crawley
2 Jordan Michels
3 Josh Bethune
4 Zac Stichbury
5 Spike Kohlbecker
6 James Penrose
7 Jack Noble-Adams
8 Alex Hawley
9 Kim Crocker
10 Grant Campbell
11 Nick Buxeda
12 Robert Toshach
13 Dominic Robertson
14 Andy Downs
15 Steve Heffernan
16 Dave Silverton
17 Tony Fitzpatrick
DNF Blake Evans
DNF Tony Graham
DNF Noel Atley
DNF Paul Dold
2018/19 New Zealand Formula 1600 Championship Calendar
Rnd 1 10 November 2018 Timaru International Motor Raceway
Rnd 2 12-13 January 2019 Mike Pero Motorsport Park, Christchurch
Rnd 3 18-20 January 2019 Teretonga Park, Invercargill
Rnd 4 23-24 February 2019 Manfeild Circuit, Manawatu
Rnd 5 3 March 2019 Pukekohe Park Raceway, Pukekohe
2018/19 South Island Formula 1600 Championship Calendar
Rnd 1: October 27-28 2018, Mike Pero Motorsport Park, Ruapuna, Christchurch
Rnd 2: November 10 2018, Timaru International Raceway, Timaru (also Rd 1 NZ Formula 1600 Championship)
Rnd 3: December 1-2 2018, Teretonga Park Raceway, Invercargill
Rnd 4: January 12-13 2019, Mike Pero Motorsport Park, Ruapuna (also Rd 2 NZ Formula Ford Championship)
Rnd 5: January 18-20 2019, Teretonga Park Raceway, Invercargill; (also Rd 3 NZ Formula Ford Championship)
Rnd 6: April 6 2019, Timaru International Raceway, Timaru
Photo: Euan Cameron Photography
Prepared by SB Networks on behalf of the South Island Formula Ford Club