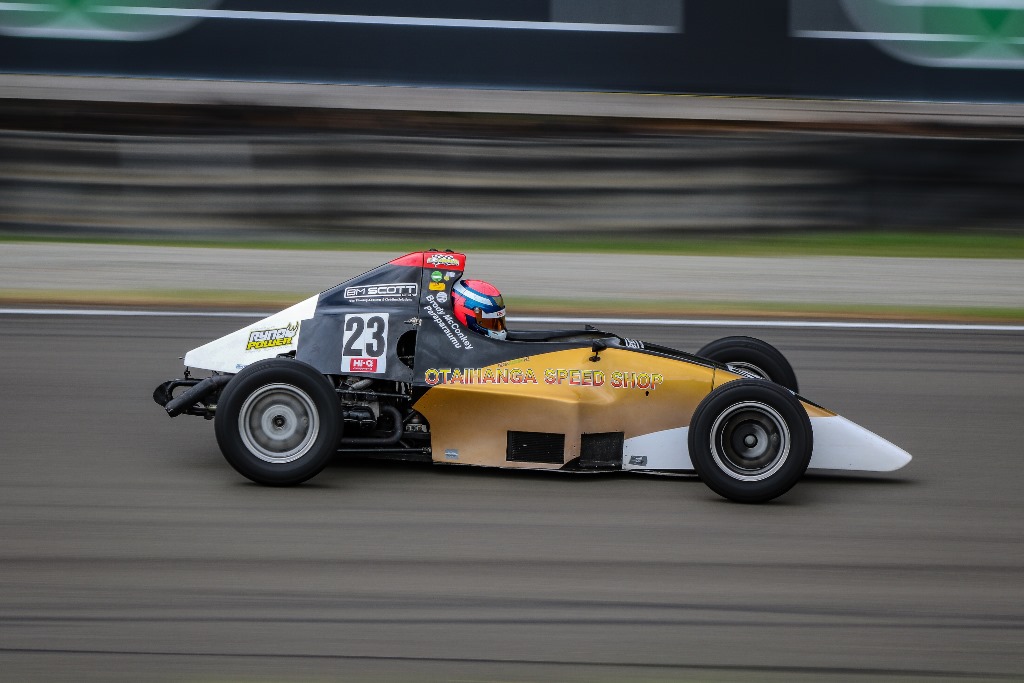 McConkey shines as Symon slashes NZ Formula First Championship lead
20-year-old Kapiti Coast driver Brody McConkey shined at the fifth round of the 2018/19 Hi-Q Components NZ Formula First Championship at Manfeild Circuit Chris Amon. The big headline though was Palmerston North's Chris Symon, 28, returning to victory lane in the final race of the weekend and slashing the championship lead almost in half.
A 15-minute qualifying session took place on Saturday morning to set the grid and it was Whakatane's Reece Hendl-Cox, 19, who was fastest. The top three were separated by less than a tenth of a second! Auckland teen Billy Frazer, 16, was second fastest, setting a time 0.048s slower than Hendl-Cox. McConkey started third after setting a time just 0.076s off the fastest.
The first of three eight-lap races on Saturday afternoon saw McConkey take a strong race win ahead of Frazer and Hendl-Cox who crossed the line neck-in-neck. The battle up the front saw the top six cars duke it out for supremacy, carving each other up at every corner. Not far behind the top three, Auckland's Liam Foster, 22, finished fourth on his way to setting the fastest lap of the race while Symon crossed the line in fifth.
Sunday mornings race 14 of the championship was much the same out in front with McConkey taking the win. While it was a closer finish, McConkey never looked like he would settle for anything less than the win. Hendl-Cox finished second after a heated battle with Foster.
The final race of the weekend saw a change in fortune for Symon, he dominated the rain filled race, winning by over nine seconds. The result marked the first time Symon had finished ahead of championship leader Hendl-Cox since his engine failure in race-six at Pukekohe and ironically Hendl-Cox had engine drama's of his own this time which saw him finish 16th.
Rookie racer from Taranaki, Thomas Boniface, 15, finished in second place by just 0.004s over McConkey in third. Boniface put together one of the more impressive drives of the season thus far after getting a poor start and falling outside the top ten. Another impressive rookie driver was Auckland's Kyan Davie, 14, who finished a personal best fifth after a weekend filled with mechanical issues.
The Championship has tightened up again with Hendl-Cox's lead over Symon shrinking to 76-points after it grew to 131-points after race 14 on Sunday morning. Frazer remains third, 32-points from second-placed Symon. The rookie of the year battle has swung back in Boniface's favour as the Taranaki teen now takes a 38-point advantage over Ronan Murphy into the sixth round. Ron Carter again extended his lead in the sunset championship.
The next round of the NZ Formula First Championship sees the class head north to Hampton Downs for round six on March 8-10.
2018/19 NZ Formula First Championship Standings (Top 10)
Reece Hendl-Cox (Whakatane, 19) – 946pts
Chris Symon (Palmerston North, 28) – 870pts
Billy Frazer (Auckland, 16) – 838pts
Liam Foster (Auckland, 22) – 791pts
Amy Smith (Auckland, 17) – 699pts
Thomas Boniface (Taranaki, 15) – 651pts
Ronan Murphy (Havelock North, 17) – 614pts
Ron Carter (Papamoa) – 551pts
Brody McConkey (Kapiti, 20) – 532pts
Nathan Sudiono (Auckland, 17) – 418pts
1st = 75pts, 2nd = 67, 3rd = 60, 4th = 54, 5th = 49
2018/19 NZ Formula First Championship Calendar:
Round 1: Manfeild Circuit Chris Amon – October 19-21
Round 2: Pukekohe Park Raceway – December 7-9
Round 3: Hampton Downs Motorsport Park – January 25-27
Round 4: Manfeild Circuit Chris Amon – February 8-10
Round 5: Manfeild Circuit Chris Amon – February 23-24
Round 6: Hampton Downs Motorsport Park – March 8-10
Round 7: Bruce McLaren Motorsport Park – March 23-24
Round 8: Bruce McLaren Motorsport Park – April 13-14
NZ Formula First Championship: The Hi-Q Components NZ Formula First Championship is an entry-level single seater category which is run as a National Championship by the sports governing body, MotorSport New Zealand. NZ Formula First has been the breeding ground for young motorsport stars such as Brendon Hartley, Scott Dixon, Shane van Gisbergen, Richie Stanaway, Nick Cassidy and Liam Lawson.
Photos are free for editorial use. For further information or photos please contact Jordie Peters