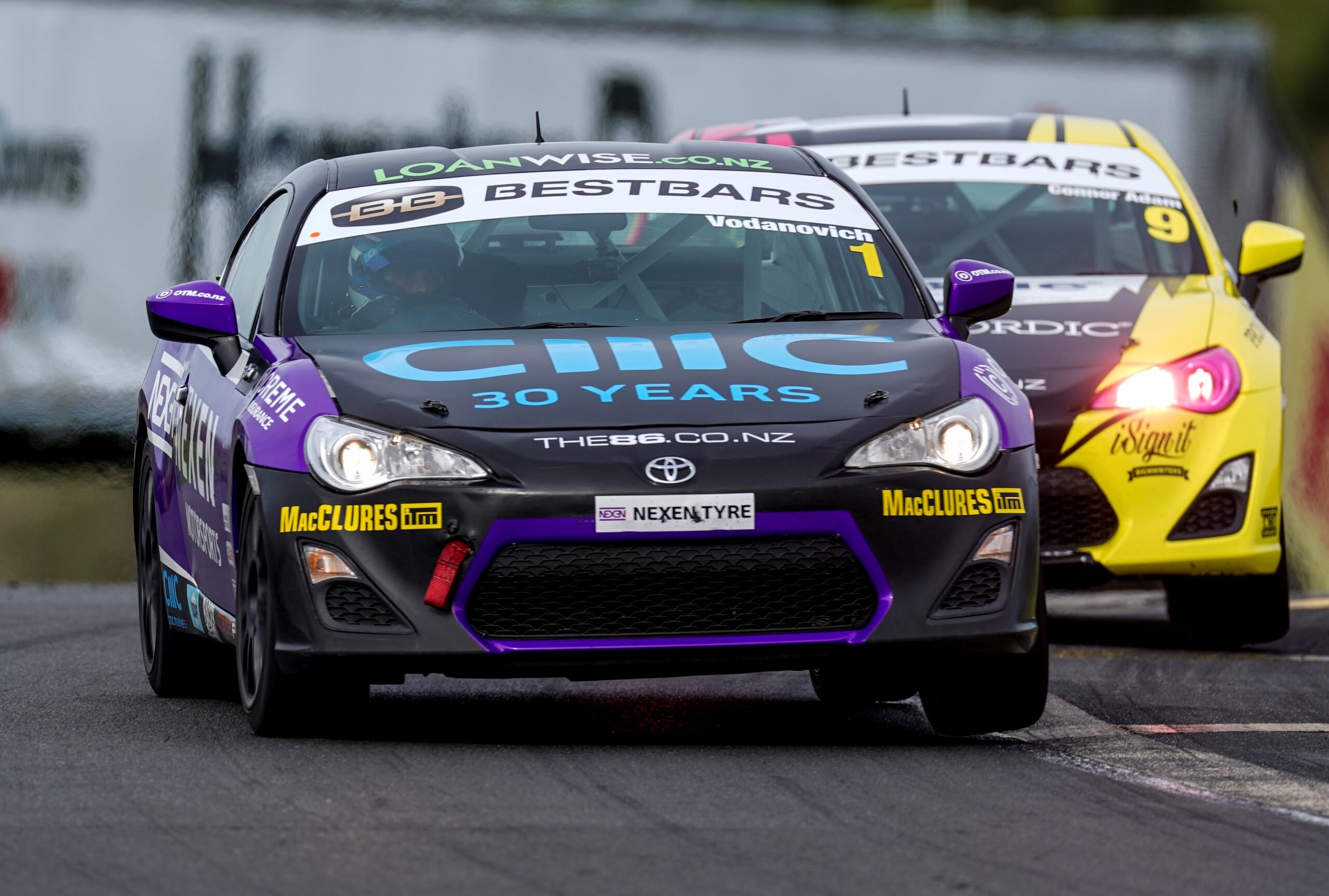 Vodanovich signs off in style
Best Bars Toyota 86 Champion Peter Vodanovich made it three race wins from three in possibly his final weekend in the category, but he was pushed hard on every corner of every lap by a resurgent Connor Adam.
The two experienced racers dominated the final – non-championship – round of the delayed 2019-2020 championship on a weekend where 12 racers proved once again what a competitive and closely fought category the Toyota 86 series is.
Champion Vodanovich waited until the last lap of the first race to pounce on a hard charging Adam, who led from pole position for much of the race. The two ran nose to tail throughout the twelve lap encounter with Vodanovich regularly showing Adam his nose as he tried to pressure the leader into a mistake.
Behind the top two there was some great racing, with Justin Allen initially holding third place before slowly falling back into the clutches of Andrew Jackson and Brock Gilchrist. They too were enjoying a superb racing battle and it drew them closer to Allen as the race progressed. Their own fight for fourth, however, was just enough to give Allen the breathing space to take the remaining step on the podium. Gilchrist managed to hold off Jackson for fourth after their spirited battle.
Debutants Mark Mallard, Alexandra Whitley and Christina Orr-West also enjoyed some great racing in their first Toyota 86 encounter, with Mallard dicing with Ryan Wood until the latter was called in for a drive through penalty following a circuit limits infringement. Mallard finished a solid sixth while Whitley eventually got the better of Orr-West in a scrap for seventh and eighth. Ninth was Toyota 86 road car prize draw winner Brayden Phillips, while Wood, Todd Foster and Tayler Bryant rounded out the field.
Vodanovich made it two from two in the second battle, passing Adam at Turn 3 on the first lap and not looking back on his way to the chequered flag. It was a good job that he didn't look back either, as Adam maintained his fine form of the weekend and kept the pressure on throughout the race. He finished just shy of nine hundredths of a second behind the winner.
Ryan Wood bounced back from a disappointing first race to take his first podium in the Best Bars Toyota 86 category, continuing the improvement in form round by round that he was enjoying prior to the lockdown. Another continuing fine form was Andrew Jackson, going one better than Race 1 to take fourth place and his highest ever finish ever in the category. Justin Allen chased the Darkhorse racer home to complete the top five whilst behind them Brock Gilchrist and Mark Mallard came home in sixth and seventh.
Christina Orr-West reversed the Race 1 result against Alexandra Whitley as they finished eighth and ninth with Brayden Phillips rounding out the top ten.
It was nose to tail again for Vodanovich and Adam in Race 3 but this time Vodanovich led all the way. Adam once again shadowed the champ all the way to the flag but didn't quite have the pace to make any challenge stick.
Brock Gilchrist grabbed his best result of the weekend with a third place after a really great battle with Ryan Wood, while Andrew Jackson had a lonely run to fifth place. Another brilliant midfield battle saw series newcomers Mark Mallard, Christina Orr-West and Alexandra Whitley dicing throughout the race and eventually taking sixth, seventh and eighth respectively while Justin Allen and Brayden Phillips rounded out the final top ten of the season.