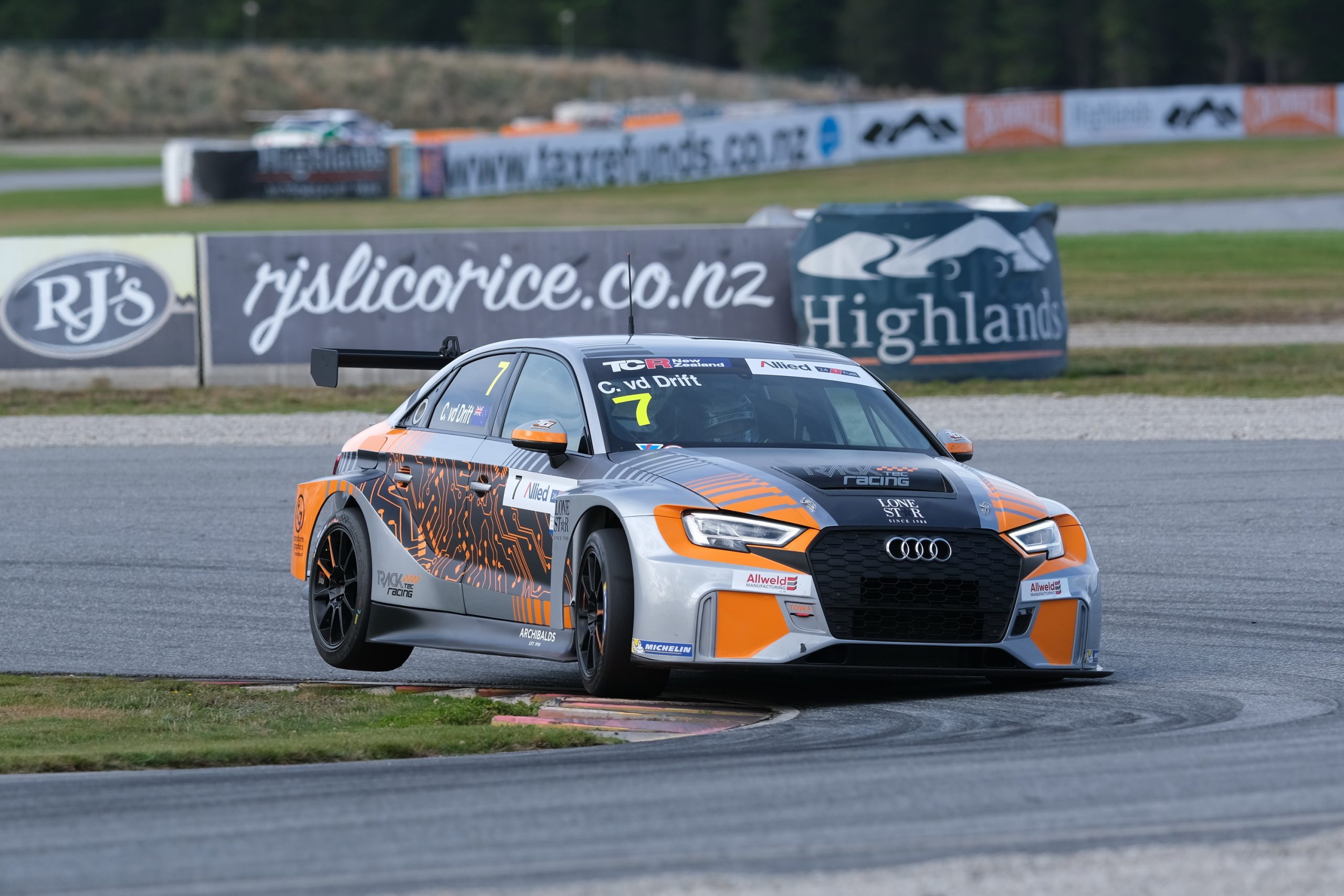 van der Drift takes back-to-back TCR New Zealand wins
Chris van der Drift has taken back-to-back race wins in the Allied Petroleum TCR New Zealand Championship at Highlands Motorsport Park. Two race wins now leaves van der Drift, racing a Track Tec Audi RS3, the favourite heading into the final race of the championship later on Saturday.
This time van der Drift didn't win with ease as Gene Rollinson put pressure on the former the entire length of the race in his Hyundai i30N. Rollinson eventually finished second just 0.535s adrift of the lead. Greg Murphy backed up his podium this morning with another third-place finish in his Audi RS3. The four-time Bathurst champ was relatively unchallenged all race with sizeable gaps in front and behind him.
After a mechanical failure on his Hyundai in race one, Hayden Paddon shot from last on the start grid up to fourth early on in the 30-minute race.  Friday's qualifying winner was unable to progress further forward during the race after Murphy had created a gap while Paddon was making passes.
The brake issues on Jaden Ransley's Hyundai appeared to be solved as the young gun from Christchurch drove a solid race to move forward and finish in fifth place, well clear of the cars behind him.
Paul Radisich and Jordan Michels provided much of the entertainment during the race. The duo fought for almost the entirety of the 30-minutes for sixth place. Radisich made his VW Golf as wide as he could and ultimately held off Michel's Honda Civic. Further back it was Lochlain Fitzgerald-Symes who finished in eighth.
"It was a lot harder out than this morning," said van der Drift.
"Gene was right on my tail the whole time which was keeping me honest. We traded lap times, he went quicker, I went quicker, but I just did the best that I could and managed the gap.
'Throw in the lap traffic which sometimes removed my gap completely and put Gene right behind me again but we managed the run to flag well and got the win."
Two race wins leaves van der Drift a 16-point lead over Rollinson in the TCR New Zealand Championship standings. Murphy sits a further 14-points back in third with Radisich another 26-points behind in fourth.
TCR New Zealand Points (after race 2):
1. Chris van der Drift – 150pts
2. Gene Rollinson – 134pts
3. Greg Murphy – 120pts
4. Paul Radisich – 94pts
5. Lochlain Fitzgerald-Symes – 93pts
6. Jordan Michels – 87pts
7. Hayden Paddon – 54pts
8. Jaden Ransley – 49pts