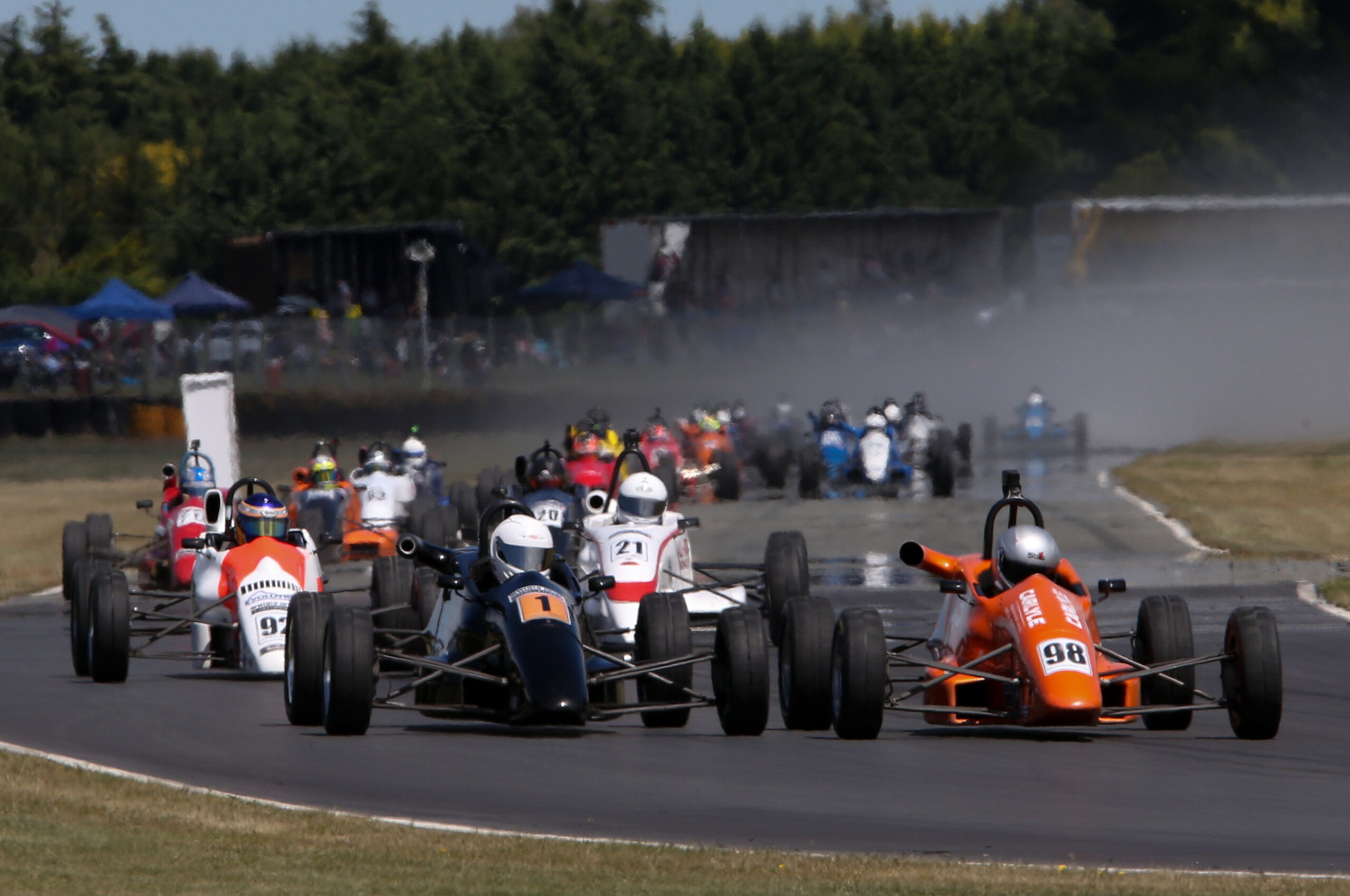 Unbeatable Penrose has one hand on South Island F1600 Series title
Canterbury's James Penrose continued his, so far, unbeatable run of race wins at the penultimate round of the 2020/21 South Island Formula 1600 Series at Timaru International Raceway over the weekend. With just three races remaining and a maximum of 302-points left to play for, Penrose has a 271-point advantage over current champion Jack Noble-Adams with Zac Christensen a further 108-points back in third.
"I couldn't be happier," said Penrose (Van Diemen Stealth). "Three wins and a pole, its been a brilliant weekend.
"I have been fortunate again to get a gap on the following cars early in the races. Jack (Noble-Adams) did well in the second race to stay in the tow. We just keep focusing on doing the little things right and that's important for getting results."
With three podium placings for the weekend, Noble-Adams (Van Diemen Stealth) wasn't unhappy with the result.
"A pretty good weekend. Can't really complain about second," said Noble-Adams. "I'd really like to break James' winning streak. Race one was tough, made a change for race two and got fastest lap, and had a misfire in race three."
While the top three on the points table, Penrose, Noble-Adams and Christensen (Ray GR20), took all the podium placings for the round, there was plenty of action throughout the 24-strong field.
Shane Drake (Van Diemen RF92) returned to the series and finished fourth for the round ahead of four rookies, Jacob Douglas (Van Diemen RF91), Bree Morris (Ray GR17) Alex Crosbie (Van Diemen RF92) and Daniel Brown (Swift).
Driving the ex-Josh Bethune Ray, Morris has proved to be very competitive in just her second South Island outing.
"It's been a really good weekend," said Bree Morris. "We have got further up on the grid and had some battles and I'm happy with the positions I've had."
Another rookie in just his second ever race meeting is Cromwell's Dylan Petch (Mygale SJ12).
"It's been a really good weekend," commented Petch. "Friday was a bit rough sorting out some issues, but we finally got there and had some good racing."
In the Historic Class 3 (pre 1990), it has been a season-long battle between Southland drivers Noel Atley (Crossle 55F) and rookie Harry Wilson (Van Diemen RF88), with the latter leading by just 53-points. However, it was Marc Doran (Ray 86F) who won the round from Atley.
Penrose continues to lead Class 2 (1990-1989) from Noble-Adams, Ethan Anderson (Van Diemen Stealth) and rookie Bo Hill (Van Diemen RF92). Christensen debuting a brand new Ray GR20 this season has a commanding lead in Class 1 (>2000) from Gary Love (Van Diemen RF01), Kim Crocker (Ray GR14) and Steve Donaldson (Ray GR20).
Drivers and teams now head to the Mike Pero Motorsport Park in Christchurch for the final round 27-28 March,