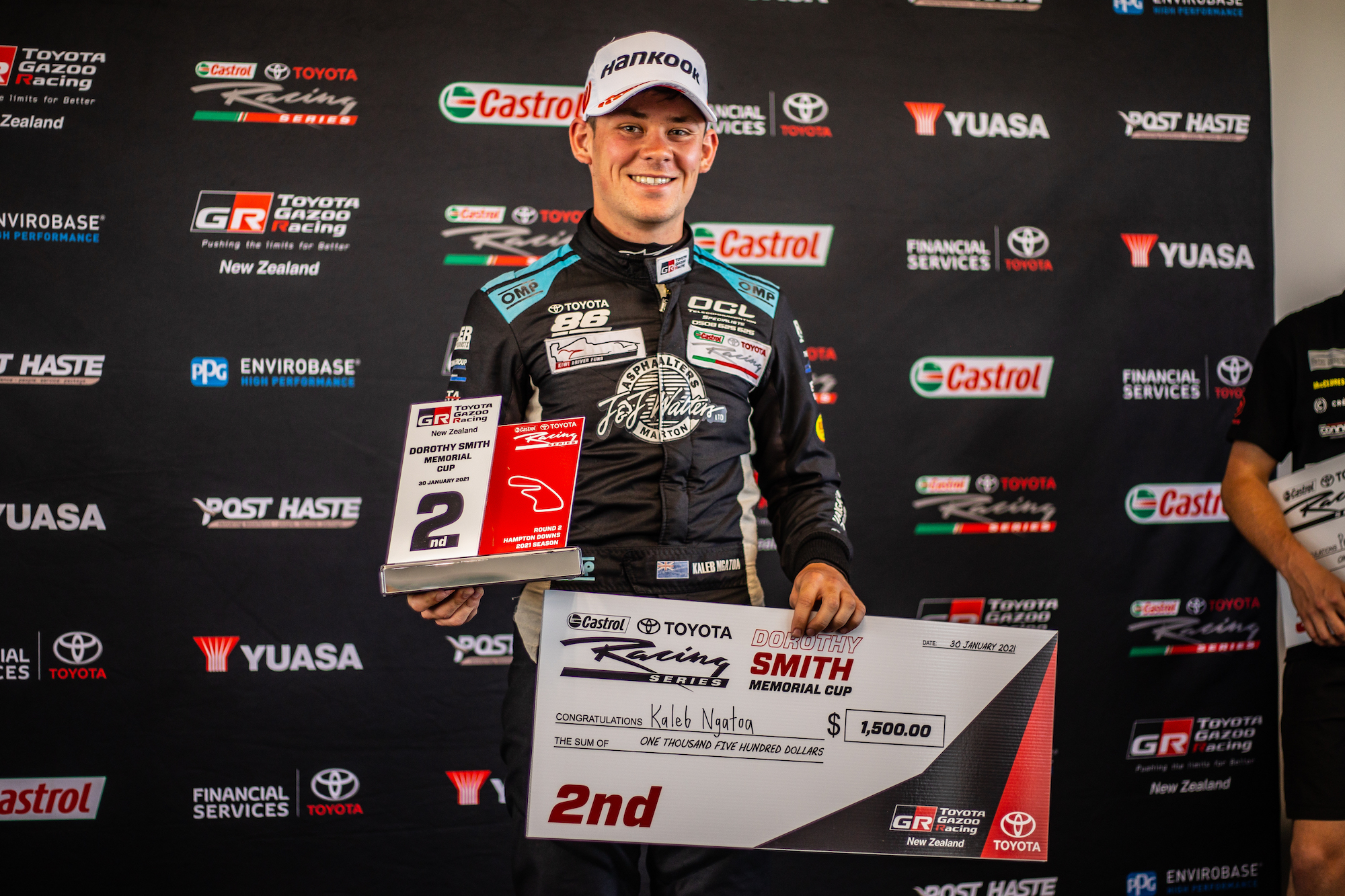 Kaleb Ngatoa scores first podium in Toyota Racing Series
Marton's Kaleb Ngatoa, 19, has backed up his stellar Toyota Racing Series debut with a podium finish in the latest Toyota Racing Series round.
The Toyota Racing Series, commonly referred to as 'TRS', is just the start of Ngatoa's 2021 racing plans. The series is world-renowned as a breeding ground for future international motorsport champions with 18 drivers graduating to drive Formula 1 since its inception in 2005.
After a career highlight New Zealand Grand Prix pole position in the opening round, Ngatoa was keen to continue his strong results in the ultra-completive series. Strong practice on Friday put him in good stead for a shortened two-day, two-race event at Hampton Downs' National circuit.
Saturday morning's qualifying session, which determined the starting order for the day's two races, was positive for Ngatoa. The competition had tightened up immensely since the previous round, with just 0.1-seconds separating third-placed Ngatoa from pole position.
The opening 25-lap race didn't start how Ngatoa had planned. A tardy start saw him drop multiple positions on the opening lap and would then fight to get them back during the race. Eventually, Ngatoa narrowly missed out on a podium, finishing in fourth.
In the afternoon's second and final race, Ngatoa had some of the biggest on-track battles of his career. These battles included doing what no-one thought was possible and going three-wide through Hampton Downs' fast, sweeping, downhill opening turn. Not only did Ngatoa manage to stay in the battle with no damage, but he also emerged at the front of the three cars, putting him in second place where he'd remain for the rest of the race.
The result had extra special meaning for Ngatoa too, with the race dedicated to Dorothy Smith, the mother of Ngatoa's mentor and motor racing legend Ken Smith. Ngatoa's second-place finish in race two also made him second overall for the round.
"It was great to get our first podium of the season," said Ngatoa.
"We're pretty encouraged by our pace and know we can fight for race wins, we just need to get the little one-percenters right.
"Racing at home in a few weeks. Can't wait to see all the family, friends and the local community supporting us. It will play a big role in helping us chase down the championship lead."
Ngatoa currently sits second overall in the Toyota Racing Series championship, 26-points from the lead. The final four races take place at Ngatoa's home track of Manfield on 12-14 February and will be streamed live on Spark Sport.
Supporting Ngatoa's TRS campaign is J&J Walters, Giltrap Group, Robbies Mechanical Services, Whanganui Toyota, The Downs Group, Delta Stock Crates, Dempsey Wood, OCL Telecommunications, Carry's Joinery and the Kiwi Driver Fund.