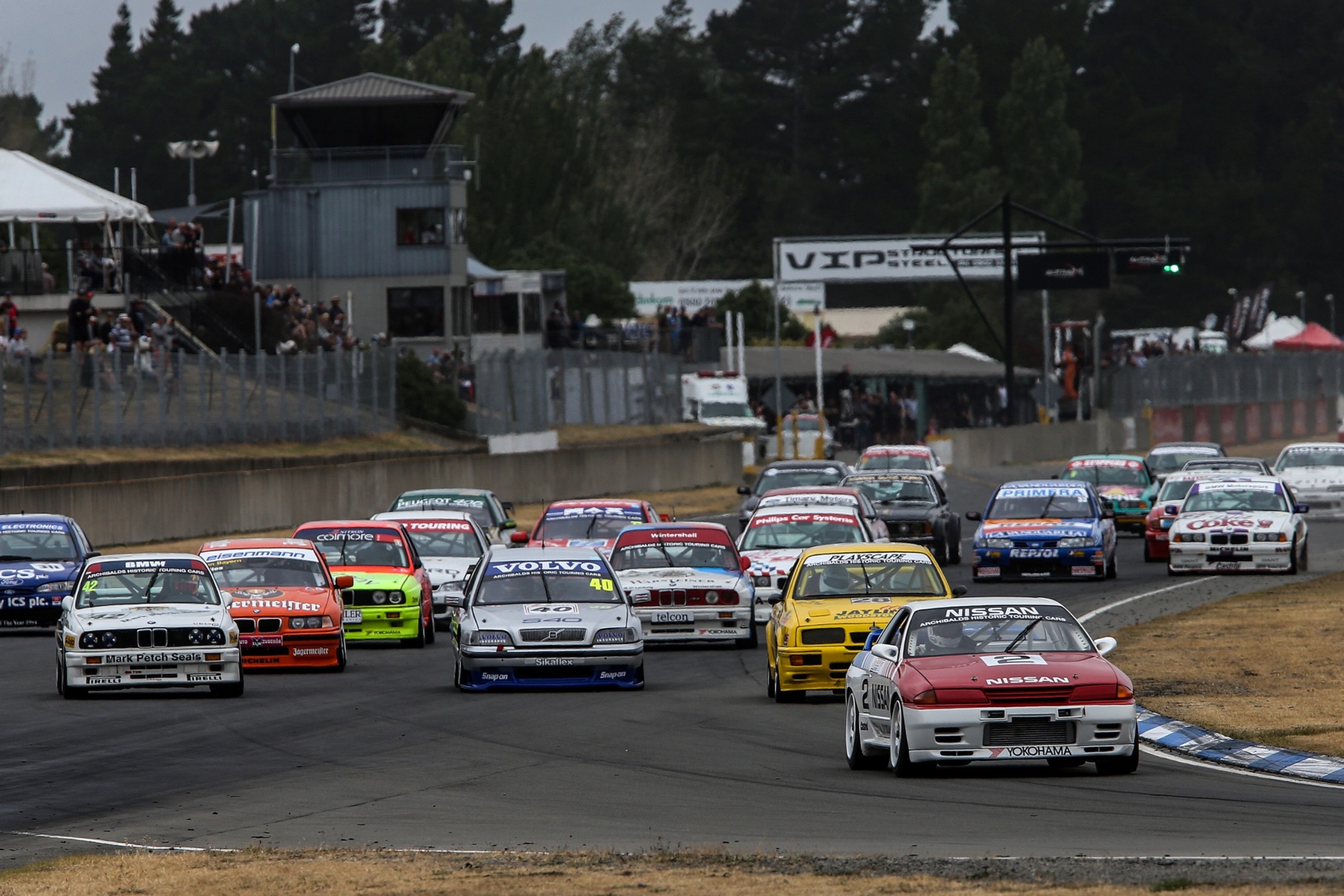 Largest Historic Touring Car field to take on Skope Classic
The annual Skope Classic historic race car meeting, this weekend, will see the biggest field of Archibalds Historic Touring Cars (HTC) assembled for the four-race event. The series boasts that largest collection of racing Supertourers in the world and spectators are in for a treat over three days at the Mike Pero Motorsport Park in Christchurch.
Three Ford Sierra Cosworth's will headline a field filled with BMWs, Nissan, Jaguar, Volvo, Honda, Toyota, Ford Mondeo and Telstar. Greg Murphy will pilot the very quick and genuine DJR #6 Ford Sierra, the last Cosworth RS500 built by Dick Johnson, now owned by Christchurch's Lance Coupland.
"It's a bit of a weapon," commented Murphy. "And it brings back lots of good memories. I drove a Ford Sierra back in 1992 in the Nissan Mobil Series and raced against this exact car driven then by Paul Radisich. He went on to win that series, the last with the Group A Touring car specs."
Radisich will also be on the grid this weekend but this time competing in his 1994 World Touring Car Cup winning Ford Mondeo Supertourer.
"Those that drove them fast, back in the day were pretty talented pilots, particularly around Wellington and Bathurst," said Murphy. "They are a testament to that era, to the drivers and engineers. It left a lasting impression which comes back."
Warwick Mortimer will drive his Ford Sierra Cosworth RS, also in its Wellington Street Race livery with Brett Stevens in the third distinctive yellow ex Kevin Waldock/Playscape Racing machine.
Also appearing on the grid, having also competed in the Wellington Street Race will be the Holden Commodore of Austin McKinley. Said to have been built by Larry Perkins when working for Peter Brock, the car was originally a VH Commodore for Wayne Crichton and Wayne Wilkinson who won the 1983 Benson and Hedges 500 Series.
BMWs will make up nearly half the field, from the 635 of Trevor Crowe through to the numerous Supertourers. Auckland's Mike Eady is keen to get behind the wheel of his recently purchased 320 E36 originally successfully campaigned here in NZ by Craig Baird and Brett Riley.
"This was the first genuine factory-backed BMW Touring car built by International Motorsport in NZ and raced by Craig Baird, then Brett Riley then Jason Richards and even Geoff Brabham.
"I've had it nearly a year and have only completed about 10-laps in it so I can't wait to race it. It is a pretty special car, really it is one of the old 2 lit touring cars so I don't expect it to be competitive against the Supertourers.
Thirty competitors will face practice and qualifying on Friday followed by two races on both Saturday and Sunday.