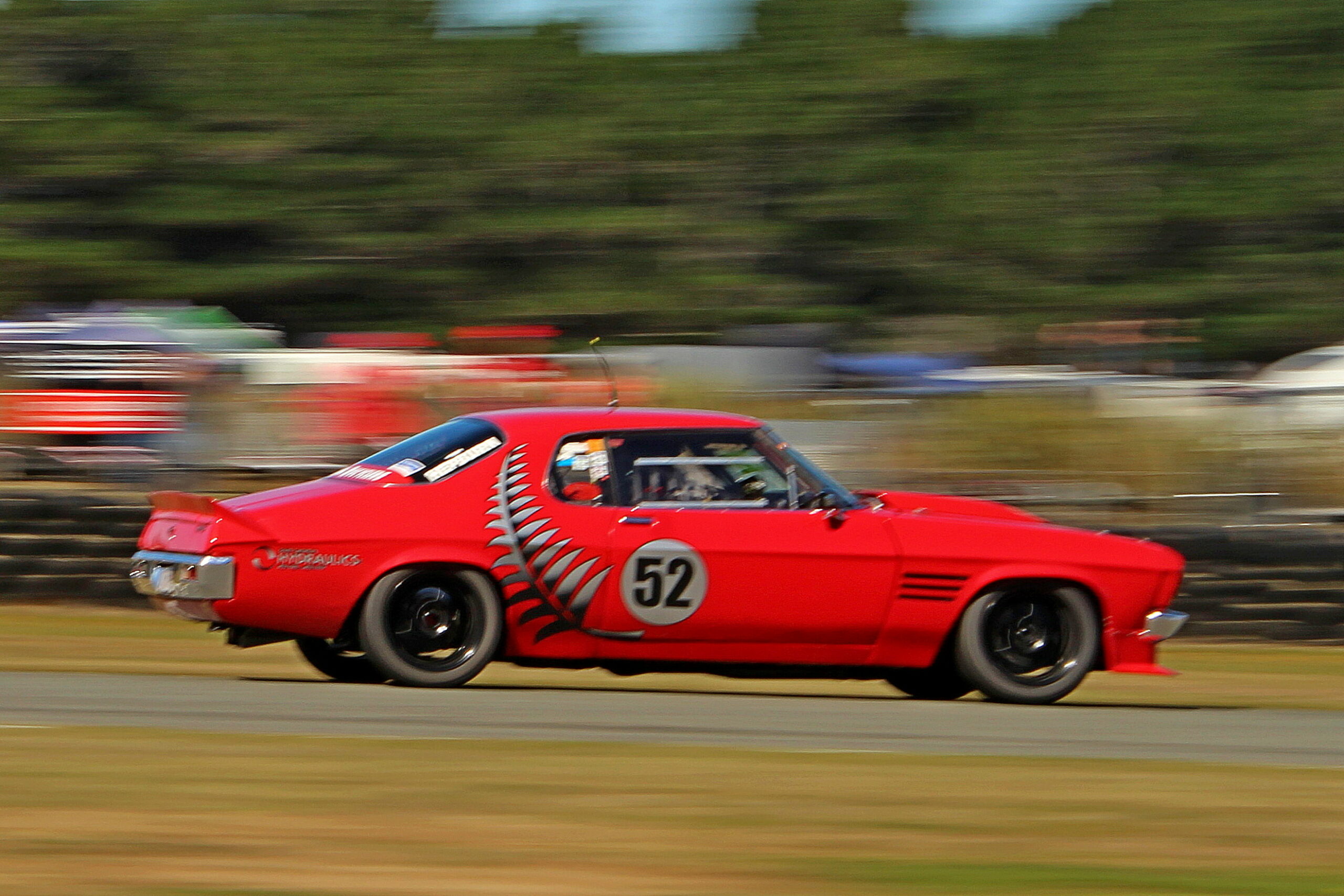 Thunderous action at Teretonga Park
Super Truck racer Alex Little of Lower Hutt maintained his success rate at Teretonga Park during the New Zealand Super Truck Championship this weekend. Little stood atop the podium at the Invercargill circuit for the fourth time after winning the round from Troy Wheeler of Hicks Bay and Shane Gray of Lower Hutt at the Southern Thunder presented by Downer event.
Little qualified fastest in his Freightliner but had to race his father's similar machine when his own truck developed problems. Wheeler, in another Freightliner, won Saturday's race while Little carved through the field only to tangle with Gray (Kenworth T409) and fall to sixth at the finish. Gray recovered for second while Dave West of Pukekohe in a Freightliner Argosy inherited third. Little won on Sunday morning from Wheeler and West and then took the handicap race by a mere .447 of a second from Wheeler with Gray third. West won the Flying Farewell from Gray and Troy Etting of Auckland in a Volvo NH.
Championship leader John Hepburn of Timaru extended his sequence of round wins to seven in the Mobil 1 Mainland Muscle Car class on a weekend with four different race winners, Michael Wallace of Dunedin in his Chev Monza won the first from the Chev Camaro's of Craig Gilbert of Temuka and Brendan Mason of Invercargill. Steve McLachlan of Christchurch won the handicap reverse grid race on Sunday morning in his Mustang from Hepburn in his Monaro with Grant Sisson of Christchurch third in a Camaro while Wallace did not finish and was out for the remainder of the event. Gilbert took the third from Hepburn with Mason third and Tony Forde of Invercargill won the final handicap race from Hepburn and Gilbert. Gilbert claimed second overall behind Hepburn with McLachlan third.
Zac Christensen of Rolleston won the South Island Formula 1600 Championship after three epic encounters at this, their final round. The three drivers still in the title race, Christensen, Matt Hamilton of Christchurch and Alex Crosbie of Invercargill battled hard all weekend. Christensen in his Ray GR20 edged Hamilton (Van Diemen RF88) by .042 of a second in the first with Crosbie in his Ray GR21 third. Christensen won again on Sunday morning with Hamilton and Crosbie second and third again. Crosbie started the final race from pole with Christensen alongside and Hamilton third. Hamilton dropped down the order with a gearbox issue before charging back to cross the line first, but a penalty for driving standards cost him the win giving Christensen, a clean sweep, the round and the championship with Hamilton second in the championship and Crosbie third.
In the Historic Formula Ford class Robert Toshach of Christchurch in a Royale RP21 won the first two races, the first from Andy Downs of Christchurch (Lola 642E) and James Dicey of Cromwell (Lola T342) and the second, which finished under safety car, from Dicey with Graham Dickie of Dunedin (Lola 644E) third.
Downs won on Sunday morning from Dicey and Stephen Heffernan of Invercargill (Johnston FF08) after Toshach retired early in the race.
Eddie Iraia of Timaru took the top step on the SS Cup podium, winning two of the four races after Brad Rule of Queenstown had won the first two. Rule was leading the third when he slowed with a problem and got tagged by another car, ending his day. Jordan Rae of Timaru was second overall and Connor Sutherland of Wanaka third.
Paul Clarke of Mosgiel (Ford Mustang) was the dominant individual in the Pre 65 Saloons, winning two of the three races and setting a new lap record on a charge to second in the final race, a reverse grid handicap. He took top points for the weekend followed by the other race winner Wayne Patrick of Christchurch in his XP Falcon with Piers Mingham of Ashburton (Ford Anglia) third for the weekend.
In the NZ6 Saloons Mick Ross of Dunedin in a Commodore prevailed after winning two of the three races, taking the round from Mike McCarthy of Dunedin in another Commodore and David Worgan of Ashburton in a Falcon.
Jordan Michels of Invercargill won all four Noel McIntyre Drainage Club Saloon races in his very quick V8 Ford Focus to top the podium with Liam MacDonald second overall in his Falcon with Kyle Dawson of Invercargill (Nissan Skyline) third. Brad Rule took the Class 3 honours in the class race.
Michels also won the A1 Auto Services 1 Hour Race, one lap ahead of Dunedin driver Brian Scott (Porsche 997.2) and last year's winner Mike Hall of Queenstown, setting a new lap record of 58.990 in the process.
The next race meeting at Teretonga Park takes place on Saturday 9 April.