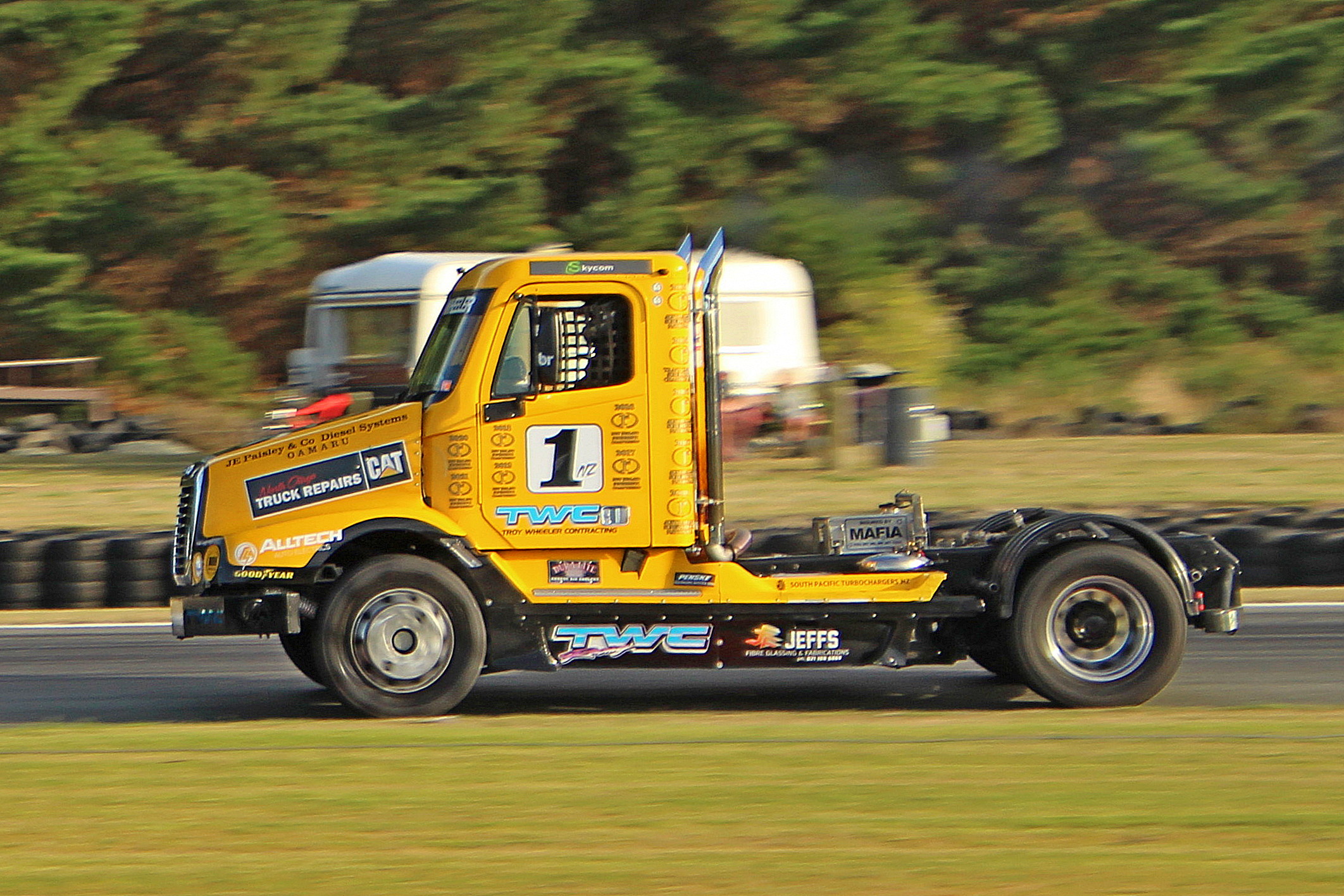 Exciting opening to Southern Thunder at Teretonga Park
Close racing in almost every category was the feature of the first day of action at the Southern Thunder motor racing event presented by Downer at Teretonga Park in Invercargill today.
The New Zealand Super Truck Championship field provided their share of excitement in their outing. Alex Little of Lower Hutt set the fastest time in qualifying in his Freightliner but had to start from the back of the grid in his father's similar machine after encountering problems with his own truck. That left Shane Gray of Lower Hutt in his Kenworth T409 on pole and multiple New Zealand Champion Troy Wheeler of Hicks Bay in his Freightliner alongside. Wheeler soon had the lead in the race and went on to win comfortably. The action occurred behind him when Little tried a pass on Gray for second late in the race that saw Little drop to the rear of the field while Gray recovered to place second while Dave West of Pukekohe in a Freightliner Argosy inherited third.
Michael Wallace of Dunedin in his Chev Monza drew first blood in the Mobil 1 Mainland Muscle Car races, winning from the Chev Camaro's of Craig Gilbert of Temuka and Brendan Mason of Invercargill, Mason having come from the back of the grid. Championship leader, John Hepburn of Timaru in his Holden Monaro, was fourth.
The main contenders for the South Island Formula 1600 Championship title fought out a fierce battle at the front of the field in the first race of their final round with Zac Christensen of Rolleston in his Ray GR20 edging fellow Cantabrian Matthew Hamilton in a Van Diemen RF88 by .042 of a second. Invercargill's Alex Crosbie, who recorded the fastest lap of the race in a Ray GR21, was third just .3 of a second behind.
Robert Toshach of Christchurch in a Royale RP21 converted his pole position to a comfortable win in the Historic Formula Ford category, leading home Andy Downs of Christchurch (Lola 642 E) and James Dicey of Cromwell (Lola T342) after Graham Dickie of Dunedin dropped from third place to sixth after a ten second penalty for a false start.
It was a Honda Civic trifecta in the SS Cup race with Brad Rule of Queenstown winning from Eddie Iraia of Timaru with Jordan Rae of Temuka third.
The Pre 65 and NZ 6 Saloons ran together today with Paul Clarke of Mosgiel in a Ford Mustang taking the Pre 65 honours from Corey Ross of Rolleston in another Mustang with Piers Mingham of Ashburton in a Ford Anglia third while Cody Welch of Omakau (Falcon) was the first NZ 6 Saloon from Mike McCarthy of Dunedin in a Commodore and David Worgan of Ashburton in a Falcon.
The Noel McIntyre Drainage Club Saloons featured in two races today with Jordan Michels of Invercargill in his V8 Ford Focus winning both from Liam MacDonald of Invercargill (Falcon) with Brian Scott (Dunedin) in a Porsche 997.2 and Kyle Dawson of Invercargill (Nissan Skyline) sharing the third placings.
Sunday's action commences at 9.00am. The event is being held within the rules and guidelines to comply with the restrictions set out in the Covid-19 Protection Framework (Red Traffic Light setting). Vaccine passports are required for admission to the event and spectators will not be permitted on the infield and there will be no food vendors on site so please bring your own food.